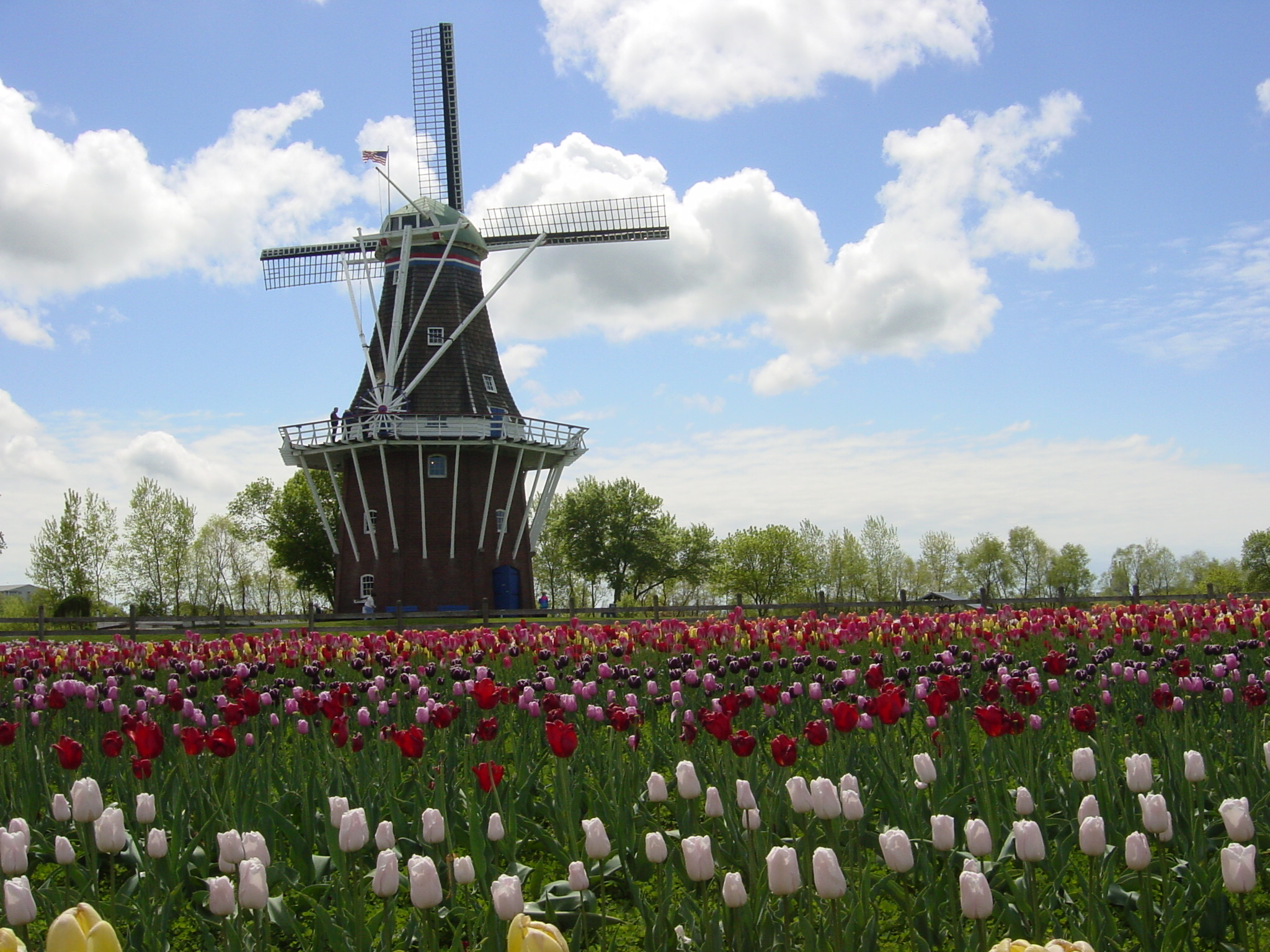 Today's photos are from Sara Simmons, horticulturist at Windmill Island Gardens in Holland, Michigan. She says, "Our garden is in a heritage themed Municipal Park here in west Michigan. We celebrate our park's 50 years this April with a 5K run and other events including the city's 86th Tulip Time festival in May. We are a member of APGA and the AHS with reciprocal admission for members of other gardens except at Tulip Time. We partner with different local growers to showcase many Proven Winner shrubs and perennials as well as new introductions of annuals and many tropicals during the summer season. Our working windmill was brought from the Netherlands in 1964 and was already 200 years old when it came to west Michigan. This time of year we are a wonderful place to explore for hikers or cross-country skiers. (No groomed trails)." Oh the tulips, the TULIPS!! Do you think we'll ever see them again? 2 degrees in Connecticut makes me doubt these colors of spring even exist in real life… So gorgeous, Sara. I assume that's a big bulb-planting machine in the seventh picture? Fascinating. Thanks so much for sharing this garden with us!
Send me photos of YOUR garden! Email me at [email protected]
I'm scheduled to give another GPOD talk (A few of you will be getting emails in the next two weeks as I put together the slideshow…), and a number of people have emailed to say that they'll be at the show, and that they'd love to meet up with a bunch of fellow GPODers!
The RSVPs so far:
Glenda Curdy (Nurserynotnordstrom)
May Kald (GrannyMay) – tentative
Catherine Campbell (CrannyCC) – tentative
Tia Scarce
Jeanne Cronce (Greengenes)
Sheila Schultz
Nora
Shirley Graves
Chris Niblack (ChrisSeattle)
Kielian DeWitt (Annek)
Linda Skyler (Meelianthus)
Kathy Schuler
So…who else is going to be there?? Let us all know in the comments, and we can start planning an outing! Perhaps after-dinner drinks one night at the bar at the Sheraton? I'll repeat this announcement for the next week or so, at least, and keep a running list of who's coming….enticement for even more people to come. Oh, and when you comment to say you'll be there, give us your real name so that I can plan name tags that include both that and your screen name…
______________________________________________
Want to get the GPOD delivered to your inbox every morning? CLICK HERE!
Want us to feature YOUR garden, or a garden you've recently visited, in the Garden Photo of the Day? CLICK HERE!
Want to see every post ever published? CLICK HERE!
Want to search the GPOD by STATE? CLICK HERE!
And last but not least, Check out the GPOD Pinterest page, where you can browse all the post in categories…fun! CLICK HERE!