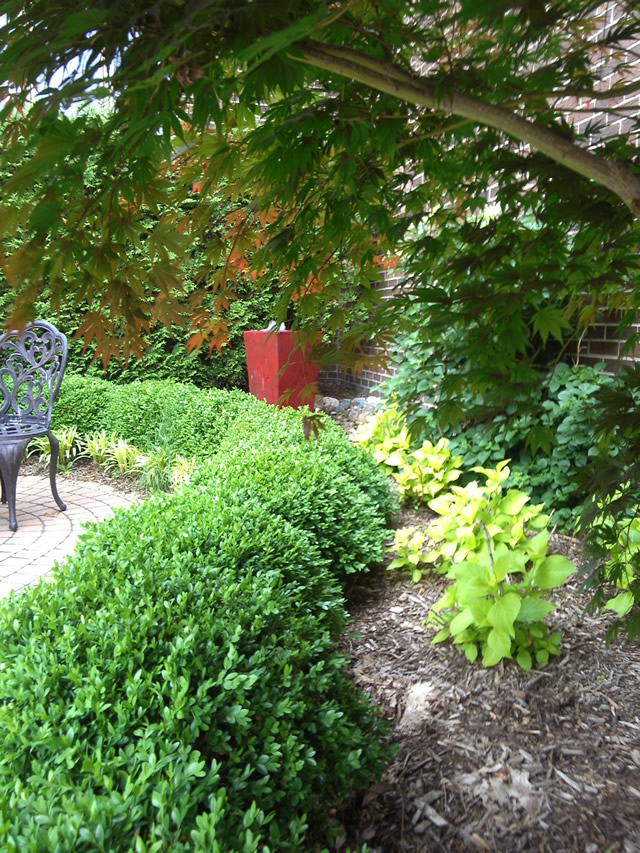 Sherry's photos of her Michigan garden are exquisite. Stop in for a brief tour!
"My phone is filled with pictures of my loved ones, my family, the cats I rescue and my favorite baby, my garden. Like all proud momma's I thought I would share a few photos. My husband and I lived for 25 years, in a wonderful 1920s tudor that was a family home for 2 generations. We moved in 2006 to provide a home where we did not have as many stairs or as much house maintenance. I was sad to leave behind my garden of 25 years and yet excited to start a new one on a new construction site.
I started this garden in 2010 with my front courtyard with a vase fountain, climbing hydrangeas, adding a back seating area garden also with a seating bench and a fountain the patio area of that seating are just glows with a planting of all gold Japanese forest grass and purple fountain beech. Then in 2012 I added a garden shed, with covered dining and solar panels to offset my footprint and added a custom trellis to handle my espalier apples. Now I am filling in with edibles like beautiful raspberry shortcake bushes that look great in the landscape, Strawberries, and other edibles. Living in Michigan I am very fond of conifers and have found myself adding more every year.
I love Fine Gardening and Tauton Press resources and I hope you love the ideas I gained from your publications."
Thank you,
Sherry
Have a garden you'd like to share? Please email 5-10 photos (and a brief story about your garden) to [email protected], or tag your photos on Instagram or Twitter with #FineGardening!
Whether you've never shared before or you've been featured multiple times, we want to see your garden! You don't have to be a professional garden photographer – check out our garden photography tips!
Do you receive the GPOD by email yet? Sign up here!