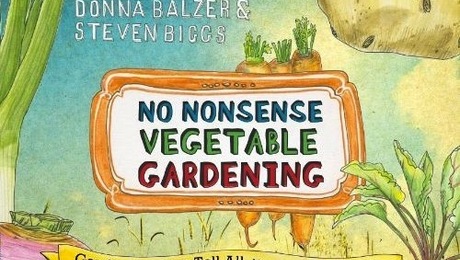 I'm giving away another great book. This one will fill your brain, then fill your tummy with yummies. No Nonsense Vegetable Gardening is the book I wish had been around when I caught the gardening bug in my early twenties. It's packed with bushels of great, go-out-in-the-yard-and-use-it information, and is presented with a delightful, cheeky, off-the-wall attitude.
You'll immediately understand authors Donna Balzer's and Steven Biggs' approach to imparting knowledge when you flip the book to the back cover. Along with their tag line, "Garden Coaches Tell All: No guff. Lots of fun" you'll also find this snippet: "We garden A LOT – and we talk to A LOT of gardeners. So we don't mind telling it as we see it. If that means some age-old wisdom is guff, we'll say so."
See why I like this book so much?
Let's get to the dirty nitty gritty, shall we? The text follows the logical order readers need to be successful veggie gardeners, starting with understanding their climate and weather conditions – what landscape architects like me call site analysis. Ignore these fundamentals that nature and your site give you – its opportunities and constraints – and you'll be pushing uphill all the way. For example, they explain how urban gardens versus those close to large bodies of water create different microclimates, and how to adjust your techniques to address them.
Soil gets a big discussion, since it's (pun alert) at the root of everything you grow. Here's a bit of advice for making good soil (page 23): "Leave rock outdoors for a few thousand years to allow it to be pulverized by the force of freezing water, consumed by algae, chiseled by tree roots, sandblasted by wind, eroded by waves and glaciers, and worn down by rushing rivers." See what I mean? Good practical advice.
But semi-seriously, the book describes simple soil tests, how to live
with clay, and the mysteries of mycorrhizae. (No clue? You'll just have to buy the book, or win it). And what food gardening book would be complete without a lot of straightforward info on composting, worms, and manures? (I can hear your mouth watering from my office.)
I don't have room to outline every chapter (there are nine of them), but suffice it to say that Balzer and Biggs don't leave anything out: planning, building, starting seeds indoors or in the garden, transplanting, garden maintenance (expect to be very involved with your garden), harvesting and succession crops.
I can't imagine how the book was actually written. The bantering dialog between the authors is a delight to read, sparkling with wit and making you wish you were a fly on the wall during all the shenanigans. And the graphic presentation is somewhere between a hand-drawn kids book, a school project, and exquisite close-ups of plants, dirt, sweet kids and slimy slugs.
The advice they dispense is universally applicable in the stateside version published by St. Lynn's Press, although originally written for Canadian readers (Balzer is from Alberta and Biggs from Toronto). (Full disclosure: this is the publisher of my forthcoming book in March 2013.)
Now imagine yourself holding this book in your chilly fingers as winter approaches, or putting it under the Christmas tree for a family member, fully aware you'll be snatching it as soon as they look away to reach for their egg nog (made with fresh eggs and hand-picked nogs).
Find out more about No Nonsense Vegetable Gardening and watch their delightful videos at their website. www.nononsensevegetablegardening.com/
Wanna chance to win one for yourself? Just leave a comment in the box below and we'll have a random drawing on December 1st, plenty of time to find out if you need to order one for yourself for the holidays.