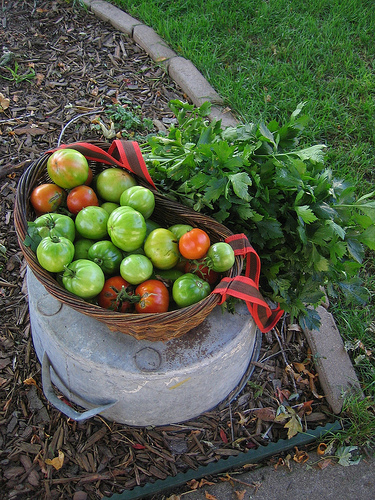 I'd like to go over the undeniable benefits so that there's no doubt left in your mind, that farming fruits and vegetables in your own backyard is the right idea.
Remember the Victory Gardens of WW I and WW II? They were planted to reduce the pressure on the public food supply brought on by the war effort. In 1943, over 20 million American Victory Gardens produced 8 million tons of food in this country – 41 % of all the produce consumed by this nation. That's a lot of groceries. We're beginning to hear an echo of those successful American gardens.
Today our social and economic climate is at a place where Americans can once again benefit from the bountiful of our historic past. There is a monstrous movement on the horizon that is just as appropriate as it is necessary. It's time, once again, to take responsibility for not only what goes into our families' bodies, but how it gets there.
My family and I plan, plant, maintain, and gather our own vegetables for pennies on the dollar for each meal we harvest. I'll admit it's only a portion our everyday meals, however, we've not only enjoyed the health benefits of fresh food, but have also enjoyed working together outdoors with the pride that comes from bringing nourishment to our family with our own hands.
Plus, (truth be told) I'm a control freak. I'm tired of relying entirely on external sources for our every necessity and want to take back some control. I like healthy food and I like my family, so I decided to start there. Growing your own groceries (or at least supplenting) is catching on all over the country and sales from seed catalogs are up; some say they've doubled. A weak economy and a global movement toward a healthier diet and sustainable planet make home produce farming not only timely, but appropriate.
A mere 20 years ago, farming was considered passé. What was once old fashioned has come back into its own. Could the timing be any better? The difference for this decade is that most of us don't own what is traditionally considered "farm land" anymore. Many of us live a suburban lifestyle.
Not to worry, since modern produce and fruit growers have created strategic ideas for getting high yields in compact spaces. These strategies let the average family, with average-sized yards; grow their own food throughout the seasons.
Suburban and urban farming is being accomplished successfully in backyards everywhere. And it is being done with high yields on very little land.
In an average suburban (or urban) backyard you can grow food that is healthy, free of pesticides, herbicides and artificial fertilizers. Food from heirloom plants so rich with flavor, it's proof-positive that grocery store quality has been missing the mark for years. This is food that you'll good about feeding your family, because it's fresh, safe, affordable, and because you grew it.