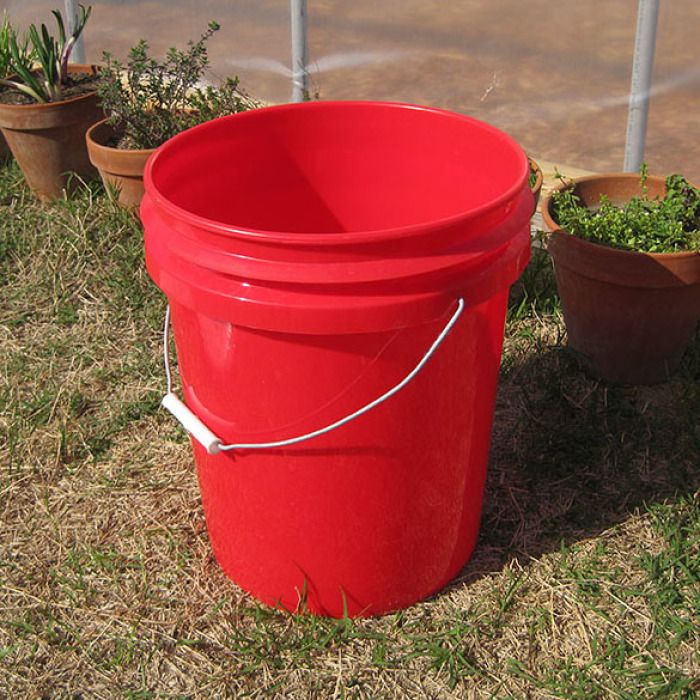 Have you ever noticed how many different uses the simplest things seem to have? The garden bucket, for example. "I'm holding one and looking at three others near my greenhouse", I thought. So I thought I'd rattle off a few.
1. As a Weed & Refuse Collector. There's at least one of these in the yard at all times. When I'm in an all-out weed assault, I always seem to fill smaller containers too often. The 5-gallon size can holds a lot more weeds, compost materials or rubbish.
2. As a Tool Holder. Enter the garden bucket organizer or "caddy". For a fair cost, you can score one of these in an assortment of colors, fabrics and compartment options. I have to admit, the Spongebob Squarepants one was over the top.
3. As a Soil & Compost Mixing Bucket. Although a wide, shallow tub is more effective for mixing, your bucket can be a mixer in a pinch.
4. As a Soil or Compost Mover. If you haven't invested in a wheelbarrow yet, a few of these can come in handy when moving soil or compost. A bucket makes pouring easier than a wheelbarrow in tight or low spaces. Make sure the bucket has a good handle if used for this purpose.
5. As a Poor-Man's Rainwater Collector. Though somewhat rudimentary, buckets can serve as "mini-rainbarrels". They obviously don't catch the water volume that a roof/gutter system does, but if you have a spot in the yard where runoff gathers excessively, you can rig one with a spigot. Be sure and put a screen on it if it's a semi-permanent setup, to prevent mosquitos from breeding.
6. As a Planter. Though somewhat tacky, a bucket can certainly be used as a planter. You can paint it to your heart's desire. Just remember the drainage holes in the bottom. The most creative use I've seen? Three Home Depot buckets inverted, hung from a balcony, with tomato plants growing out of the bottom.
7. As an In-Ground Composter. Though a metal can is more durable, you can set up an in-ground composting system. Holes drilled into the sides and bottom allow worms and other critters to help decompose your organic wastes. I use it in conjunction with bokashi composting.
8. As a Container for Compost or Worm Tea. The benefits of "teas" are many. Grab your 5-gallon bucket, water, an agitation device such as an aquarium pump and tubing, and a stocking filled with compost, and you're good to go.
Allow me to plug a certain kind of bucket. Firehouse Subs has over 400 locations, mainly in the Southern United States. You can score one their bright red used 5-gallon pickle buckets for a mere $2. What's important about this is that you are also donating to the Firehouse Subs Public Safety Foundation that helps emergency services. A worthwhile incentive indeed.
So, what's in YOUR bucket?