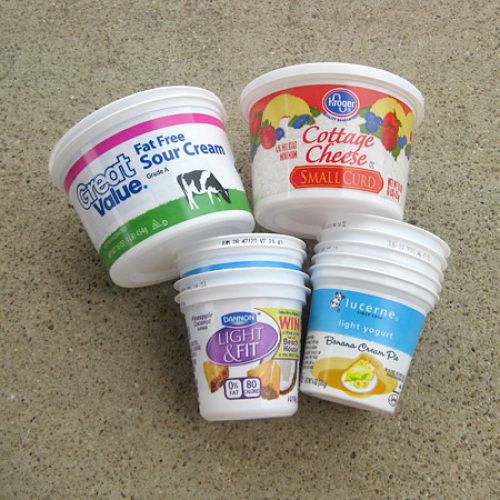 As we reach the "halfway point" of the Summer season down in my neck of the woods, much of what I've planted–both in my home garden and in the community garden–is either already harvested, finishing up, been yanked out for not performing, or has been destroyed by drought or disease. I.E., the garden is pretty much on "cruise control" until Fall planting time. The planning for that is right around the corner my friends.
Since part of me is always thinking a season ahead, I got a head start on saving things I felt I needed for the rest of the year and/or early next year. So here's my rundown of some of those items for others to think about and take advantage of:
• Empty gallon water containers – make great frost or wind protectors. Your pepper transplants will be forever grateful.
• Plastic yogurt, sour cream, butter, and other types of containers – just as good as the ones nursery-bought transplants came in, only they're free. Be sure to wash and dry 'em out well. Don't forget to drill the drain holes.
• Old sheets, blankets, towels or throws – make great frost or wind protection screens.
• Coffee cup sleeves – make great cutworm collars. While you're there enjoying your latte, ask them if you can have their used coffee grounds.
• Cardboard boxes – small ones hold transplants. Large ones can be opened up and laid down as a weed-proof foundation prior to laying down mulch or a new bed.
• Compost, manure, peat moss, etc. – be ever-vigilant for sales or deals on this stuff throughout the growing season. That way you're not stuck with a shortage when you really need it. I took advantage of that about a month ago. The local membership club grocer had an awesome deal on potting soil that I couldn't pass up.
• Plastic baggies – stores seeds, soil mix, packets, small tools, etc.
• This years' empty seed packets – provides a nice quick reference to what you grew (assuming they didn't decompose into the soil).
• Silica gel packets – if your seeds require stratification; that is, the cold treatment prior to sowing in the Spring, these will be helpful in keeping the seed packets you're storing in the refrigerator from getting moist.
• Old kitchen knives – keep near the compost pile to cut up spent plant matter into smaller pieces.
• Rocks, scrap lumber, or other small but heavy objects – use to hold down tarps, fabric, row covers, etc. I have the "discs" from an old iron barbell weight set that do this wonderfully.
If you got any other ideas, chime-in.