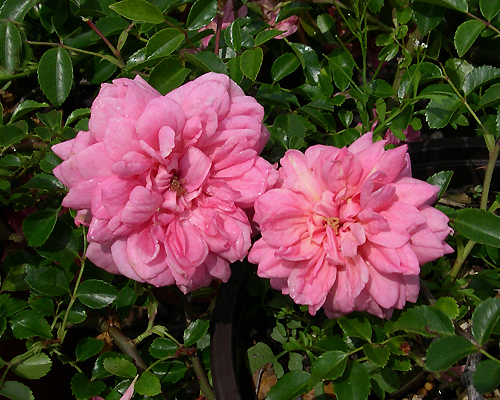 I got a question the other day from one of our readers saying they are going to grow a climbing rose on a pitched roof.  They plan to grow the rose up the side of the house and then onto the roof where it will be spread out.  I think this will be beautiful and I hope they send pictures!
Their question was what kind of "trellis" should they put on the roof to attach the rose to.  Should they use wire, a wooden trellis or something else.  The answer to that is really simple.  Use whatever you want that matches the aesthetic of your garden, or in this case house, but remember a few simple rules.
Try to make sure it keeps the rose a few inches away from the surface behind it.  When the sun hits the surface it can really heat it up and could potentially burn the rose.  Also in this instance having some air circulation behind the rose is a good thing.  Plus as leaves fall you can clear them from behind with a blower or even a stream of water.
Using materials like wrought iron can be a blast because of the design possibilities.  If you want to use other forms of metal that's also okay, but make sure they won't get really hot when the sun bakes them as they will then burn the canes of the rose.
This last one is real important.  When you tie the canes onto the structure make sure they are always kept on the front side.  You might not be thinking about it now, but at some point you are going to have to paint the surface; or in the case of a roof re-shingle.  If the rose canes are kept on the front of the structure all you have to do is untie it, lay it off to the side, redo the surface underneath and tie the rose back on.  If the canes are behind the structure then you will have to hack at the rose to pull it away.
When I had my rose maintenance company in Los Angeles many years ago we encountered this with a Cecile Brunner climbing rose.  It was two stories high and the house needed to be painted.  We didn't want to cut it back to 6 feet high because it would take years to recover.  Luckily we had trained it to the front of the structure.  Instead we trimmed back what we could (like the laterals), tied a rope around the top of it, ran the rope to a tree branch about 30' off the ground just opposite the rose, and leaned it away from the house using the branch as a support.  That 30' high rose "hovered" there quite happily while the work was being done and once it was finished we simply laid it back up against the house and tied it back in.  It never missed a beat.
So let your imagination run wild with what you use but just remember those simple rules and you'll be just fine
Happy Roseing
Paul