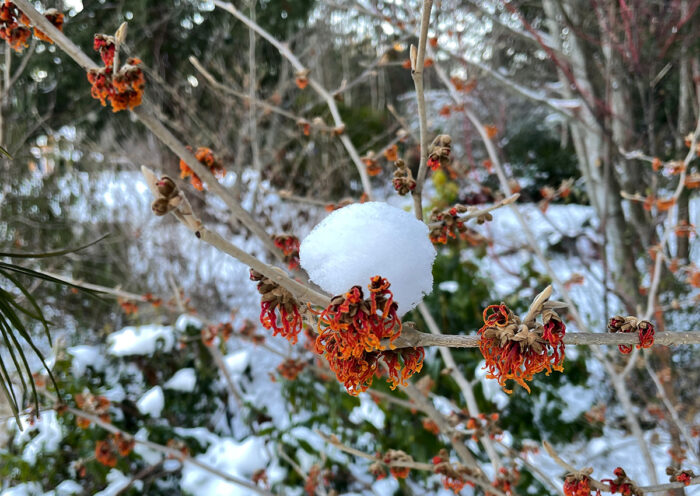 During the winter months in the Pacific Northwest, it is hard to know if it will be sunny and bright, raining cats and dogs, or a snowy winter wonderland when we step outside. One thing is certain, though—there will be witch hazels (Hamamelis spp. and cvs., Zones 3–9) in bloom. Bright colors against gray skies, an important early food for bees, and soft fragrance on frigid winds—these shrubs provide delightful, long-lasting flowers at a time of year when many other plants are dormant.
Many people do not realize the diversity available in this group of plants. Winter is a great time to visit a local nursery to pick from the broad mix of witch hazels that offer different flower colors and fragrances as well as a variety of forms for gardens big and small. During a recent visit, I not only saw easy-to-find hybrid witch hazel (H. × intermedia cvs., Zones 5–9) favorites like 'Jelena' (orange), 'Arnold's Promise' (yellow), and 'Diane' (red), but I also found unusual varieties such as 'Birgit' (purple-red), 'Strawberries and Cream' (pale yellow and red), 'Angelly' (yellow), and 'Sunburst' (yellow) flowering amid all the snow-packed displays at my local nursery.
Nearly all witch hazels bloom in winter (January to March), before the leaves come out—with the exception of common witch hazel (H. virginiana, Zones 3–8), which blooms in fall (October to December). They also have a second season of interest, featuring fabulous fall color, and are generally easy-to-grow in full sun to partial shade and moist well-drained soil. For best performance, prune off occasional suckers, especially suckers below the graft on grafted selections.
The next time you are looking to add some winter color to your garden, give the following witch hazels some serious consideration.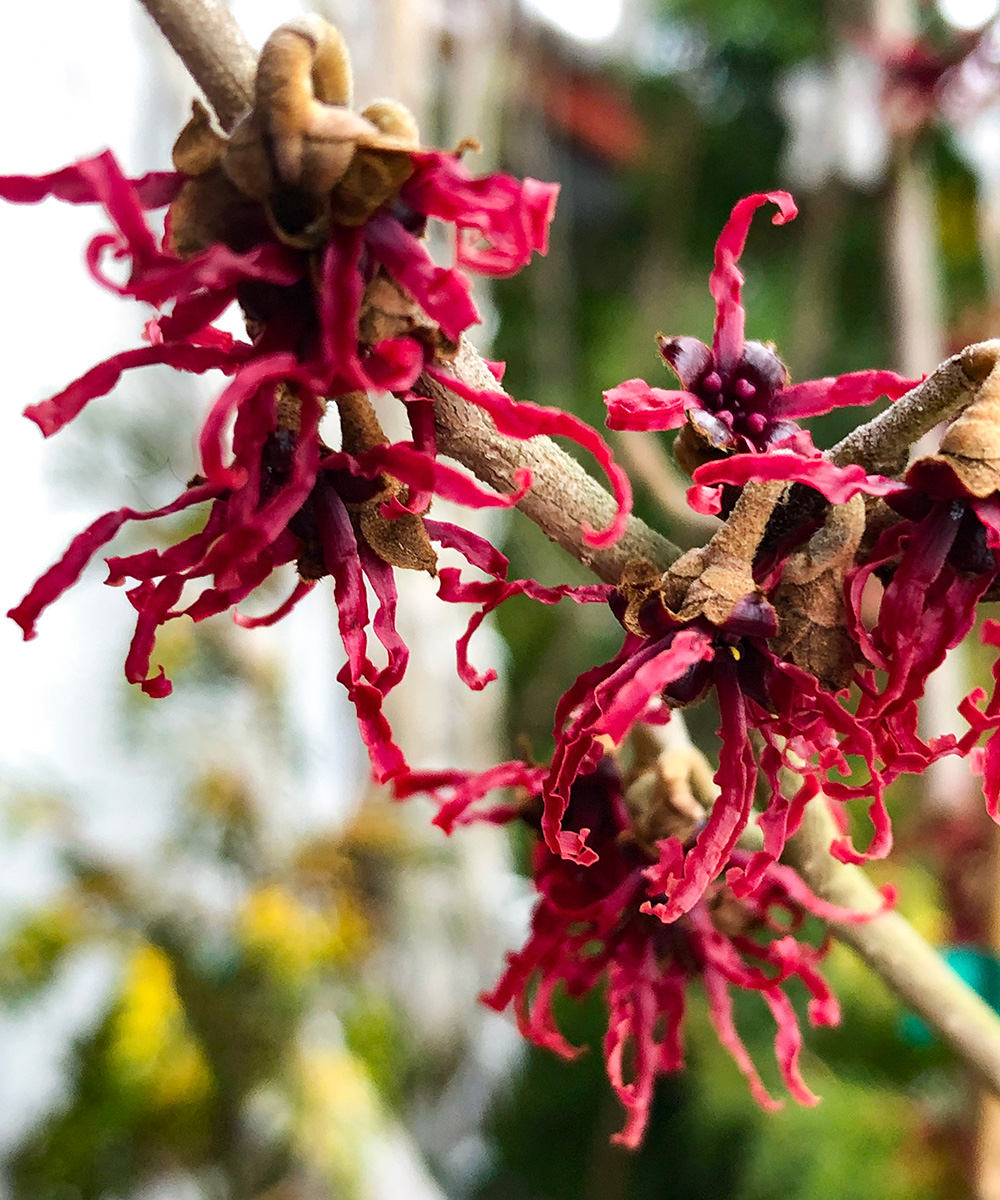 'Birgit' witch hazel
(H. × intermedia 'Birgit', Zones 5–8)
Size: 8 to 12 feet tall and 12 to 15 feet wide
'Birgit' typically blooms in February in my garden. Perhaps the darkest red of the cultivars available today, this selection is a standout with mildly fragrant, showy, purplish red flowers on upright-spreading branches. Each flower has four narrow, ribbon-like, curled, and slightly crinkled petals. Axillary clusters of these flowers bloom along the stems from late January to March. During the growing season, 'Birgit' has fabulous textured dark green leaves (to 4 inches long) that turn yellow-orange-red in fall.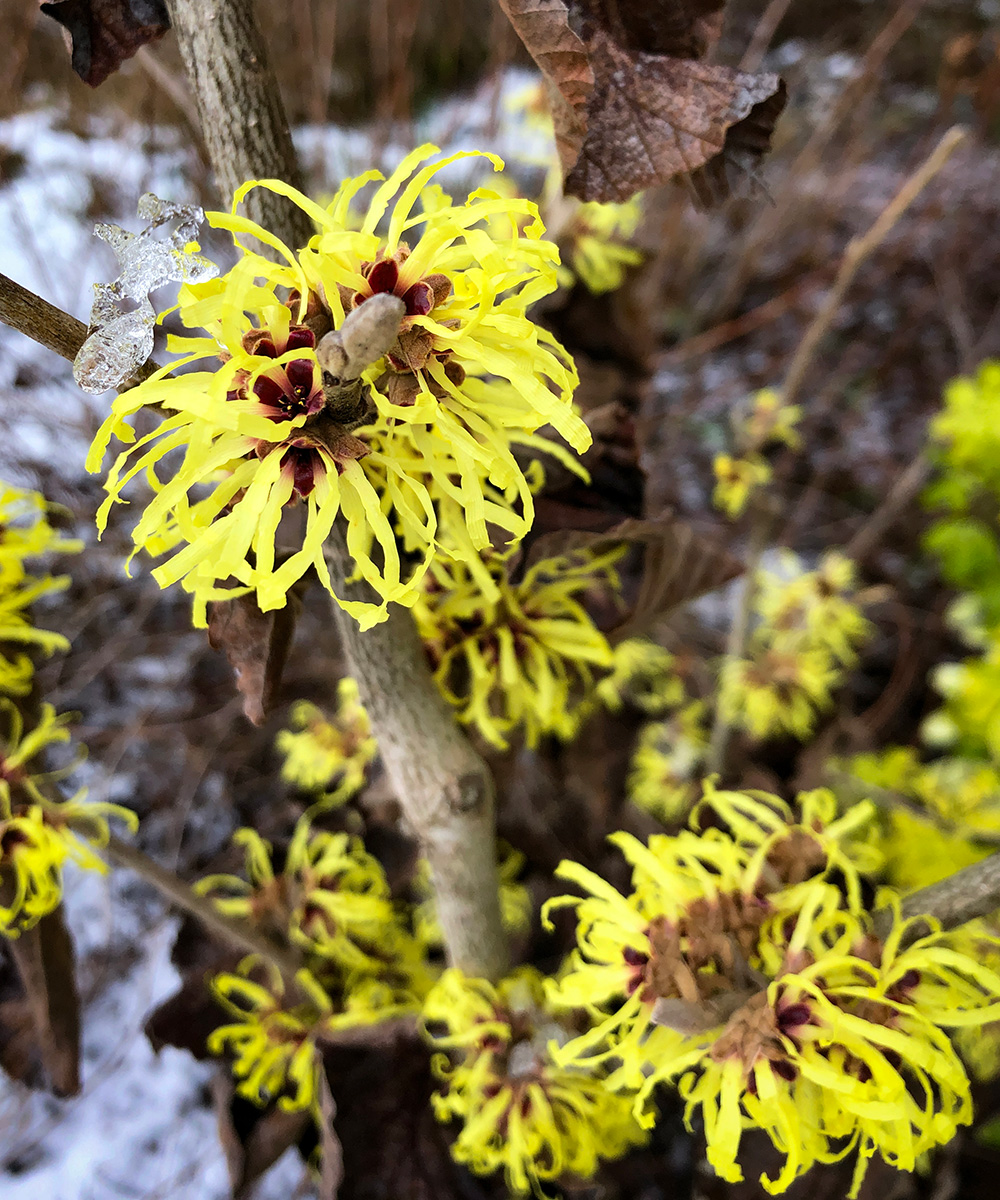 'Little Suzie' common witch hazel
(H. virginiana 'Little Suzie', Zones 3–8)
Size: 4 to 5 feet tall and wide
A selection of the eastern native species, common witch hazel, 'Little Suzie' is a great more-compact shrub for small gardens. It flowers at an early age with branches that are densely covered with fragrant soft yellow flowers. The fall blooms typically open in December here in the Pacific Northwest, preceded by lovely butter-yellow fall leaves.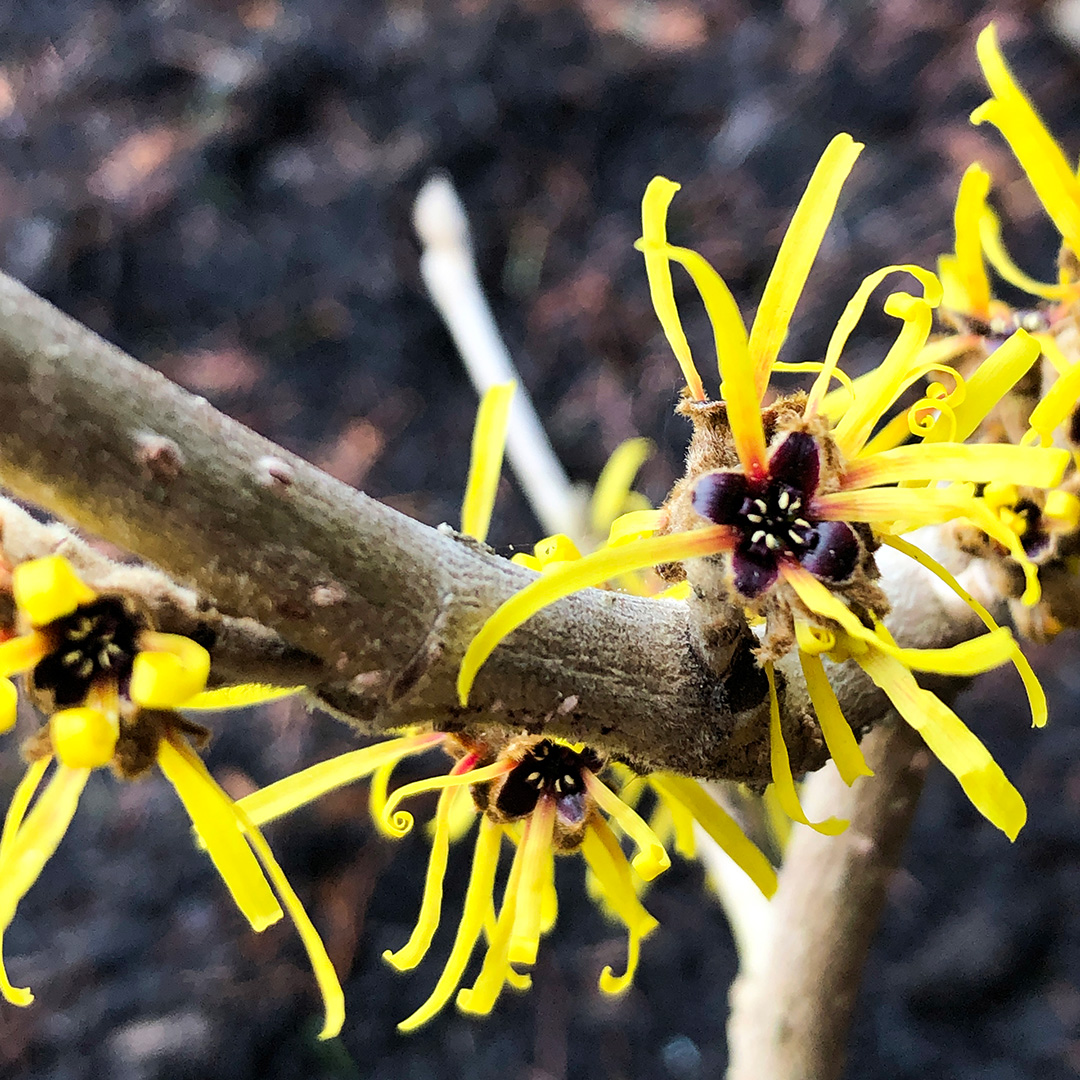 Chinese witch hazel
(H. mollis, Zones 5–9)
Size: 10 to 15 feet tall and wide
When you cannot get to the nursery, you can always spend some quality time on the internet. Just planted from my mail-order delivery is Chinese witch hazel. It is one of the most fragrant of all witch hazels and one of the first collected in China in 1879. The flowers are yellow with reddish brown calyx cups; they open in January to March. This witch hazel also delivers with yellow fall color. My plant is pretty small at this point (only 1 gallon), but I have it placed where it can really grow and where it will eventually shine in all its glory.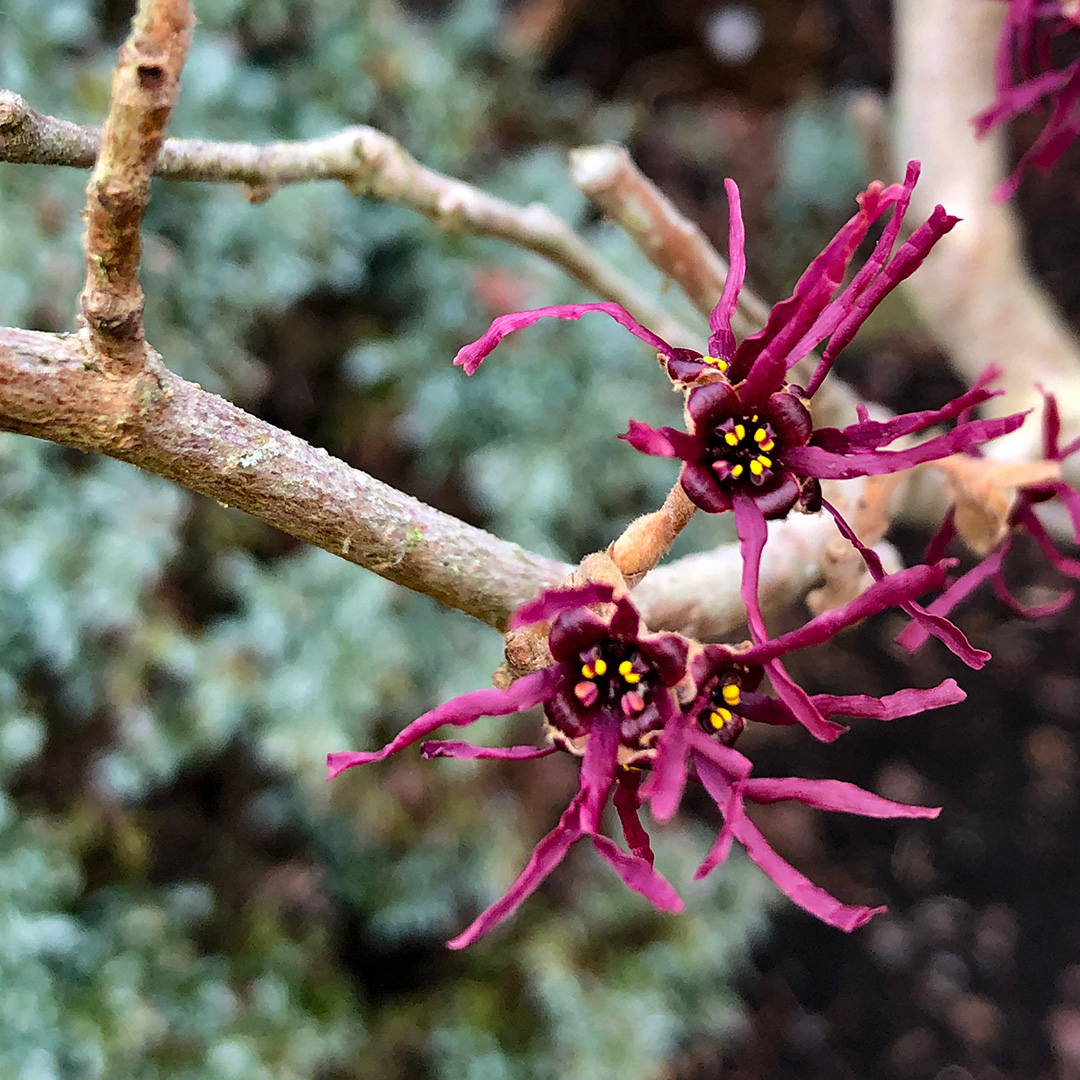 'Purpurea' vernal witch hazel
(H. vernalis 'Purpurea', Zones 4–8)
Size: 6 to 10 feet tall and 8 to 12 feet wide
Another slightly smaller witch hazel that is great for those limited on garden space, 'Purpurea' vernal witch hazel provides lovely burgundy blooms in winter (January to March). While my specimen is still growing from a 2-gallon root ball, it is already showing good structure with an impressive flush of February flowers. The blossoms have a two-toned effect, with the ends of the ribbon-like petals lighter in color. I look forward to seeing that effect intensify as the flowers mature, but the snow will have to go away first.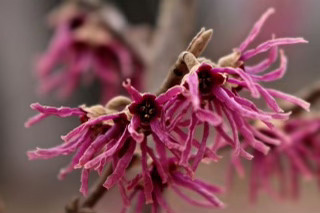 'Amethyst' witch hazel
(H. 'Amethyst', Zones 5–8)
Size: 8 to 10 feet tall and wide
I have placed this gem of a witch hazel at the back of my white garden on the edge of the snowdrop (Galanthus spp. and cvs., Zones 3–9) meadow. Probably a hybrid of vernal witch hazel, 'Amethyst' features gorgeous reddish purple flowers that come out in midwinter (January to March). In spring, the cool gray foliage appears and then turns a signature red and orange in fall.
—Susan Calhoun is the owner of Plantswoman Design in Bainbridge Island, Washington.