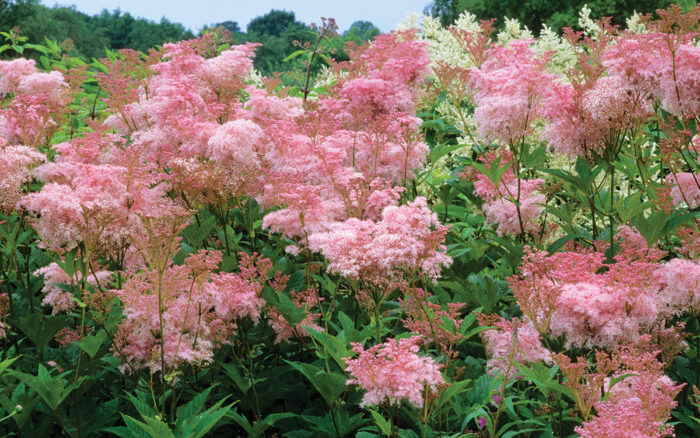 Looking to make an impression in the garden? Check out 'Venusta' queen of the prairie—an impressive perennial that rises to the occasion to create a bold, dramatic scene. This underutilized cultivar won the Award of Garden Merit from the Royal Horticultural Society way back in 1993. It is a standout, 6-foot-tall naturalizing plant that provides excellent height at the back of the border and then explodes with wonderful pink puffs in mid to late summer.
Starting off a medium pink, the large floral sprays mature to a soft baby pink—a pleasing color that blends well with other blooms in shades of pink, purple, red, and the tan of ornamental grasses. But the flowers are not the only attraction. This "queen" has large, deeply cut leaves that provide a tropical appearance throughout the growing season as the plant attains its mature height.
While dramatic in appearance, 'Venusta' is not a diva when it comes to growing conditions. The straight species, along with all its cultivars, does prefer wetter locations—it is often found growing in native wetlands—but it will tolerate a wide variety of soil types, from the beautiful loam soils to the heavy clay soils often found in the Midwest. The one situation queen of the prairie will not tolerate is a dry site; this perennial wants constant moisture. It also does best in full sun but will tolerate some shade, though it might not get quite as tall in those locations. In hotter climates, some shade is appreciated and helps to keep the plants looking good through summer.
Also called meadowsweet and prairie dropwort, this North American native is said to have been used by several indigenous tribes as a treatment for a range of health concerns, from heart problems to dysentery, and even as a love potion.
This large perennial spreads by runners and seed, provided the growing conditions are optimal. However, you need more than one plant for cross-pollination in order to produce seed. Hence, sticking with just the cultivar 'Venusta' will help prevent seedlings.
Because 'Venusta' queen of the prairie is a large plant, give it lots of space so that it can attain its full potential. Good locations include large perennial gardens, prairie gardens, naturalistic plantings, mixed shrub borders, cottage gardens, or anywhere there is room for the plant to grow and spread. The fragrant flowers are highly attractive to pollinators, particularly butterflies.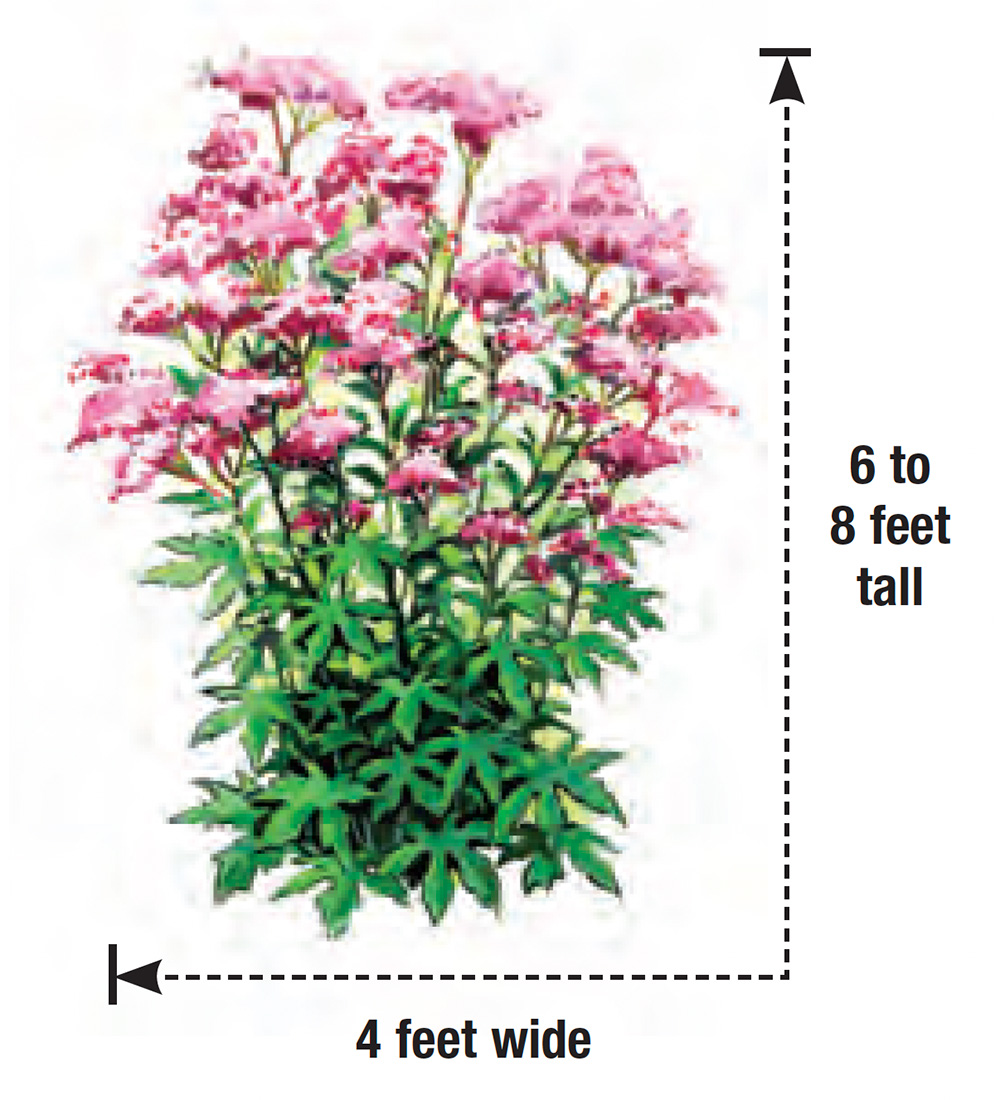 Maintenance is reasonable too. Deadheading isn't necessary, unless you don't like the looks of the seed heads; otherwise, simply cut the plants back at the end of the season.
'Venusta' queen of the prairie
Filipendula rubra 'Venusta' (syn. F. rubra 'Magnifica')
Zones: 3–9
Conditions: Full sun to partial shade; moist soil
Native range: Eastern United States
---
Laura Deeter is a professor of landscape horticulture and horticultural science at The Ohio State University Agricultural Technical Institute in Wooster, Ohio.
Illustration: Elara Tanguy
Sources