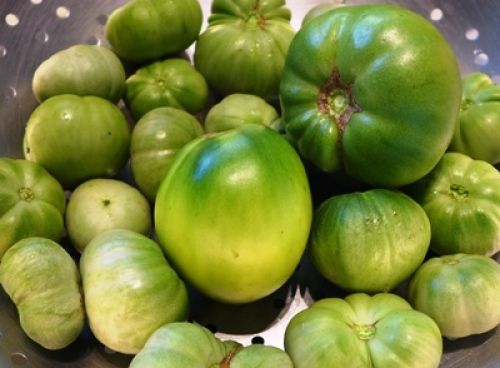 Most of the vegetable gardeners I know have their hands full of green tomatoes right now. A surprise hard freeze meant tomatoes needed to be harvested before they froze on the vines.
Some tomatoes that were close to turning ripe-red will continue ripening indoors. I used to wrap each tomato in newspaper, but found these greenish tomatoes will ripen on their own in a box in the basement or other cool, dark spot.
But that still leaves small green tomatoes that won't ripen at all. There are plenty of recipes for using green tomatoes. Of course, fried or oven baked green tomatoes are at the top of the list. But green tomatoes are also an ingredient for green tomato bread, green tomato egg bake, green tomato pie and pickled green tomato relish.
Those are just some of the traditional ways to cook with green tomatoes, but this year I wanted something different. I decided to use green tomatoes in recipes that called for tomatillos.
In Cooking With Scraps, Lindsay-Jean Hard included a recipe for Black Bean and Green Tomato Pico de Gallo. That's a tangy way to use about 3 cups of diced green tomatoes, onion, black beans, serrano chile peppers, garlic, cilantro and lots of fresh lime juice.
I stuck to her theme of using what's in the fridge and baked a batch of chips from half a package of corn tortillas (cut into triangles, spritzed with cooking oil, sprinkled with salt, and baked at 350 degrees for about 10 minutes or until crispy).
The Pico de Gallo didn't last long, so for the next batch I blended the tomatoes until just slightly chunky for a green tomato salsa. 
Tomatillos are sometimes called Mexican green tomatoes and they belong to the same family as tomatoes. Tomatillos taste a little more like lemon, apples and herbs than green tomatoes, but they're still very similar.
Green tomatoes can take the place of tomatillos in guacamole, in a chile verde sauce for enchiladas, raw in salads, as a fresh topping for tacos, simmered in a vegetable soup or turned into a chicken posole stew.
When replacing green tomatoes for tomatillos, check for taste during preparation and cooking, then adjust as needed. Some recipes may need more lime juice to add acidity, others more or less salt. 
Do you have a favorite way to use green tomatoes in your cooking? Please share your ideas here!