I never thought I was much of a hydrangea fan. They seemed ho-hum to me. I usually thought of them as pretty blobs of color that make a good background but aren't spectacular. But just this week I was going through my upper shade garden and—surprise, surprise—there were many hydrangeas there. They were probably planted as a test for my clients, since hydrangeas are a client favorite. But I have to admit that the ones I found there are fabulous. I have a quest to find unusual hydrangeas, and I found that these smaller hydrangeas have a little more to give. Pushing their way to the front of the planting bed instead of staying in the background, they are a must-have for any-size garden.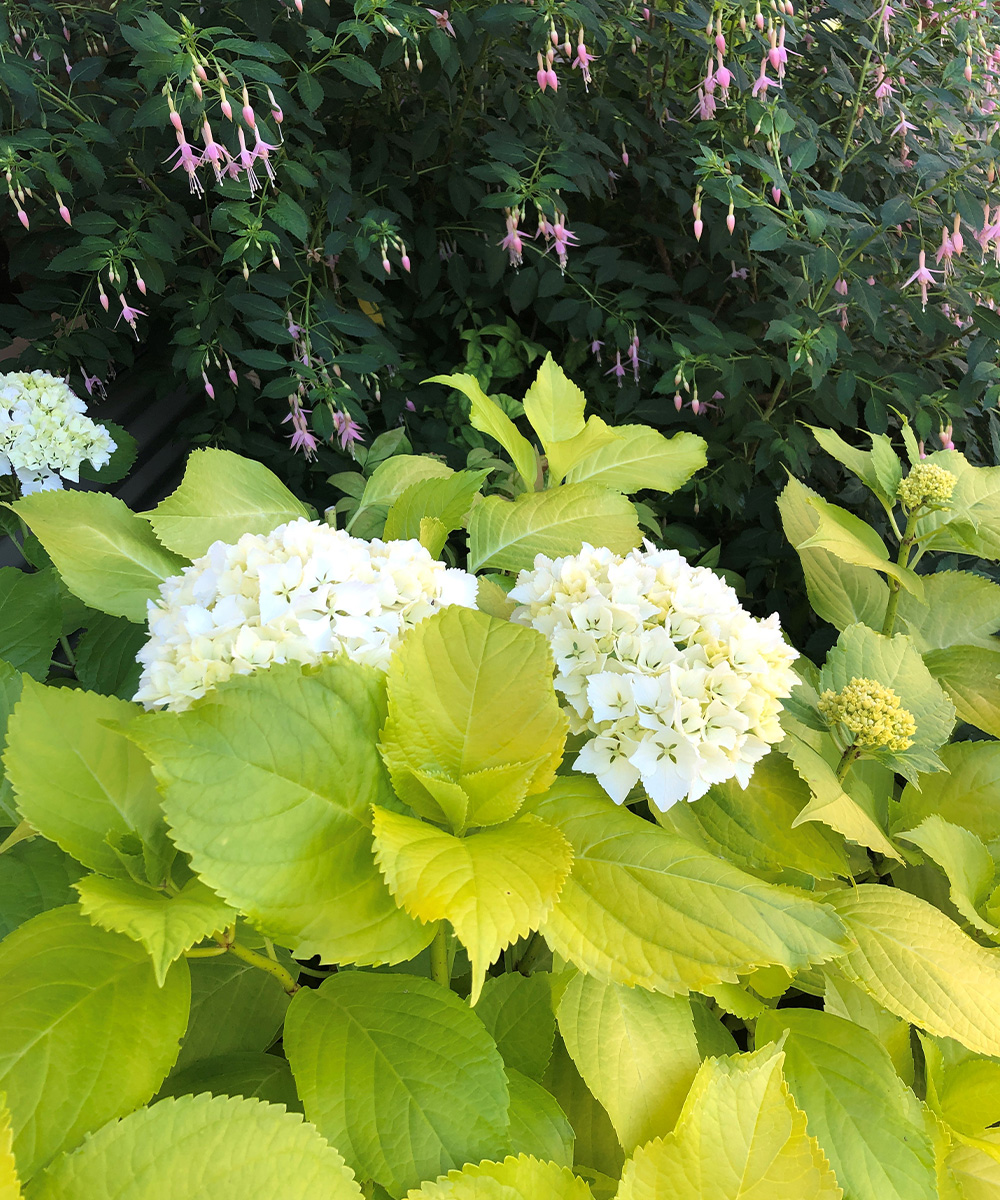 'Lemon Daddy' bigleaf hydrangea
H. macrophylla 'Lemon Daddy', Zones 6–9
In a shaded area, bright lime leaves really stand out. 'Lemon Daddy' hydrangea does that with brilliant foliage that is an electric lime with good variation in color. (But watch out for slugs that can occasionally eat the foliage.) The mophead blooms are white and stay that way throughout the season in my garden. In other locations it has some tendency to sway to the pink side. 'Lemon Daddy' takes some morning sun but dislikes the hot afternoon sun. Good moisture is preferred, but it can take some drought too. Staying about 3 feet tall, it is perfect for small gardens or as part of a bigger border.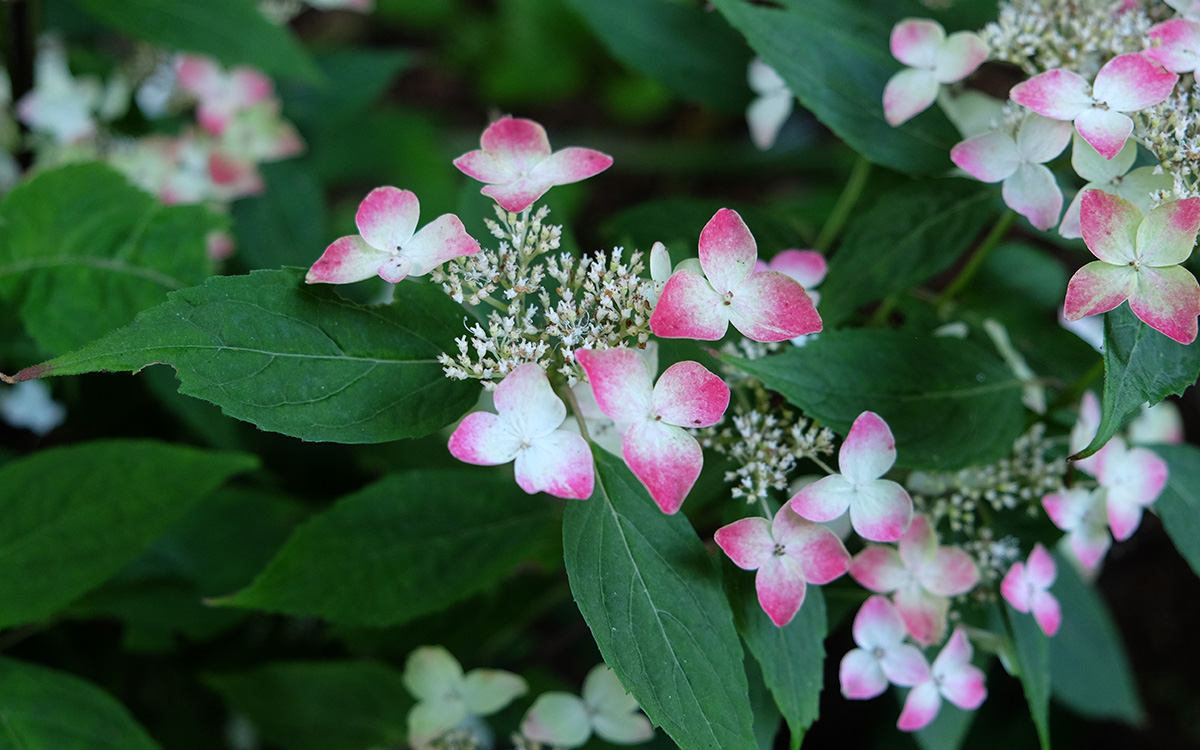 'Beni' mountain hydrangea
H. serrata 'Beni', Zones 6–9
'Beni' mountain hydrangea went in my garden last year and is starting to put on some good growth now. The flowers start out a pure blushed white and gradually deepen into an amazing, velvet, scarlet red. As fall approaches, they fade toward a darker brick red but still maintain a velvety look. There is nothing quite like it. I have mine planted beneath a red snakebark maple (Acer capillipes, Zones 5–7), and the 'Beni' (Japanese for "red") color bounces around in the dappled shade. 'Beni' mountain hydrangea is a slow grower and dainty in shade, so put it toward the front of the bed. Consider surrounding it with dwarf 'White Sensation' astilbe (Astilbe simplicfolia 'White Sensation', Zones 4–9) as contrast or 'Crimson Fans' mukdenia (Mukdenia 'Crimson Fans', Zones 4–9) to repeat that luscious red color. 'Beni' blooms mid-July through September. It will grow 4 feet high and just as wide.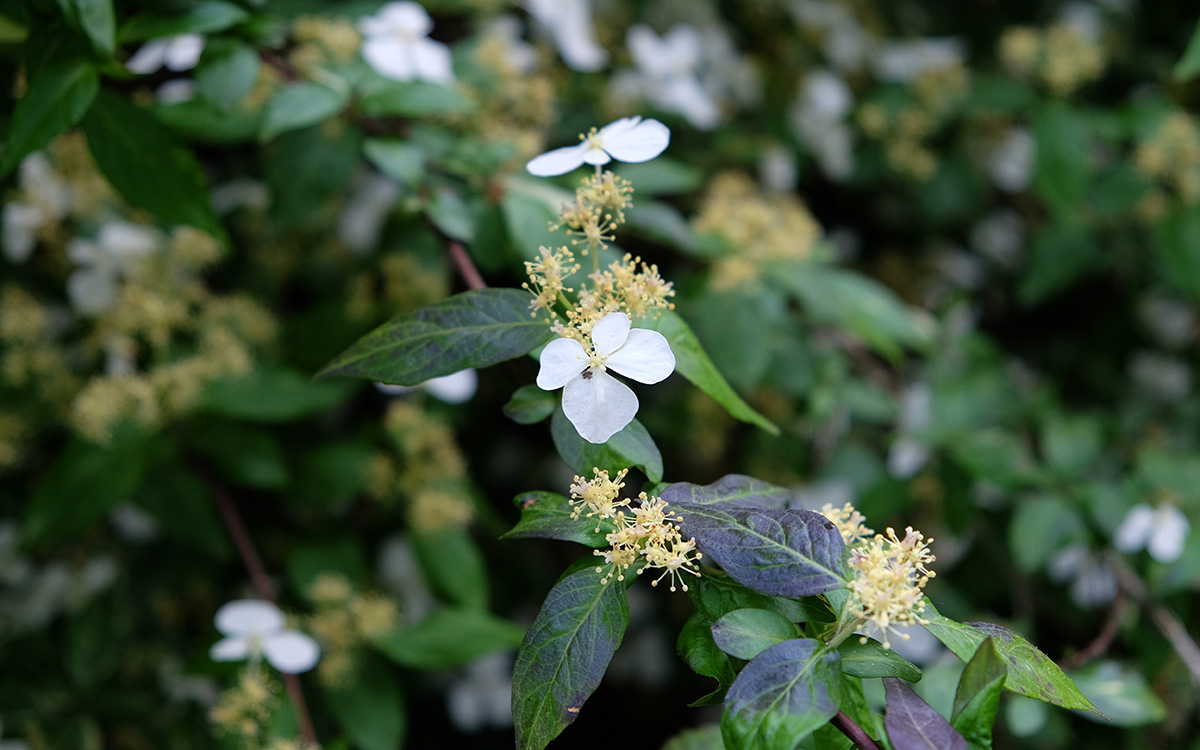 'Fragrant Splash' hydrangea
H. scandens 'Fragrant Splash', Zones 7–10
Any gardener can be frustrated by the terrible habit of forgetting to write down names of plants that they buy. 'Fragrant Splash' hydrangea was one of those plants for me. Given to me by a friend who can grow anything from seed, I promptly forgot the name. Plopped into a pot, it languished for several years until I gave it a spot in the garden. Happy where it is planted now, it produces some stunning leaves. The foliage is a mix of solid black leaves, green-and-white variegated leaves, and black-and-green variegated leaves—all at the same time and on the same branch. White lacecap flowers cover the plant in early spring, which comes at the end of March in my garden. The leaves and flowers are small and dainty, but the fresh, sweet fragrance draws you down the path to find it. Now it holds its own in the garden bed at about 4 feet tall. It can dangle, so prune it if you like, or let it weep. To keep the leaf colors, grow it in partial shade with no afternoon sun. It likes moist, rich soil.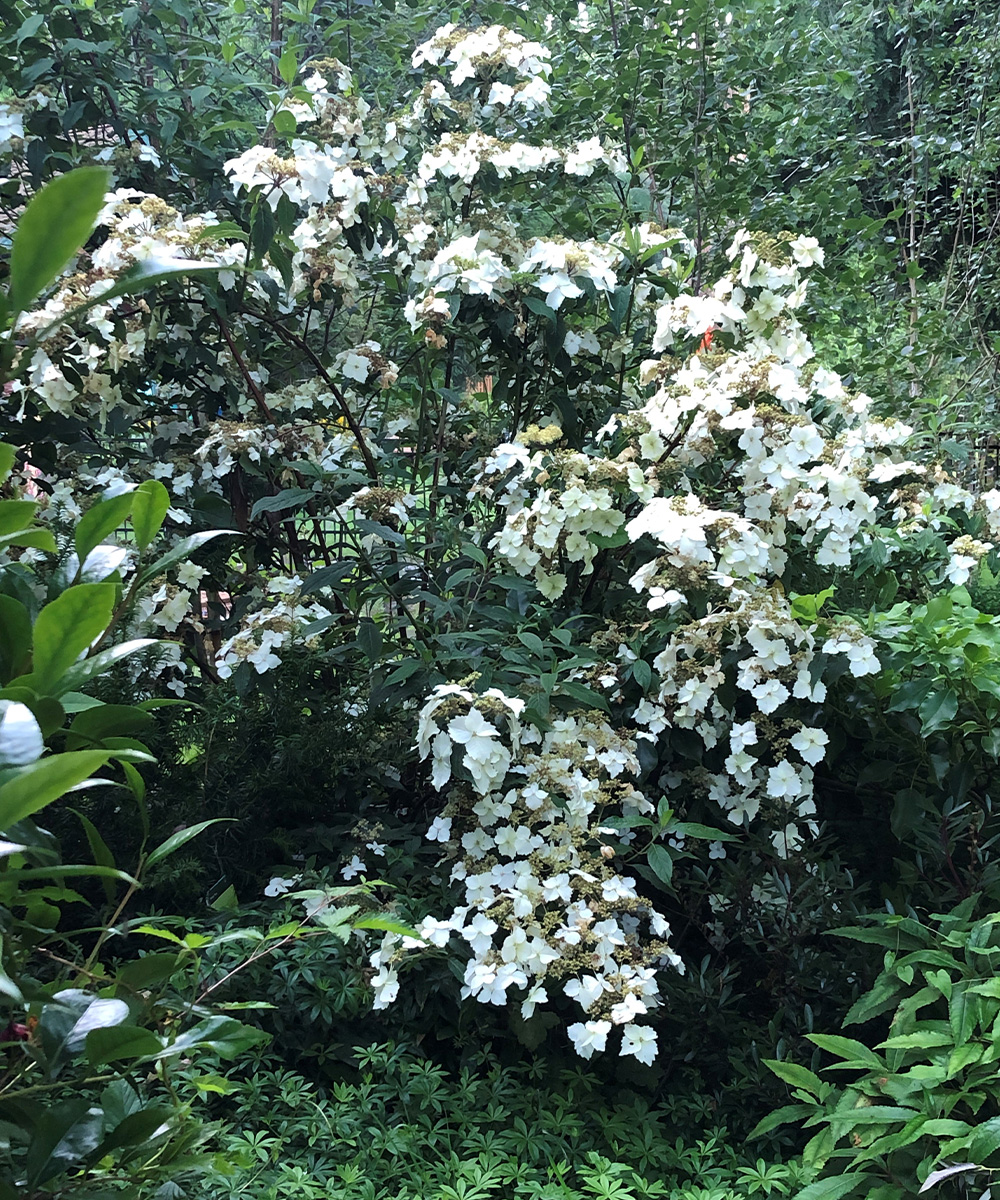 Golden Crane® hydrangea
H. angustifpetala 'MonLongShou', Zones 6–10
Golden Crane® hydrangea is an introduction from Dan Hinkley. It blooms with white, fragrant flowers surrounding golden yellow, fertile florets in late March and April. It takes a while for this shrub to get established and live up to its hype, but it is beguiling and sweet. I planted it to distract from a house in the background, and it is stunning now. The fragrance is jasmine-like and floats through the garden in early spring. Golden Crane® likes full to partial shade, regular water, and moist soil. It will eventually reach 3 to 5 feet tall and wide.
New cultivars of hydrangeas are being introduced every year, but looking for the rarer, older varieties is even more fun. Searching the internet for names can lead you down the spiral of finding interesting hydrangeas to collect. Easy to purchase and ship, they will provide hours of entertainment and exercise as you wander around the garden to find just the right spot to plant them.
—Susan Calhoun is the owner of Plantswoman Design in Bainbridge Island, Washington.