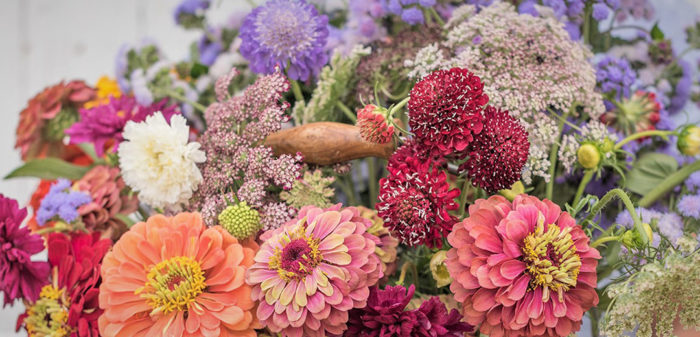 Do you love creating your very own home-grown, colorful floral arrangements, but are you constantly plundering your perennial beds for the perfect blooms? An annual cutting garden, designed and dedicated to the production of bountiful summer blooms, might be the perfect solution. Following a few simple steps in spring takes the pressure off your favorite summer-flowering perennials and shrubs (dahlias, roses, and peonies are the most often plundered in my own perennial borders). A properly planted annual flower garden can provide you with a constant supply of abundant blooms for beautiful bouquets all summer long.
Start with the right location
When choosing a spot for your cutting garden, think abundant sunshine in weed-free, well-amended soil (adding organic compost and organic, well-balanced fertilizers tends to get the best results). An efficient irrigation system is vital to all Northern California gardens and will provide the consistent moisture needed by your growing bloom producers. Once your planting is done, be sure to mulch well (choosing organic mulches if possible) to conserve moisture and keep weeds to a minimum.
Plant densely to guarantee maximum production
Whether you buy your plants already started or grow your own from seed, you can grow your bloom-producers in space-efficient rows—as you would a crop of vegetables—making it easier to harvest, deadhead (for continued bloom production), troubleshoot, and weed. But there are no hard-and-fast rules for laying out the "perfect" cutting garden. Block planting, for example, might be best for your particular garden space. Whatever you decide, plan ahead and plant accordingly so your taller plants won't ultimately shade the shorter varieties and so that the flowers are easily reachable for harvesting. Check seed packets and plant labels for needed height and spacing information.
Select varieties carefully
When choosing plants for your cutting garden, include a range of different flower sizes, textures, and shapes, and don't forget fillers and foliage plants. They'll highlight the showier blooms and add texture and interest to your arrangements. Planning ahead for outstanding color combinations in the vase is a good idea, though growing certain flowers that bring back fond memories is always an added bonus. Why not grow blooms that look great in summer arrangements but also attract hummingbirds, honeybees, or other beneficial insects?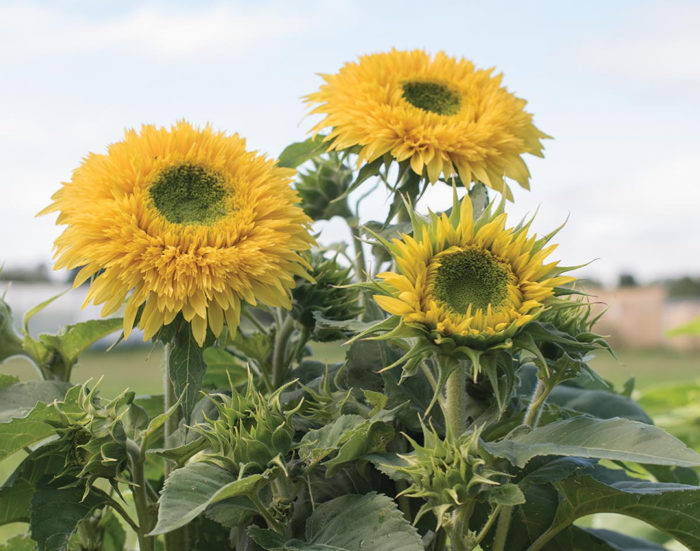 I love growing sunflowers because they look as spectacular in the cutting garden as they do indoors. 'Lemonade' sunflower (Helianthus annuus 'Lemonade', annual) is a particular favorite, with its spectacular, long-stemmed, fully double, delightfully lime-centered, lemon-colored blooms. Reaching 6 feet tall or more, this multibranching bloom producer is definitely one for the back of the border.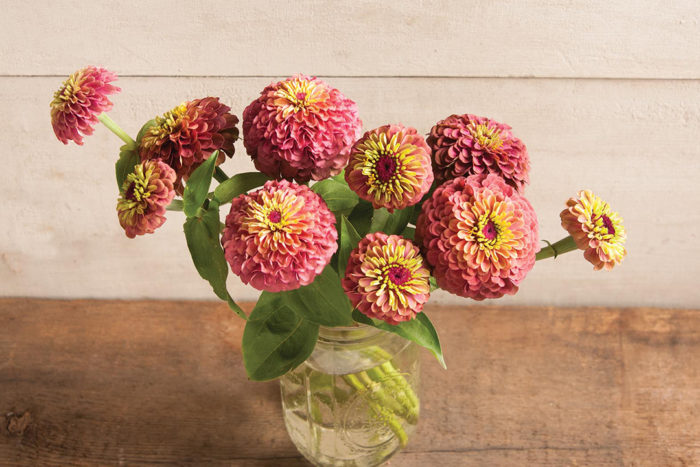 Growing 3 feet tall and almost constantly in bloom, 'Queen Red Lime' zinnia (Zinnia 'Queen Red Lime', annual) is a mid-border must-have. Its antique hues of dusky coral on the outer petals lighten to peachy-apricot hues and eventually all the way to creamy chartreuse inner petals. All of these surround a rosy central button, which makes this zinnia a show-stopping focal point for any summer arrangement.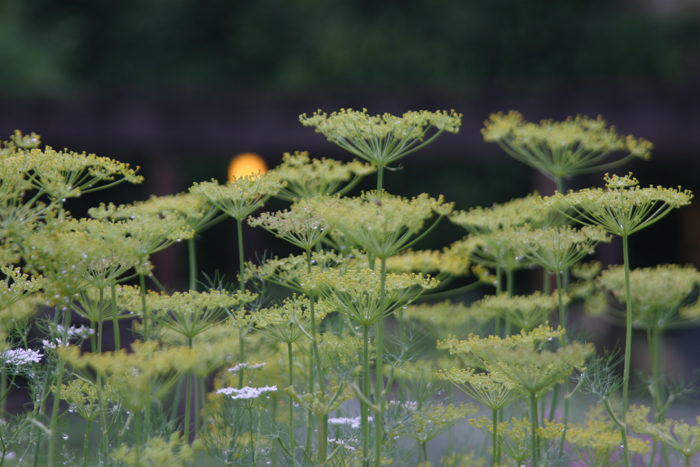 For a truly lovely bouquet—and my favorite combination—blend 'Double Click Cranberries' cosmos (Cosmos 'Double Click Cranberries', annual), trailing sprays of 'Coral Fountains' amaranth (Amaranth 'Coral Fountains', annual) and two to three long-stemmed 'Fragrant Cloud' roses (Rosa 'Fragrant Cloud', Zones 5–9) with a handful of long-stemmed, airy, chartreuse 'Bouquet' dill (Anethum graveolens 'Bouquet') flowers freshly plucked from the herb garden.
Time the harvest properly
For long-lasting bouquets, harvest your blooms during the coolest part of the day, visiting your cutting garden early in the morning. Bring a container of room-temperature water with you, and put your flowers directly into the waiting container immediately after snipping. When you have the perfect vase and are ready to start arranging, make a fresh, angled cut on each stem and begin assembling your bouquet. There are many packaged commercial cut-flower preservatives available for purchase, but a simple, very effective recipe of 3 tablespoons of sugar and 2 tablespoons of apple vinegar per quart of water has always yielded great, long-lasting results for me.
—Fionuala Campion is the owner and manager of Cottage Gardens of Petaluma in Petaluma, California.