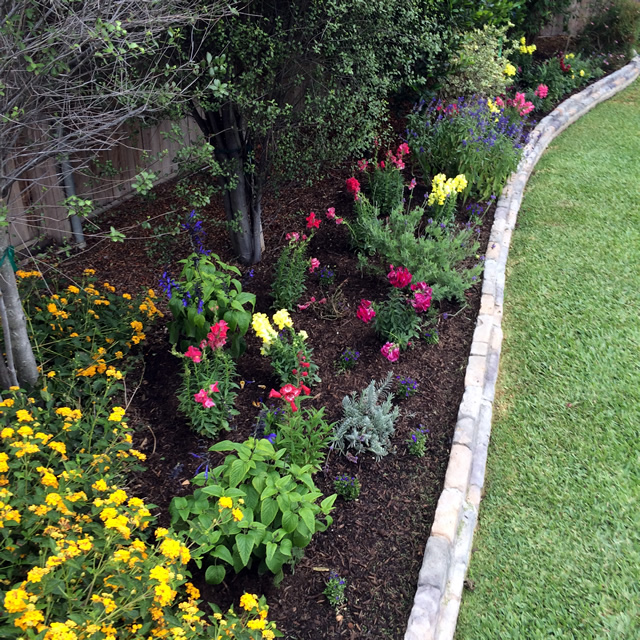 Don La Grand from Costa Mesa said it well, "I guess when you love what you're doing time seems to disappear."
"When we purchased this house in 1986, it was in the process of being painted and then they stopped. It was 5 different colors when we got it. The yard was over grown or dead. The backyard was un-level and the original fence was rotten. So I replaced the fence myself and I made it 1 foot taller than the original,then I brought in 30 yards of topsoil to to back fill the low area in the backyard. I also had to put a Barrier between the soil in the wooden fence to keep the new fence from corroding. Now with the new topsoil added and using my garden hose as a guide , I could lay out the flowerbed borders with the bricks that I purchased from home building supply place that was going out of business 2 years earlier.I got them at a super discount. Then I started the fun part of all of this. Choosing the foundation plants. I used Silver-sheen in the bank yard and birch trees in the front yard. Then over the next 5 years I filled everything in with shrubs, perennials and annuals. My yard here in Southern California is forever changing and now with water rationing going on here, I've got to think wisely about my plant selections. This has transformed slowly over the past 30 years, but I've enjoyed every minute of the process. I guess when you love what you're doing time seems to disappear."
Have a garden you'd like to share? Please email 5-10 photos (and a brief story about your garden) to [email protected], or tag your photos on Instagram or Twitter with #FineGardening!
Whether you've never shared before or you've been featured multiple times, we want to see your garden! You don't have to be a professional garden photographer – check out our garden photography tips!
Do you receive the GPOD by email yet? Sign up here!
Hey, is anyone going to the Northwest Flower & Garden show? If so, please stop by our booth (in the seminar space) and say hi!