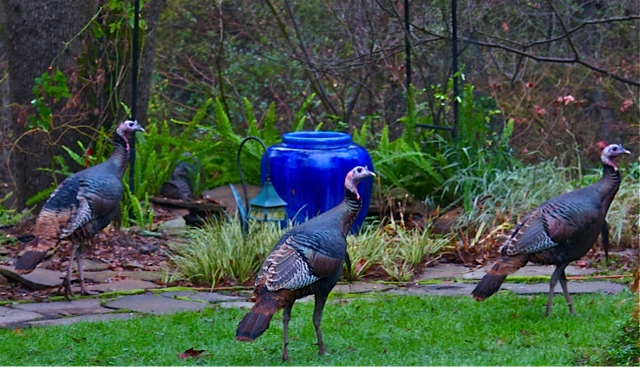 Irvin and Pauline from Carmichael, California have a special "thanks" for their GPOD family. As the Web Producer here at Fine Gardening, I'm honored to do my best to continue Michelle's work here on the GPOD! ~Susan
"Soon Thanksgiving will be upon us as another year of memories are filed away. Pauline and I wish to thank and acknowledge Michelle for her dedication to excellence while serving as our GPOD guru. She brought together beautiful gardens for visual reward, inspiration, and admiration. And a special thanks to all the gardeners who so willingly shared your glorious landscape creations. Since beginning with the Pilgrims first Thanksgiving in 1621 the wild turkey became the quintessential model of Thanksgiving. Accordingly, it's featured in this GPOD entry. Our woodland garden setting attracts nature's wildlife to our doorstep so we shared their photos as well. Best wishes to all for a happy and wonderful Thanksgiving. May we have peace in the world."
Have a garden you'd like to share? Please email 5-10 photos (and a brief story about your garden) to [email protected], or tag your photos on Instagram or Twitter with #FineGardening!
Whether you've never shared before or you've been featured multiple times, we want to see your garden! You don't have to be a professional garden photographer – check out our garden photography tips!
Do you receive the GPOD by email yet? Sign up here!