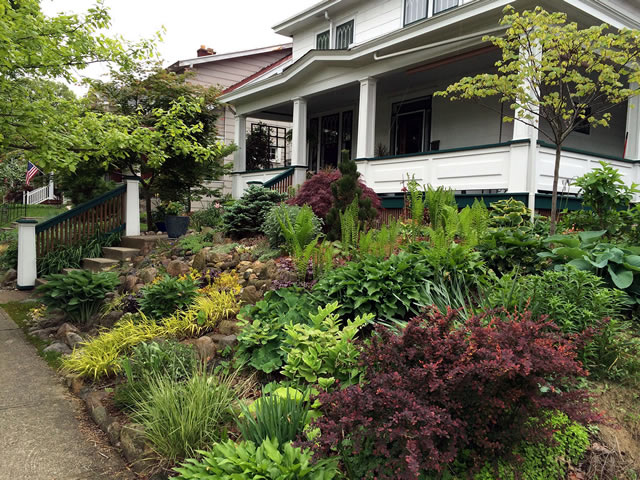 Tim bares all in today's GPOD! Actually, he did share his garden with our magazine readers in issue #158 (see some plant IDs from that article here).
"I don't think I've ever shared a full yard tour here on GPOD. These views give a pretty good idea of how small my yard is, how tight the neighborhood is and why I really jam-pack plants in. I didn't edit out any warts like I usually do, so you'll see cars on the street, glimpses of the alley, power lines and how narrow the side yards are, plus assorted weeds that pass as lawn and wire cages to keep out neighborhood wildlife and not-so-wild life. There are still late perennials coming up and I don't have any annuals in yet, so there is actually some dirt and mulch showing here and there. There's a few shots of some favorites this week, too. I was fascinated by Clematis integrifolia Blue Ribbons this year. The nascent flower bud is sealed up in two leaves that slowly unzip to let the the bud get bigger and then nod to form it's shy bloom."
Have a garden you'd like to share? Please email 5-10 photos and a brief story about your garden to [email protected]. Please include where you are located!
Have a mobile phone? Tag your photos on Instagram or Twitter with #FineGardening!
You don't have to be a professional garden photographer – check out our garden photography tips!
Do you receive the GPOD by email yet? Sign up here.