Any garden can be bold, like that of Marilyn Wallace. The spaces she creates, indoors and out, emphasize strong elements balanced by more delicate or intricate ones (or just empty space). When she moved to her home in British Columbia, she finally had the space to plant a garden fitting her tastes. Her yards, however, gave her two planting conditions to work with: a front yard on bedrock in full sun and a backyard on deep, rich soil in partial shade. They limited her plant choices and, thus, gave her a reason to plant two very different bold gardens. Marilyn took these designs just far enough to be memorable, knowing when to back off so that the designs didn't cross the line between being bold and being obnoxious. The key was to intensify one detail and no more. This, thankfully, wasn't too difficult a task.
With Lots of Leaves, Limit Color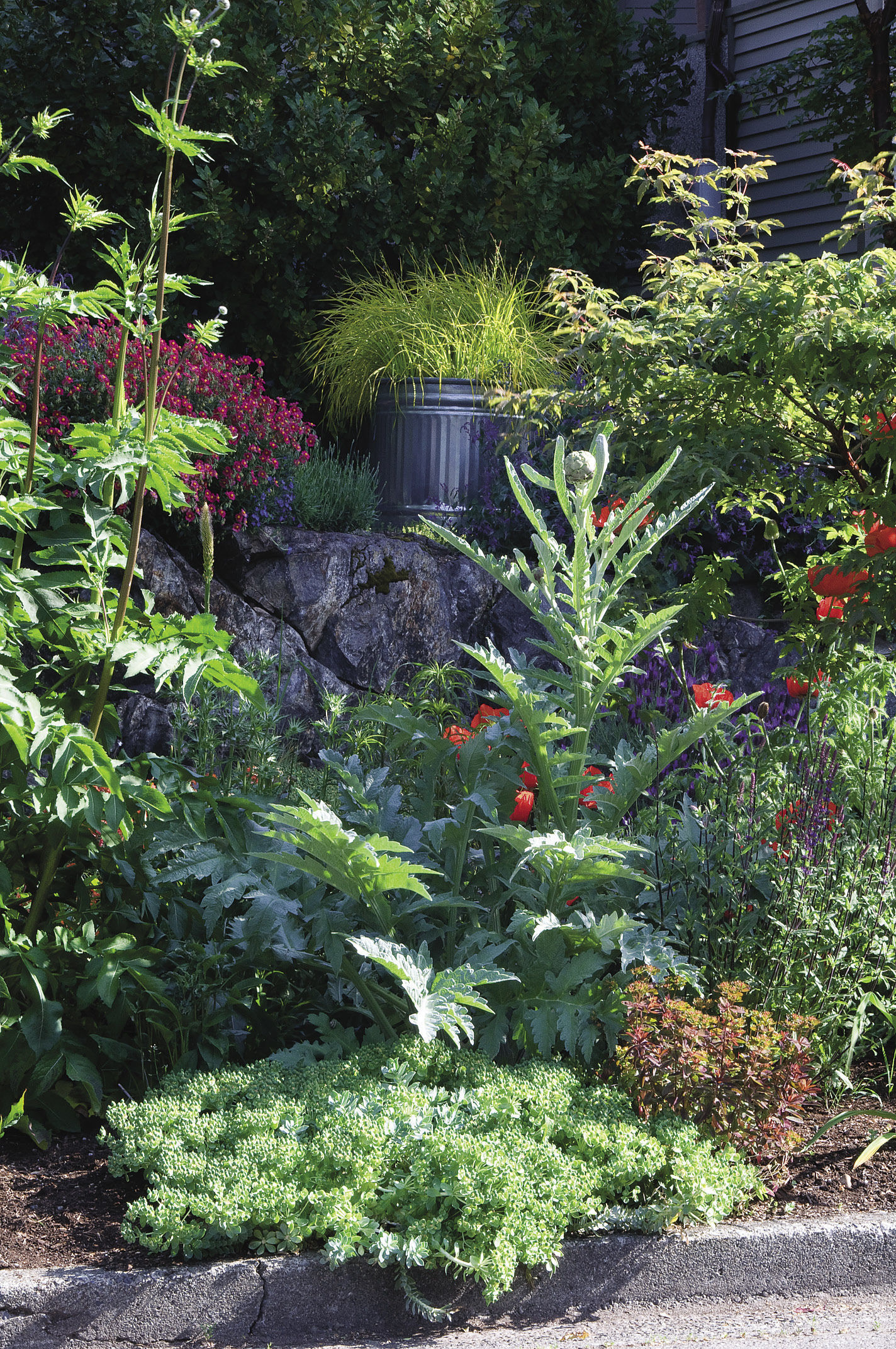 The ample space and deep soil in her backyard allowed Marilyn to choose a number of differently shaped foliage plants as the bold factor in its design. She'd always felt that too many gardens used flowers as a crutch and loved the idea of a nearly flower-free design. So she chose a diverse set of leaves as her building blocks, like those of gunnera (Gunnera manicata, USDA Hardiness Zones 7–10) and 'Chocolate Wings' rodgersia (Rodgersia pinnata 'Chocolate Wings', Zones 5–9).
Because these diverse leaves were the detail Marilyn chose to make bold, other elements, like color, had to be controlled. Too many colors on so many differently shaped leaves would have been too much and a bit disconcerting. To avoid this, Marilyn used mainly black, burgundy, and green foliage.
By limiting color, she also emphasized the subtler differences in her leaf collection. The textural and shapely contrasts between tall timber bamboo (Phyllostachys bambusoides, Zones 7–10), delicate black mondo grass (Ophiopogon planiscapus 'Nigrescens', Zones 6–11), and giant gunnera jump out dramatically in a color-controlled setting.
The most colorful plants Marilyn uses are burgundy ones. A network of burgundy plants, in fact, keeps the eye moving through this design. The color weaves in and out of the plantings like a lace on a bold shoe, tying everything together, helping us take in all the leaves and preventing us from getting stuck on a combination or pathside corner. It's a free and striking experience.
By limiting color, Marilyn also emphasized the subtler differences in her leaf collection.
Tidy Habits can have Showy Colors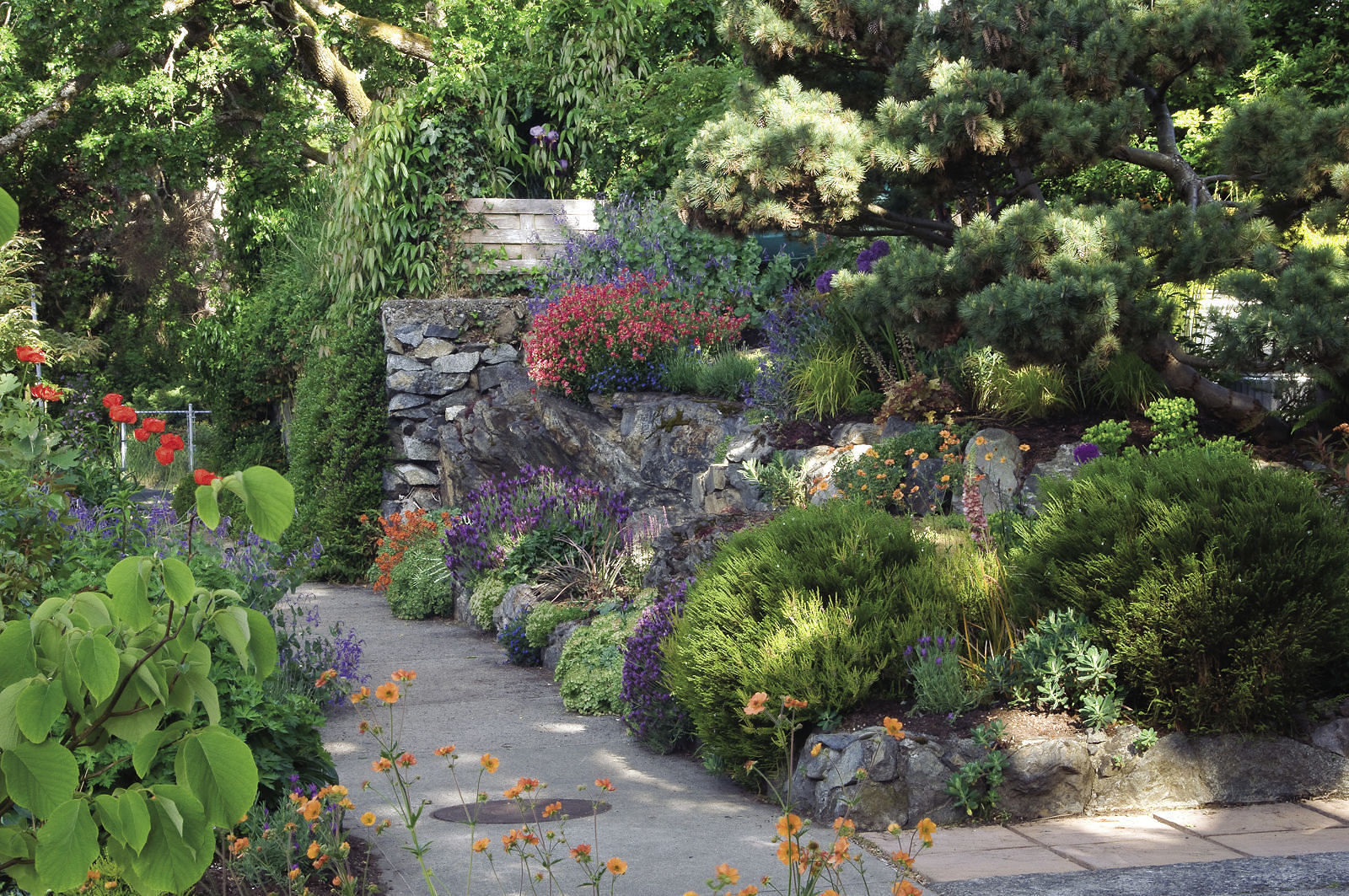 Too much color would have taken the backyard's design over the top, but it's just the detail to make the front yard bold. Its shallow soil limited plant choices to mostly compact, green-leaved herbaceous ones with small flowers. To compensate for their uniform shapes and textures, intensely hued flowers became Marilyn's vivid elements. When used sparingly, vibrant colors make a garden bold; in excess, they're too much to handle. Think of strong colors like salt: A little bit makes everything better, but too much is awful. Marilyn uses lots of strong, hot colors. These reds and oranges stand out so brightly that measures needed to be taken to keep them manageable. Imagine a big red front yard. Off-putting, right? Reds and oranges on these tidy plants, however, grow in mottled patterns on tiny flowers, like those of 'Apricot Twist' wallflower (Erysimum 'Apricot Twist', Zones 7–9). To calm them even further, blue plants, like digger's speedwell (Parahebe perfoliata, Zones 9–11), were planted throughout, just as the burgundy plants were in back.
Marilyn balanced color so well that she was able to add a few more bold elements to the design. Tall and spiky cardoons (Cynara cardunculus, Zones 7–11) add novelty to the perennial beds, as does the metallic horse trough placed on the rock ledge. It holds chartreuse Bowles' golden sedges (Carex elata 'Aurea', Zones 5–9). Chartreuse is a happy medium between warm and cool colors, so it's a low-key touch of boldness in this setting. The common shapes and textures of this front yard made intense colors and a few unique touches welcome sources of interest.
Bold spaces come about by emphasizing one facet of a design; displeasing gardens play up too many. Marilyn was flexible enough to build her gardens with the plants that worked best in her given conditions—big leaves in one, balanced colors in the other. Anyone can follow her lead and plant an ideal bold garden.
---
Backyards are where you can Take Chances
The backyard is a private space, so don't worry about your bold design being approachable. Indulge yourself with items that require more than a passing glance to appreciate.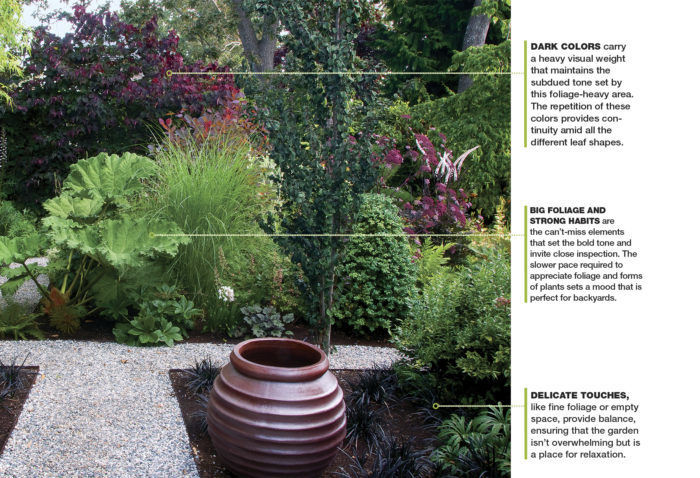 Front Yards should be Friendly
As the public face of your property, your front garden shouldn't be something that puts people off. Being bold here involves using something everyone loves: flowers.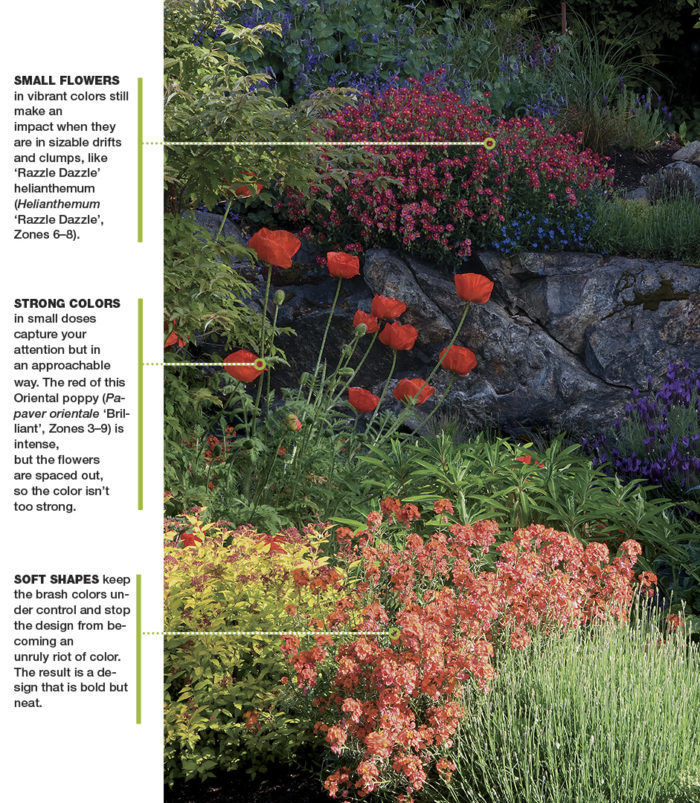 ---
Antonio Reis is an assistant editor.
Photos: Allan Mandell