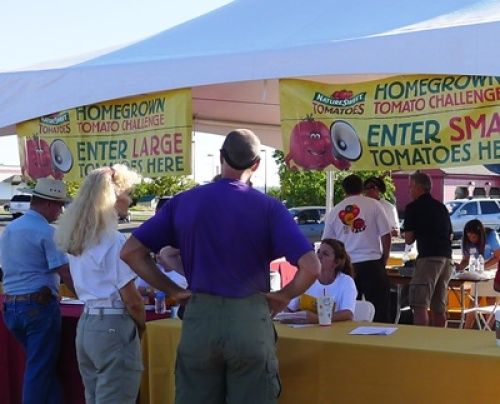 A baggie of 'Sungold' tomatoes won the small tomato competition at the NatureSweet Homegrown Challenge in Denver on Saturday. It just wasn't my bag of 'Sungolds'.
'Sungold' is a hybrid orange cherry tomato that's known for its exceptionally sweet tomato taste. I was well aware that 'Sungold' usually takes home the prizes at county fairs and tomato-tasting events, so I felt like my entry had a good chance in the contest.
While I didn't walk away with any prizes, I did gain valuable information that could give me a boost for tomato competitions in the future.
The NatureSweet Homegrown Challenge uses a two-step process for judging the winners in both large and small tomato categories. 
In the first step, all tomatoes are given a test for sweetness. The test uses a refractometer to measure the approximate amount of total sugars in one tomato from each entry. The measurement is calculated in "Brix" units, named for the chemist who was the first to measure the density of plant juices.
A large tomato may have a Brix reading from 2.3 to 8.2; a small tomato from 4.5 to 11.7. I watched as one of my 'Sungold' tomatoes tested at 10.5. Certainly sweet, but not sweet enough.
The second step in the homegrown challenge is a taste test. The tomatoes with the top three Brix scores in the small and large size categories are sampled by a panel of judges and rated for taste.
The winning 'Sungold' gardener took home the $2500 prize for growing the sweetest small tomato. The runners up, a 'Supersweet 100' and a 'Golden Sweet', each won a $250 grocery store gift card.
The $2500 winner in the large tomato category was a 'Big Boy' tomato, followed by 'Pink Lady' and 'Rowdy Red'.
Many factors influence a tomato crop and the crop's Brix level. Variety selection and crop maturity are two key factors. Environmental factors, such as moisture, fertility, sunlight, and temperature also have an influence on Brix levels. 
Because variety selection is one of the surest methods of shaping Brix, gardeners who plant tomatoes bred for their sweetness have a head start. When shopping for potential prize winners, read up on tomato types and then search for those that either have "sweet" in their name or are described as "sweet as candy." 
More than 300 area gardeners lined up to see if they could take home one of the top prizes. The record number of entries caused the emcee to comment, "Folks in Colorado must really like to grow tomatoes."
That's certainly true; however, one gardener I met at the contest told me she drove more than 90 miles from Cheyenne, Wyo., to enter her 'Paul Robeson' heirloom tomatoes in the large tomato category. 
In addition to the Denver NatureSweet challenge, there was a contest held last month in St. Louis, Mo., and another is scheduled for September 14 in John's Creek, Ga.