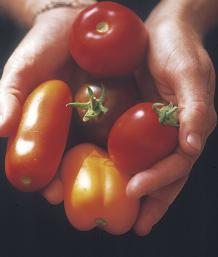 Sometimes I think there must be tomato sauce flowing through my veins. My earliest memories are of watching my parents water the tomato vines in the backyard and of my Italian grandfather, who boasted about the big, heavy, delicious tomatoes he had grown in rocky soil enriched with countless wheelbarrows of horse manure. As a kid, I spent many summers at my aunt and uncle's ranch, where they grew nearly a hundred acres of processing tomatoes. A stay at their house meant tomatoes at every meal. After harvest, when the fields were littered with rejected tomatoes, my brothers and I would have raucous tomato fights and come to the back door drenched with tomato pulp. For a while, I even worked in a tomato cannery, where the ground was paved with spilled tomatoes and the air was scented with ketchup.
These days, tomatoes are still a large part of my life, and summer would simply not be summer without lots of tomatoes. To keep my tomato plants happy and productive, I give them the necessities of life: food, water, and light. But for the greatest yields, they also require that I provide some means of support or trellising. Lifting and supporting the plants keeps the fruit clean and away from pests, provides better air circulation to help prevent disease, and makes it easier to see and harvest the fruit. I can also fit more plants into a smaller area by trellising them. All this translates into more and better tomatoes. During my many summers of tomato fixation, I've tried and observed many types of tomato supports and have found several tried-and-true structures that are readily available, dependable, and sure to keep the garden looking attractive and orderly.
Cages, stakes, spirals, and ladders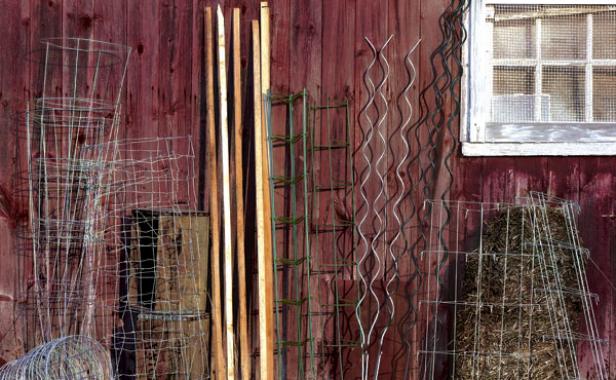 The type of support structure you choose depends on how much space you have and on the growth habit of your tomato plants.
Tornado-shaped standard tomato cages are the easiest supports to find. Approximate cost: $1 to $3 each.
Homemade cages can be fashioned from wire-mesh fencing with large holes. Approximate cost: 33 cents/foot.
A tomato plant can be trained to a single wooden stake, or several stakes can be made into a tuteur or tripod. Approximate cost: $1 to $3 each.
Sturdy plastic-coated metal ladders are similar to cages but have one open side. Approximate cost: $60/set of 5.
Spirals are 5- to 6-foot-tall metal stakes that resemble corkscrews. Approximate cost: $6 each.
Collapsible cages work the same way standard cages do but collapse for easier off-season storage. Approximate cost: $10 each.
Determinate vs. indeterminate
All tomato plants like to sprawl, some more than others. Depending on how much they sprawl, they fit into one of two categories: determinate or indeterminate.
Determinate varieties grow to a specific height, then stop, and most of their fruit ripens all at once. Determinate tomatoes are beloved by people who have limited space and by canners who want to harvest just once.
Indeterminate tomatoes will grow until frost or pure exhaustion kills them, and they produce fruit over a long season. In frost-free coastal California, I once saw a cherry tomato that grew through the winter and became so tall the owner could pick tomatoes from her second-story window. If a plant gets too big you can pinch the top out and it will stop growing up, although this can encourage it to send out more side shoots.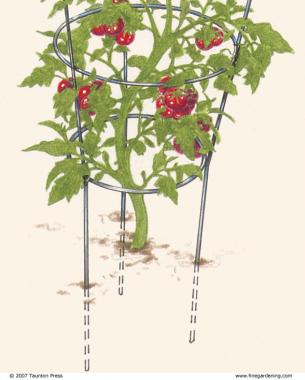 How to use tomato supports
Cage
As a plant grows up through the cage, whether homemade or store-bought, tuck wayward stems behind the encircling wires. Best for determinate tomatoes.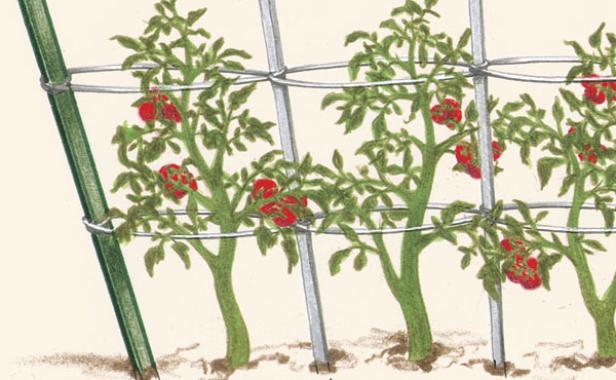 Florida weave
This staking option works well when growing many tomato plants. Twine is woven around wooden stakes to support unpruned plants as they grow. Steel T-posts at the ends of the row hold the temporary structure in place. A good system for either determinate or indeterminate tomatoes.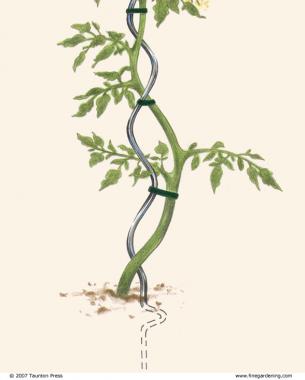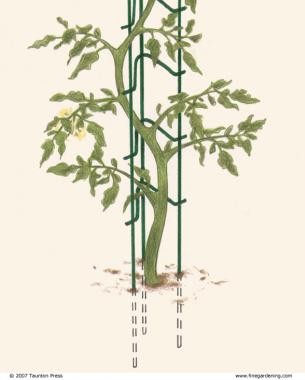 Spiral
As the vine grows, wind it around this elegant stake, tying it up if needed. Best for indeterminate tomatoes.
Ladder
As a plant grows, wind the stems through the rungs of the ladder, attaching them with a tie if needed. Best for indeterminate tomatoes.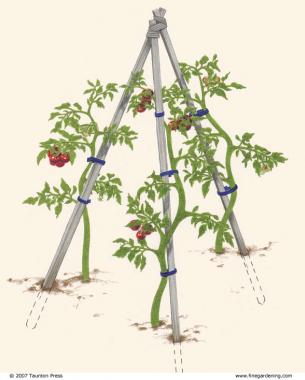 Tripod
Use this structure to support either a plant at the base of each leg (as pictured) or a single vine planted in the middle. Best for indeterminate tomatoes.
Tomato ties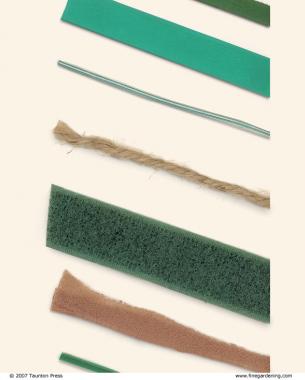 Many different products can be used to attach the tomato vines to the supports. A sampling is shown in the photo above. Top to bottom, the options include paper-coated twist tie, stretch tie, plastic-coated steel wire, twine, Velcro brand hook-and-loop fastener, nylon tie, and plastic-coated twist tie.