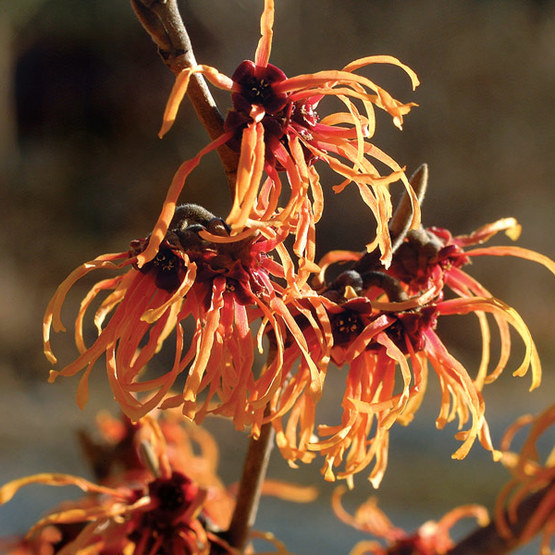 The farther you live from the equator, the less likely it becomes that you think of the winter months as a time for flowering plants. In fact, many flowers can serve as an antidote to the chilly gloom of winter, offering us color when we need it most. The plants described here are among the best choices for winter flowers. They bloom reliably (sometime between mid-November and late March), are easy to grow, and are durable enough to brighten the garden for many winters to come. All have good foliage—evergreen, in many cases—and hold interest through striking leaves, sepals, and stems during other seasons, giving these winter bloomers great garden value above and beyond their unique flowering period.
Bright flowers can light up colder regions
Flower color is precious in USDA Hardiness Zones 6 and colder, where winter brings repeated bouts of snow and freezing temperatures. The flowers that brave the cold are a hardy bunch, either nearly immune to frost or able to open new crops of buds during each mild period of the season. These plants give color right through the winter or at the first prospect of spring. Naturally, they manage a better show, with fewer spoiled blooms, if grown in a sheltered spot. As it happens, many of the best thrive in partial shade, and cutting back on watering and feeding in late summer encourages better winter flowering because plants that know only rich living are often shy to bloom.
The cheery yellow flowers of winter jasmine make up for their lack of scent by opening continuously throughout winter. The slender green side branches of this sprawling, trailing shrub climb walls and gracefully tumble over rocks. Tiny leaves replace the flowers in spring. It's adaptable but performs best in sun with moderate water. A wall covered with winter jasmine becomes a little Niagara of sunny blooms each winter and is a joy to every passerby.
Name: Jasminum nudiflorum
Zones: 6 to 9
Size: 9 feet tall and wide
Conditions: Full sun to light shade; well-drained soil
Witch hazels are terrific ornamental trees all year, with rounded leaves that color in fall on elegantly flaring branches. Winter finds their twigs lined in small, spidery flowers in shades of yellow, copper, or ruby red. The cultivar 'Jelena' offers glowing, burnt orange flowers and, in fall, leaves of the same radiant hue. A witch hazel is just the thing to bring color and structure to a courtyard or entry. Its architecture holds the space together, and the eye-level blooms can be enjoyed from inside or out.
Name: Hamamelis intermedia cvs.
Zones: 5 to 9
Size: 8 to 12 feet tall and wide
Conditions: Full sun to partial shade; moist, fertile, well-drained soil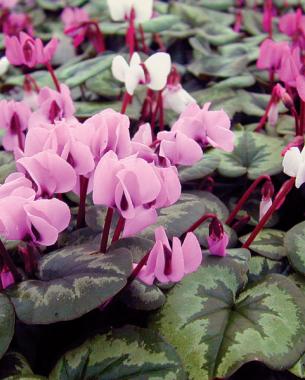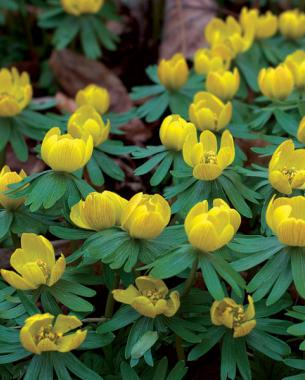 Dainty flowers of white, pink, and rose nod from the short stems of hardy cyclamen in winter or earliest spring. These clumping, evergreen perennials hold their place all year with heart-shaped, 2-inch-wide leaves ornately marbled in silver. Spreading by tubers and seeds, they form lovely colonies in shady humus but need to go dry in summer. Where summers are moist, a well-drained spot beneath trees will suffice or they could be planted under the eaves of the house and watered when they need it, fall through spring.
Name: Cyclamen coum and cvs.
Zones: 5 to 9
Size: 2 to 4 inches tall and 6 to 12 inches wide
Conditions: Partial to full shade; fertile, well-drained soil
Winter aconite shows its kinship to buttercups (Ranunculus spp. and cvs., Zones 4–9) with goblet-shaped golden flowers opening on short stems in late winter. Clumps of deeply cut leaves spread into colonies in moist soil beneath deciduous trees, and though easy to grow under such conditions, this tuberous perennial should only be moved or divided while "in the green," not when dormant. My own enthusiasm for winter flowers really got going when I first saw winter aconites making golden pools among blue Algerian irises in an old Seattle garden.
Name: Eranthis hyemalis
Zones: 4 to 9
Size: 3 to 5 inches tall and wide
Conditions: Full sun to partial shade; moist, fertile soil
Winter annuals are for everyone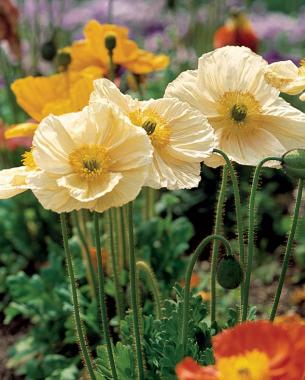 These plants endure light frosts and cold soil. Simply remove their spent blooms to keep the color coming.
Iceland poppies (Papa­ver nudicaule and cvs.), like 'Sparkly Bubbles', have translucent bowls in tones of red, orange, salmon, pink, yellow, and cream that open atop long, slender stems through the winter in warm zones and from earliest spring elsewhere. Iceland poppies may be 12 to 24 inches tall when in bloom. Set them 9 to 12 inches apart in full sun and fertile, well-drained soil for a bountiful show.
Pansies (Viola × witt­rockiana cvs.) include strains like 'Universal Mix' that are selected for cold-weather performance and come in a full range of blues and purples as well as wine red, cream, yellow, and white. In the warmest regions, pansies only thrive in winter; in mild, cool-summer areas, they flower all year. For a full grouping 6 to 12 inches tall, plant pansies 6 to 12 inches apart in fertile soil in full sun or partial shade.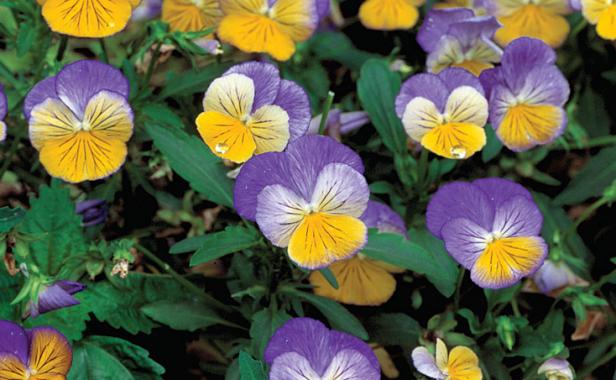 Pansy
Photo/Illustration: Bill Johnson
Reliable flowers are best in warmer areas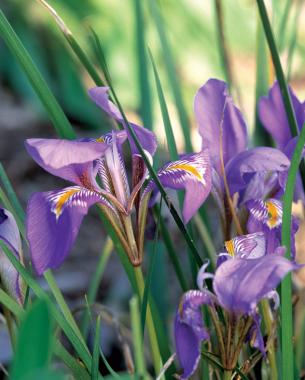 In Zones 7 to 10, where hard freezes are rare, dozens of plants may be in bloom on New Year's Day. The qual­ity and timing of many winter-blooming plants, how­ever, depends on the weather. In warm years, some gardens may be nearly as colorful in December as in May, though a cold winter may limit the show to the hardiest few. As a result, plants that bloom faithfully every winter are particularly valuable. Some flower earlier—or longer—in a warm, sheltered spot or in well-drained soil, and if placed near windows or doorsteps, you are sure to see them even in inclement weather.
The evergreen foliage of Algerian iris gives this species a larger landscape potential than most other irises. Winter blooms make it more valuable still. The flowers reliably open from December to February, covering the plants with clouds of lavender blue. Do not give Algerian iris supplemental summer water. Though it stays green, it goes dormant; water stimulates soft growth vulnerable to frost later on, which can make the plants rot. If the plants become overgrown and no longer bloom well, divide them in late summer when the entire clump can be lifted and spaded into sections. A gardening friend introduced me to this invaluable plant. Her steep Seattle garden is alive with sweeps of glowing lilac irises as early as Christmas.
Name: Iris unguicularis
Zones: 7 to 9
Size: 12 to 18 inches tall and wide
Conditions: Full sun to light shade; well-drained soil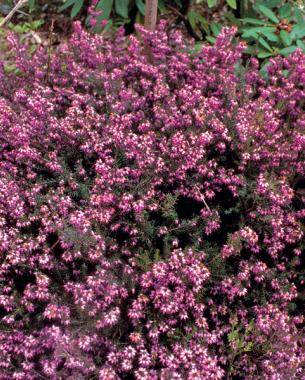 Needlelike, deep green foliage gives a soft texture to winter heaths. These dense, mounding shrubs are smothered in masses of tiny blooms in white or shades of lilac, pink, and rose. The show starts in December or January and lasts into April. For an excellent ground cover, keep heaths dense by trimming lightly after flowering. I learned long ago that vigorous, trailing ground covers will easily overrun the slow, tidy growth of heathers. Better companions include dwarf rhododendrons (Rhododendron spp. and cvs., Zones 5–9); miniature conifers; and colorful, smaller grasses.
Name: Erica darleyensis and cvs.
Zones: 7 to 8
Size: 18 to 24 inches tall and up to 36 inches wide
Conditions: Full sun; well-drained, acidic soil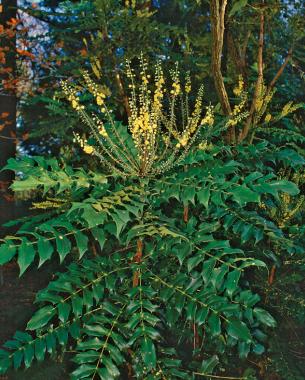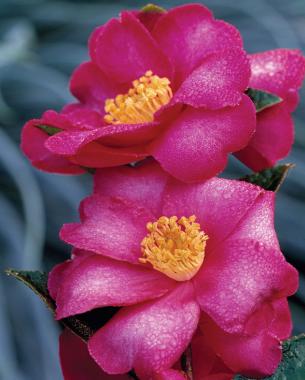 Grape hollies are deer-resistant shrubs that command attention all year with their large, divided, prickly leaves grouped at the ends of stout branches. Long sprays of fragrant, lemon yellow flowers rise above the foliage in January and February, attracting winter hummingbirds; blue fruit follow in spring. 'Arthur Menzies' will reach 10 feet tall with equal spread if grown in partial shade with occasional deep watering. 'Charity' and 'Winter Sun' are similar, though usually smaller than 'Arthur Menzies'. Bluish foliage and earlier blooms—often from October on—are features of 'Winter Sun', while the later blooms of 'Charity' are carried on distinctively arching clusters.
Name: Mahonia media cvs.
Zones: 8 to 9
Size: Up to 12 feet tall and wide
Conditions: Full sun to partial shade; well-drained soil
Sasanqua camellias are treasured for their handsome foliage, sturdy constitution, and, of course, sumptuous flowers. They bring many weeks of color from midfall to midwinter, depending on the cultivar. The delicate flowers—often fragrant—come in innumerable shades, from white to lilac-rose to deep red. Most cultivars, like 'Hana Jiman' (photo, below left), grow as shrubs, while a few are treelike. Unlike other species, sasanqua camellias need only moderate water to thrive. They lend themselves to nearly any garden role: Larger specimens make charming patio trees, upright cultivars make beautiful hedging, and all of them look splendid trained on walls or trellises.
Name: Camellia sasanqua cvs.
Zones: 7 to 9
Size: 4 to 8 feet tall and 3 to 4 feet wide
Conditions: Full sun to partial shade; moist, fertile, well-drained, loose soil