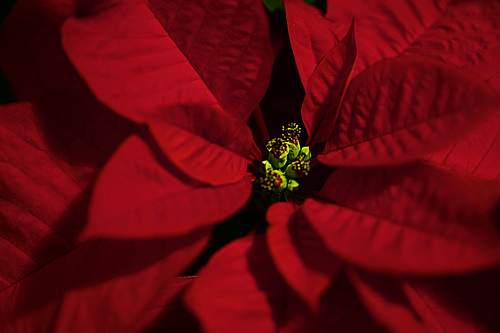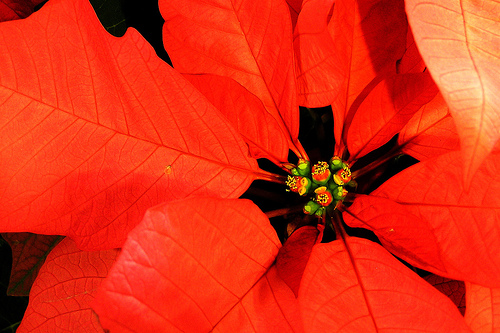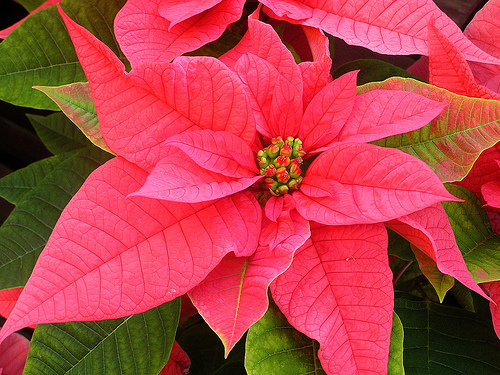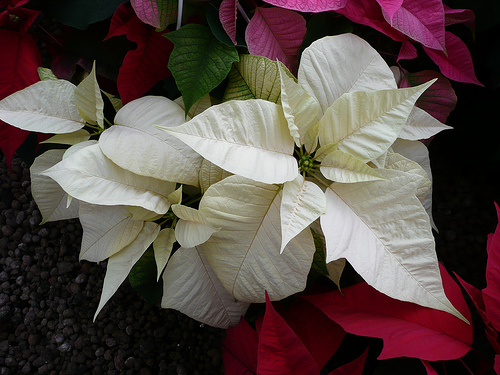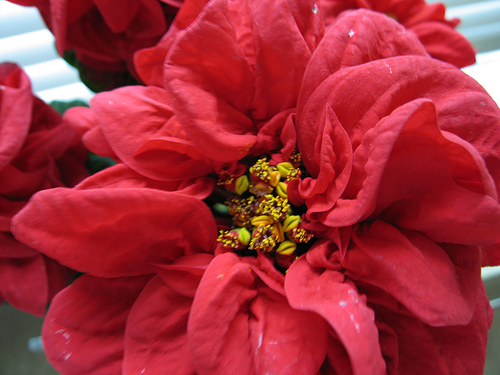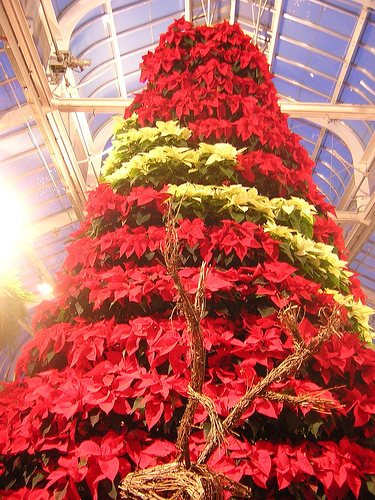 I'm a huge fan of the poinsettia (Euphorbia pulcherrima), and I enjoy choosing a new color or shape that the botanical breeders come up with every year. Even my Christmas dishes carry a lovely poinsettia pattern.

Let's get right to it and dispel with the poisonous myth, shall we? In the early 1900s rumors began to circulate about the poinsettia's supposedly darker side—some claimed the plant was poisonous if ingested. Then in 1919 the poinsettia's fate was sealed when a story circulated that a two-year-old boy died after eating a poinsettia leaf.
The story was revealed as untrue, but the damage was done. Caring mothers would certainly never bring a death-plant willingly into their home. Although it is still seen as a holiday symbol, the poinsettia fell out of favor as far as home decoration. Still, some argued that the winter flower didn't earn this ugly reputation that it had been saddled with.
In the 1970s, Ohio State University did a study for the Society of American Florists to come up with the toxic answer once and for all. The study proved that the poinsettia plant was, indeed, not poisonous. They further concluded that if a 50-pound child ate somewhere in the neighborhood of 500 leaves, they would maybe suffer an upset stomach. Poinsettias were officially off the toxic hook, as it were, but the public continued to resist.

To this day (thirty years later), I can't tell you how often I hear people repeating the same untrue rumor, then passing these lovely winter ladies by because of an old wives' tale. So I'm determined to do my part in hopes of encouraging people to bring poinsettias back into their homes without fear that they'll kill the family dog—or worse.
Another interesting piece of poinsettia trivia is that it isn't the brightly colored flowers that spruce up the holiday season. In fact, most people hardly notice the flowers at all. No, it's the poinsettia's bracts that have become the yuletide tradition. The bracts are beautiful leaves that are there to lure pollinators to the true yellow and green flowers in the center of the plant.
It's these bracts that plant breeders fiddle with, giving us poinsettias with various shades of red, pink, white, cream, purple, light green, and even orange. They offer us bracts that are huge and open, some that are tangerine-sized, and others that are rose-shaped and wear dainty ruffles. The next time you find yourself staring at a beautiful display of festive poinsettias, you can bring one home and do so with a clear conscience.

*While poinsettias aren't toxic, those individuals sensitive to latex could have a allergic skin reaction to the plant. A dog's mouth could be irritated by the sap, as well—so if your dog tends to chew, consider this aspect.