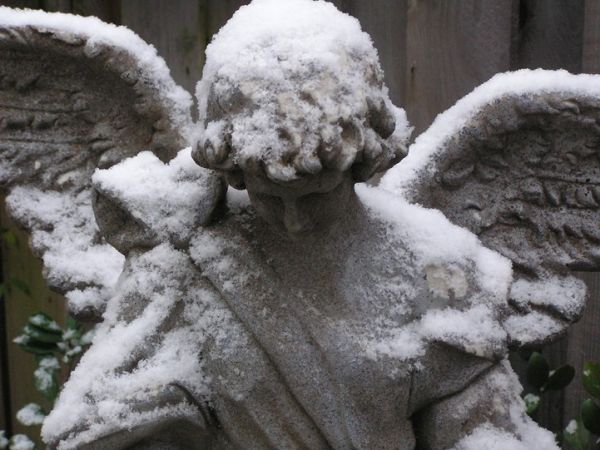 A rare dusting of snow in Dallas turns an angel into… a snow angel, of course.
The new Garden in Winter photo contest is now on in our online photo gallery! Check out the details here. We started this tradition last year, when we asked our readers to post photos of the things that make them happy in their gardens in winter. The responses were beautiful, and all this week we featured photos from last year's contest to inspire you to take winter photos in your garden this year. Post them in the gallery and you could win a $100 gift certificate from MasterGardening.com!
Today's photo is from Joanne Pospisil in Carrollton, Texas. She said, "It rarely snows in Dallas, Texas, but when it does …… it's magical!!"
Merry Christmas, to those who celebrate it!!
Welcome to the Fine Gardening GARDEN PHOTO OF THE DAY blog! Every weekday we post a new photo of a great garden, a spectacular plant, a stunning plant combination, or any number of other subjects. Think of it as your morning jolt of green.
Sign up to get new posts delivered to your inbox each morning so you'll always remember to take a look, or subscribe to our RSS feed. We look forward to sharing our garden travels with you.
READER PHOTOS: We love featuring your photos, too. If you think you have a photo that we should share on the Garden Photo of the day, email us. Send hi-res images if possible. We'll only respond if we plan to use your photo.