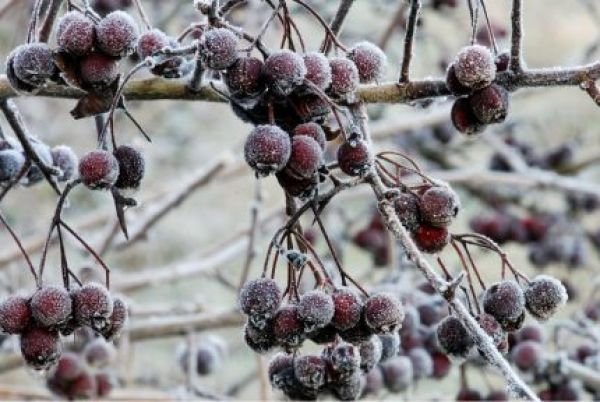 In a frozen landscape, color is a rare treat. Even shriveled with cold, this forgotten fruit lifts the spirits.
The new Garden in Winter photo contest is now on in our online photo gallery! Check out the details here. We started this tradition last year, when we asked our readers to post photos of the things that make them happy in their gardens in winter. The responses were beautiful, and we'll be featuring photos from last year's contest all this week to inspire you to take winter photos in your garden this year. Post them in the gallery and you could win a $100 gift certificate from MasterGardening.com!
Today's photo was another winner from last year's winter garden photography contest, and it's from Mike Lane in Victoria, B.C. He said, "I'm a retired forester who has always been passionate about the outdoors, so my love of gardening flows from that. My garden here in Victoria, BC is in Zone 8 and averages 287 frost free days a year. Growing English roses has been my specialty for some years, however my love of photography has caused me to begin making changes in the garden. Now I'm planting more varieties that photograph well, such as ornamental grasses, tall perennials and poppies.
Normally, the winter garden here is quite drab with the high amount of rainfall that we have. However, whenever we get a little snow or frost I'm out in the garden right away trying to capture that perfect photo. More of my photography can be seen on my Web site ."
Stay tuned for more winter photos from last year's contest all this week, and get outside with your camera!
Welcome to the Fine Gardening GARDEN PHOTO OF THE DAY blog! Every weekday we post a new photo of a great garden, a spectacular plant, a stunning plant combination, or any number of other subjects. Think of it as your morning jolt of green.
Sign up to get new posts delivered to your inbox each morning so you'll always remember to take a look, or subscribe to our RSS feed. We look forward to sharing our garden travels with you.
READER PHOTOS: We love featuring your photos, too. If you think you have a photo that we should share on the Garden Photo of the day, email us. Send hi-res images if possible. We'll only respond if we plan to use your photo.