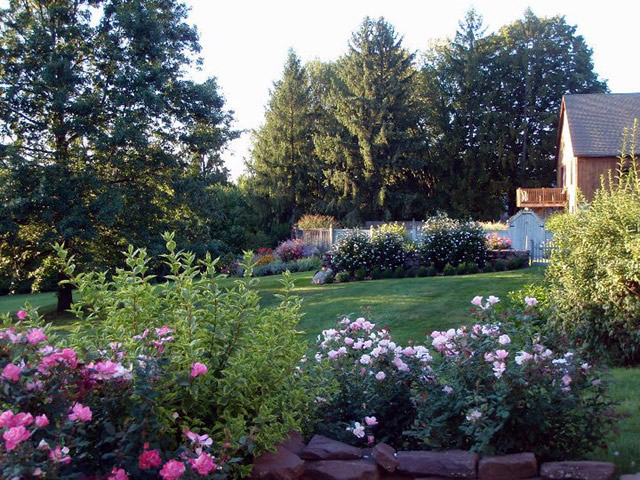 Rebecca Downie and her husband created beautiful backyard gardens at their home in CT and now start fresh, once again.
"These are my gardens in Southington, CT. There were no gardens, just a lot of weeds and overgrown areas when we moved in. My husband and I, and our tractor, really enjoyed transforming the spaces. This is on a very busy road and we created this for our own enjoyment, and you couldn't see a peek of it from the road due to stone walls and hedging we put in. I included a front house photo to show you this beautiful 18th century house, and how it was retained, properly we thought, with really no landscaping at all in the front. It was always a big surprise when anyone came to the back yard.
Behind our pool was the biggest mess before we ripped everything out and started over — this is the photo with a lot of lavender and the back of the house in the distance. We could reach the hose there, so I looked up xeriscape and chose plants that didn't like much water, or at least didn't need much after established. This ended up being our favorite garden. Alas, the street and highway noise drove us to move recently to a new home, but we have started with a blank slate and are so excited to transform this into a wonderful place too.
Yes, I miss my gardens there, but starting new ones will be fun. In the meantime at our new house with little landscaping this far, I try to at least have fabulous planters for each season. Also this is our resident bear enjoying the bird seed."

Have a garden you'd like to share? Email 5-10 photos and a brief story about your garden to [email protected]. Please include where you are located!
Have a mobile phone? Tag your photos on Instagram or Twitter with #FineGardening!
You don't have to be a professional garden photographer – check out our garden photography tips!
Do you receive the GPOD by email yet? Sign up here.
Follow us: @finegardening on Twitter | FineGardeningMagazine on Facebook | @finegardening on Instagram