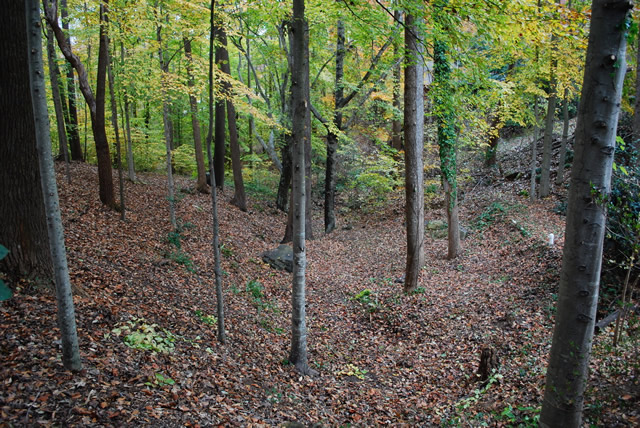 Jay Sifford from North Carolina shares his unique wooded reclamation project with us.
"This area of my Charlotte, NC, woodland garden has seen a lot of changes over the past three years. Previously considered an "unbuildable lot", this area was eventually deeded to previous owners of my home. After I purchased the home, it sat untouched for about 15 years, covered in invasive honeysuckle, English ivy and poison ivy. Three years ago I decided to reclaim it and help it realize its potential. It's now my favorite part of the garden and where I go to feel reenergized, peaceful and creative.
The first photo shows the land after being cleared of invasives and about 75 tree saplings that would never realize their potential. The remaining trees were limbed up as far as my pole saw could reach. I initially moved about 30 ostrich ferns from another area of my garden to the creek, and planted twig dogwoods which quickly became deer food and were removed. Two years ago we began building a Japanese-inspired yatsuhashi (zigzag) boardwalk that incorporates a deck that overlooks the creek. I wanted to stain it Chinese red. Half of my friends thought it was genius; the other half thought it was a big mistake. I'm glad I did it.
Today the garden is home to more than 1200 ferns of 30 some different species. The majority are planted in large interlocking swaths. I've also planted shrubs, mostly natives, and Japanese maples. I recently added 8 stone pillars of varying heights along the creek. I did this to embellish the story of my small creek and to add a bit more of an Asian theme. You see, the creek used to be larger, but when the neighborhood was built, the creek was rerouted through culverts. It reappears in my garden but, I imagine, is just a shadow of its former self. The pillars act as sentries or guides to watch over and protect the water as it flows into the larger creek, to give it the presence it deserves.
I have 13 deer that live in my garden, along with squirrels, raccoons, opossums, owls, hawks and dozens of songbird species. Somehow we all manage to get along, and this, in itself, is a metaphor for life and a lesson the garden continues to teach those who visit here."
Have a garden you'd like to share? Email 5-10 photos and a brief story about your garden to [email protected]. Please include where you are located!
Have a mobile phone? Tag your photos on Instagram or Twitter with #FineGardening!
You don't have to be a professional garden photographer – check out our garden photography tips!
Do you receive the GPOD by email yet? Sign up here.
Follow us: @finegardening on Twitter | FineGardeningMagazine on Facebook | @finegardening on Instagram