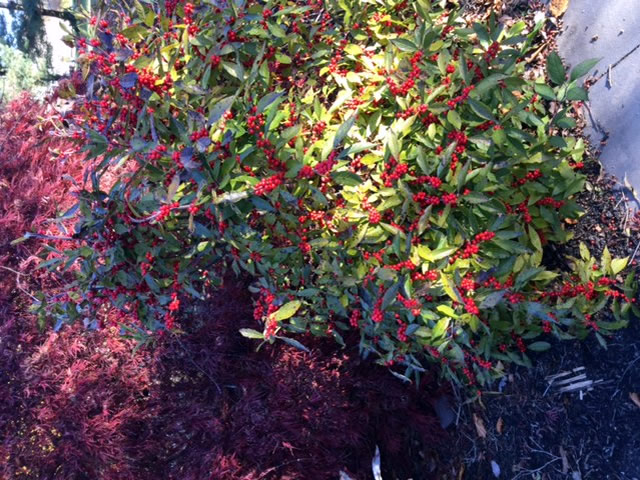 Shifting seasons in John & Rhonda's PA garden
p.p1 {margin: 0.0px 0.0px 0.0px 0.0px; font: 12.0px Verdana}
span.s1 {font-kerning: none}
"As you can see, the Ilex winterberry is coming on as the acer 'dissectum ' is on the wane. The roses are still blooming as the Christmas lights are in place on the arbor. The beech tree has been beautiful against the blue October sky. Tyler Weiss' koi are going for their last swim of the season. The black berries on the crocosmia are a late treat. We have some new garden art from the Biltmore garden shop. You can see the euonymus through the rose trellis next to the back door. The nandina are coming along nicely. The orange of the witch hazel is always welcome, and our new coral bark maple is settling in for winter. I hope you are all enjoying this beautiful season!"
Have a garden you'd like to share? Email 5-10 photos and a brief story about your garden to [email protected]. Please include where you are located!
Have a mobile phone? Tag your photos on Instagram or Twitter with #FineGardening!
You don't have to be a professional garden photographer – check out our garden photography tips!
Do you receive the GPOD by email yet? Sign up here.
Follow us: @finegardening on Twitter | FineGardeningMagazine on Facebook | @finegardening on Instagram