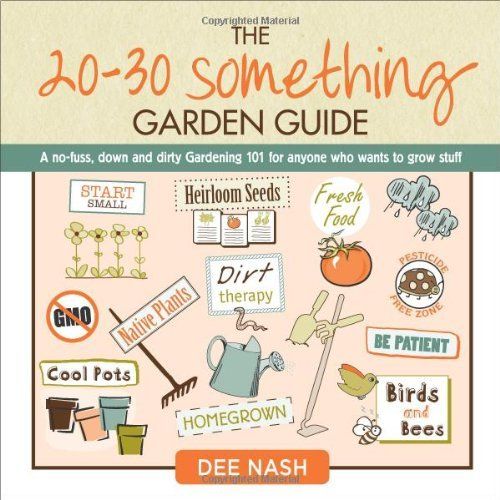 The summer of 2014 seems to be flying by, but I have managed to take a little time for myself and read some wonderful gardening and homesteading books. One of them is The 20-30 Something Garden Guide: A No-Fuss Down and Dirty Gardening 101 for Anyone Who Wants to Grow Stuff  (St. Lynn's Press) by Dee Nash.
In other words, she drops all the fancy stuff that can boggle the mind of the newly initiated and cuts right to the chase: which is, no one is born with a brown thumb. Dee writes with a friendly, over-the-garden-gate style that makes for a great read.
She says that she wrote this garden book especially for 20 – 30 Somethings "Because those were some of the busiest years in my own life, and because two of my children, Ashley and Megan, are 20-30 Somethings themselves. I understand only too well the challenges of trying to 'do it all' and still keep some balance, beauty, and connection in our days."
The chapters within these broader sections take you from the beginning steps of that particular garden style and season through season of gradual gardening steps that ramp you up to success. For the budding gardeners, Nash wades through the basics of planning and planting a garden and then gradually expands each concept. 
There are three major sections: Garden 1 — Small-Space Gardening with Containers, Garden 2 — An Edible and Ornamental Garden in Your Front or Backyard, and Garden 3 — A Garden to Delight the Senses.
The first chapter in Garden 1 is called "Sunshine, Soil, and New Beginnings. It starts with container gardening and ends with how to read a seed packet. Chapter 2 is Three Seasons of Plenty which gets into extending growing seasons, seed starting, and includes preparing the garden for winter. Chapter 3 is The Year of Achieving Container Wisdom and offers tidbits on outsmarting your climate, bugs, hybrids, and heirlooms, and fruit trees.
The Garden 2 section starts out with garden plans outside of containers and growing ornamntals right beside vegetables in chapter 4. Chapter 5 follows with vertical gardening, tomatoes, and manure tea. And vegetable varieties, cloches, and keeping critters out of your growing space fills up chapter 6.
The third section, Garden 3, takes everything a step further starting with chapter 7 which gets into creating a garden and choosing plants that engage all of the senses. Chapter 8 has you creating garden paths, art, and seating. And chapter 9 holds a combination of both care for the garden and the gardener alike. In chapter 10, Nash shares the importance of community gardens and what they do for the outside comminuty and the inside of us.
Here are some wise thoughts for beginners that stood out for me:
1. "Forget perfection." I'm convinced that this is the number one piece of advice that both novice and seasoned gardeners need to be reminded of from time to time.
2. Weeding as meditation. This is one gardener that has always felt this way about weeding (and watering).  And, hey, the weeds have to come out…might as well get your relaxation on!
3. Top 10 List of Beautiful Edibles. Dee has a list of vegetables that look lovely no matter where they're panted. I love this list because I'm a huge advocate of growing edibles in the landscape — right next to the ornamentals! 
4. Engage your senses. Be still, my heart. How I appreciate gardeners that talk about incorporating plants that stimulate not only the eyes, but also scent, touch, and sound.
By the way, The 20-30 Something Garden Guide is the book I am handing over to my own young adult daughter who is now in the throes of raising my four Sugar Babies and learning to garden at the same time.
Title: The 20-30 Something Garden Guide
Pub House: St. Lynn's Press
Author: Dee Nash
ISBN: 978-0-9855622-7-4
Price: $17.95

Yes, this book was provided to me for review. However, all of the views are my own.