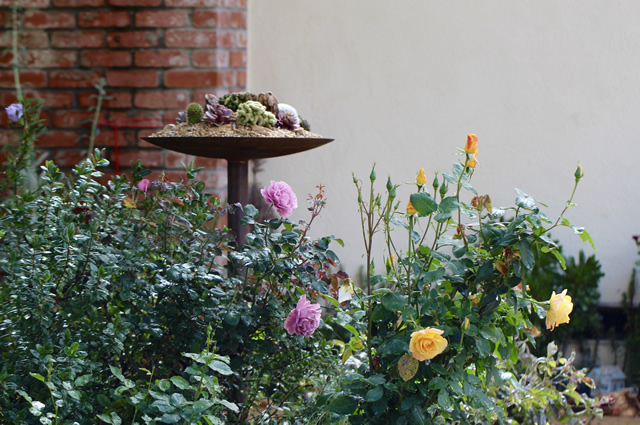 Cindy Hewatt has a beautiful thing for succulents!
"I live in a little town call Walnut Creek, 30 minutes east side of San Fransisco in California. Gardening is my passion, although i'm still new to it, only 5 years experience. I started fell in love with succulents about 4 years ago and gradually I have accumulated so many, my half acre property has become cluttered with potted succulents everywhere. So, I decided to move them to the front garden since our front yard was empty a year ago and California is in drought. But man, they grow so fast, even I give away cuttings to friends, and get the clippings to make arrangements from it, the garden still looks too full. The succulent in the pots from first photo are all clippings from the front yard garden.
I'm not a gardener who really knows how to create, yet, so there is not much style in my garden photos…but sometimes I try to copy someone else's ideas, like placing an orb in the garden is definitely one of them, and that's from Cherry Ong, a Facebook friend of mine who lives in Canada and also a very talented gardener and she knows how to garden with style, I mean big style! Hopefully one day I will have some extra time to take a landscape design class, then I can really garden with style!"
Have a garden you'd like to share? Please email 5-10 photos (and a brief story about your garden) to [email protected], or tag your photos on Instagram or Twitter with #FineGardening!
Whether you've never shared before or you've been featured multiple times, we want to see your garden! You don't have to be a professional garden photographer – check out our garden photography tips!
Do you receive the GPOD by email yet? Sign up here!