Like many other spaces designed for performance, sheds are seldom a pleasure to look at. They're usually an afterthought in the design process, utilitarian spots to stow away the unchic tools of the trade. Most gardeners, not surprisingly, opt for easy-care, quick-set-up, no-hassle sheds that get the job done with minimal complications.
 But why leave the canvas unpainted? Sheds can be integrated to complement garden designs, as the following gallery makes clear. A shed left unfinished is an eyesore, but a thoughtfully designed one is like a ribbon tied around a wrapped package—a posh detail that completes the garden whole.
Utility masquerades as a grand finale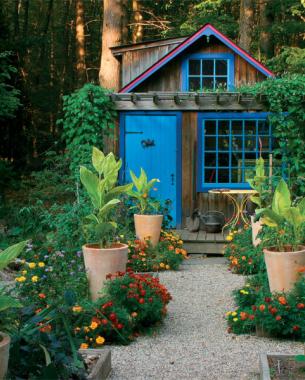 The back of a property usually suffers aesthetically—especially in the garden, where it's hard to find a neat and pleasant conclusion to the design without it feeling abrupt or empty. Not here. This colorful strip of containers draws focus to the shed, the terminus of this take on an allée. The building is connected to the rest of the garden by the repetition of the color blue. The yellow table in front of the shed is a welcoming sight (despite, oddly enough, the absence of chairs). It's the perfect spot to conduct garden business that might prove messy.
A deceptively efficient outbuilding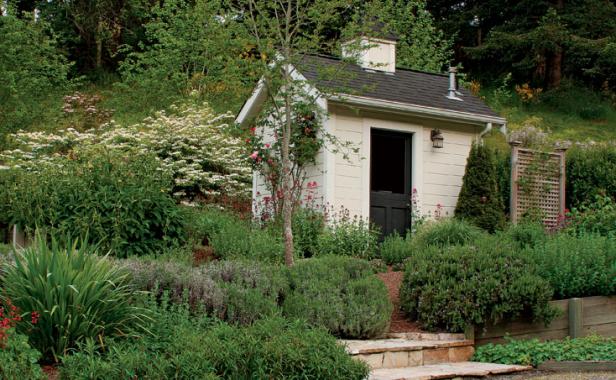 Nestled into a knoll of mounding penstemon (
Penstemon
cv., USDA Hardiness Zones 3–10), lavender (
Lavandula
cv., Zones 5–9), and a creeping rosemary (
Rosmarinus officinalis
'Prostratus', Zones 8–11), this shed is a charming multi­tasker. It's the focal point on a hill of low growers, which also hides an unsightly propane tank that had to be installed in the garden. Architectural details link this shed to the main house, which sits only feet away.
Contrast wakes up this design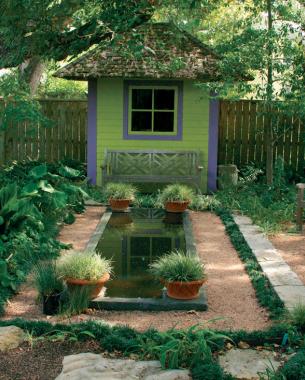 This garden, with its Chippendale bench from which to observe the old cedar elm ( Ulmus crassifolia , Zones 6–9) in the reflecting pool, is a stately one. The choice of garden plants errs on the cool, reserved side of the color spectrum, and the grays of the hard­scaping and weathered furniture add to the subdued palette. The shed, with its neon colors, adds a dash of excitement to the design. Like a pop-art Mona Lisa, this garden exemplifies tradition imbued with an edge.
Define with details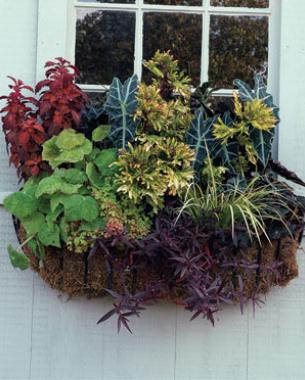 It's the minor, relatively low-cost touches that make a shed out of a shack. The following tips will help you complete an out­building makeover:
Consider windows
Notice how most appealing sheds feature large windows. Many mass-produced sheds are built with small 1-foot-square openings, which seem more like portholes than anything else. If this is the case, larger windows might be what you need. If that's too grand an effort, dress them up with window boxes. A well-draining box is easy to find and install, and takes the emphasis off the size of a window.
Incorporate color
If you want your shed to blend in with your garden, use color. Window-box plantings and vines trained up walls are subtle ways to bring color from the garden to the structure. Harmonious hues can also be applied to fences, doors, and trim.
Be a matchmaker
If the shed is located near a house or barn, pro­ject the details from the larger structure onto the shed. Cupolas, lighting fixtures, and trim are easy-to-add options. If the shed stands on its own in a secluded part of the garden, however, play with the colors and forms of that area.
Short of space? Think subterranean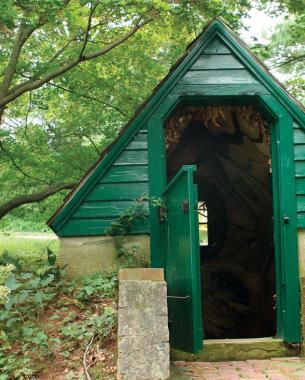 It's hard not to imagine Snow White's seven dwarfs marching in and out of this sunken shed, located at Chanticleer in Wayne, PA. A circular-trimmed window at the rear illuminates the interior so that it doesn't feel like a dank root cellar, and a mural covers the walls and ceiling for an added whimsical effect. Wood shingles, a bright green exterior, and an aged brick walk tie the structure to this earthy garden corner. If you don't have tons of space to spare or don't want to add a full shakes-and-shingles building to the garden, consider a low-statured shed, like this one.
Linked hues catch the eye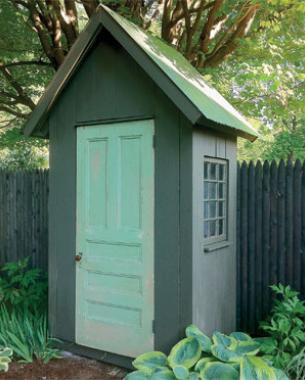 Stockade privacy fencing is a perpetual challenge to a gardener. It effectively screens views but can also look rather dumpy. This narrow garden shed, well suited for stacking long tools or hanging odds and ends, gives the low-growing colors on the garden floor a chance to shine. The various foliage hues of an iris ( Iris cv., Zones 3–9) and the 'Frances Williams' hosta ( Hosta 'Frances Williams', Zones 3–9) are assigned to various planes on the structure, from the reclaimed vintage front door to the muntins on the window. With this shed acting as a colorful pillar to distract the eye, the fence behind stays out of sight and mind.
The strongest shed you've ever seen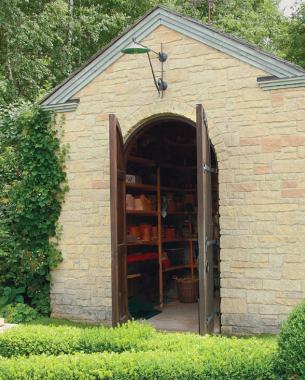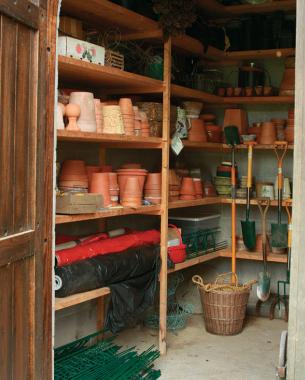 Locking up this shed after a long day's work must be satisfying—just look at those hinges! With its beautiful stone walls and dark Gothic doors, this is a storage space to dream about. Most of us lack the garden—or assets, for that matter—to
incorporate this type of shed, but it's something to keep in mind should you win the lottery. In context, it looks right at home among trimmed boxwood (Buxus spp. and cvs., Zones 6–9) and with a Japanese hydrangea vine (Schizophragma
hydrangeoides, Zones 6–9) growing up its side.
Guesthouse or storage space?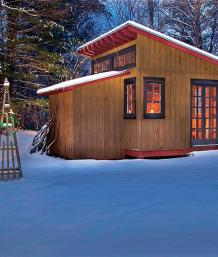 Ditch the shrunken openings that cover most modern sheds. Big windows and French doors make it hard to tell whether this inviting structure is meant to hold tools or overnight visitors; it is, in fact, a stylish space to work in. The tall roof adds a homey hint, and those candles in the windows are extra-alluring. Having a shed like this might have you packing an overnight bag to spend nights as a guest in your own garden.
Good sheds come in all shapes and sizes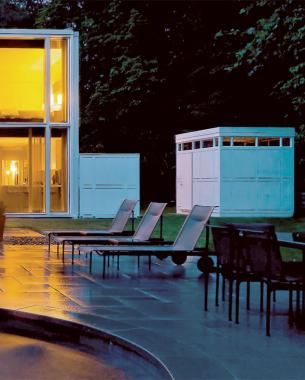 This boxy white structure is, ironically, an example of thinking outside the box. It doesn't feature a typical gabled roof nor does it sport pretty window boxes. By blending in with the house and continuing the sleek design motif, it does what a stylish shed should do: safely hold garden tools while looking as good as its surroundings.
Whimsy takes this shed to a new level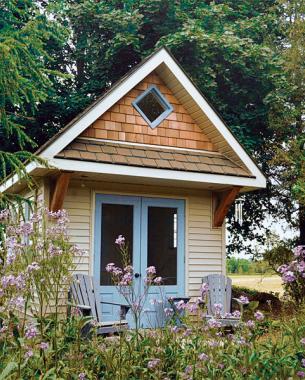 The shape of this shed isn't unique, but subtle details make it one of a kind. A touch of color comes from the upper-window trim as well as the double doors, which feature laid-back screen openings. The chest-high flower border and a pair of Adirondack chairs would make this spot perfect for a tea party for two.
Keep a low profile on small lots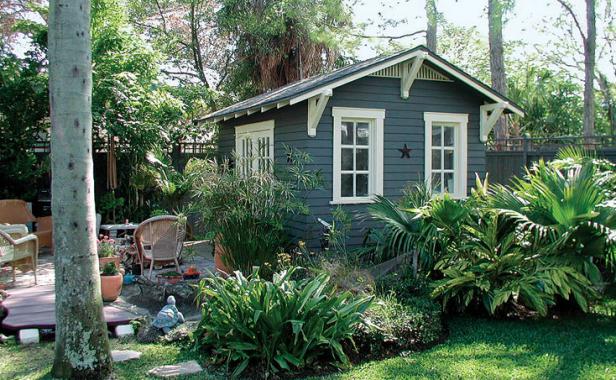 In small gardens, it's best to tuck sheds into corners to maximize planting space. That corner, however, might touch another yard or two. If that's the case, be a good neighbor and build a low-profile shed. Tall structures often loom over property lines and create patches of shade, which could affect existing plants on the other side of the fence. This conscientious bungalow shed does not create problematic shade.