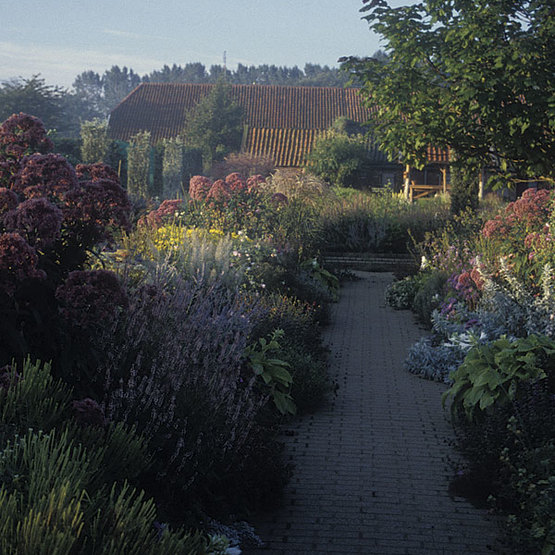 Piet Oudolf has gained international renown for his imaginative plant­ings. One of his design strategies is to include many plants that bloom late and look good as they go to seed. The result is a garden that looks just as appealing in fall and winter as it does in spring and summer. He also advocates celebrating the rhythms and cycles of nature in the spaces we cultivate as gardens.
He has written several books about what he calls naturalistic planting design and the plants he has found to be the most dependable, disease resistant, and easy to maintain.
FG: What's the secret to designing gardens that look interesting in fall and winter?
PO:  I like to use lots of late-flowering perennials, as well as perennials with beau­tiful autumn color and ones that stay beautiful after flowering. These plants give a design a sense of continuity or a backbone. For instance, most grasses last long into fall and have a distinct structural outline. As plants go to seed, their shapes often become more abstract, especially when they are covered with dew or snow and the light hits them in certain ways. These effects later in the season are just a continuation of what starts early on. To me, a garden should be an experience—one that changes through the seasons. The secret to keeping interest in a garden is using plants that look good in more than one season.
FG: Do you mix late bloomers with ones that bloom earlier?
PO:  Yes, I use perennials that flower earlier in the season, but most plants in the gardens I design have a long life. The plants that flower later can then take over some of the space that the earlier plants needed. One trick is to cut back some earlier-flowering plants, such as wild indigo (Baptisia australis, USDA Hardiness Zones 3–9) to get nice green new leaves, so they work together with the late-flowering ones.
FG: Do you leave most plants intact through fall and winter?
PO:  I try not to use many plants that look untidy after flowering since I prefer not to deadhead. Most plants that I design with have a strong character, many of which have an architectural presence. In other words, the plants maintain their structure after flowering. Of course, I fill in the spaces between the more dramatic plants with some less striking plants, some of which can become a little untidy. So I always cut back a few plants. But, on average, most plants don't need it.
FG: Do specific plant shapes lend themselves better to late-season gardens?
PO:  Not really. It's the combination of shapes that I think about more. In winter, a garden is mainly viewed from a distance. So as long as the overall picture looks good, I don't worry about every individual plant.
FG: Do you have favorite plants that you find fade well?
As flowers fade, plants with structure carry the garden through the fall and winter seasons.
PO:  I choose from a palette of hundreds and hundreds of plants, and I use all kinds of variations. For example, there are many snakeroots (Actaea spp. and cvs. [formerly Cimicifuga spp. and cvs.], Zones 4–8) that still look good after flowering. So if I don't want to use a brown-leaved one, like 'Brunette', I choose another form that is lower or taller or more muscular.
I generally look for plants that have an extra aspect of interest, such as attractive seed heads or berries. Hostas, for instance, are static. The only thing you see is leaves, and most of them are not interesting for their flowers. So is a hosta a good plant? It's a terrific garden plant. But next to hostas, you need plants that offer interest that evolves with the seasons. One example is culver's root (Veronicastrum virginicum, Zones 3–8). It produces its vertical stems and flowers by midsummer and then continues to keep its good looks well into winter. I like to think of a garden as an orchestra:Everything should work together through the seasons.
FG: Do you ever plant specific areas for winter interest?
PO:  Not particularly. I tend to think about how the whole garden will look in winter. Of course, the bigger a garden is, the more you can divide it into areas where you have, say, more of a spring show and just a little bit of autumn interest. Or you can design borders that will be at their best in August. I think a smaller garden should be interesting all year long.
FG: Is there anything else you would suggest to a gardener who is trying to develop this sort of design?
PO:  I always suggest broadening your palette of plants so that you are aware of more options. When you see something that appeals to you, stop and look at it closely. If you see a garden that looks interesting even in winter, you may want to try to find out what plants are growing there. m
Virginia Small is senior editor.
27 perennials with long-lasting appeal
Piet Oudolf names just a few of his favorites and explains their appeal.
Plants that provide structure
1. Autumn snakeroots (Actaea simplex and cvs.; formerly Cimicifuga simplex), Zones 4–8
2. Culver's root (Veronicastum virginicum), Z 3–8
3. Jerusalem sages (Phlomis spp. and cvs.), Z 4–10
4. Joe Pye weeds (Eupatorium purpureum and E. maculatum and cvs.), Z 3–9
5. Meadow rues (Thalictrum aquilegiifolium and cvs.), Z 5–9
6. Miss Willmott's ghost (Eryngium giganteum), Z 5–8
7. Queen of the prairie (Filipendula rubra), Z 3–9
8. Sages (Salvia nemorosa and cvs.), Z 5–9 (after a cutback and a second crop of flowers)
9. Sea lavender (Limonium latifolium), Z 4–9
Plants with attractive seed heads
10. Asters (Aster spp. and cvs.), Z 4–8
11. Bee balms (Monarda spp. and cvs.), Z 4–9
12. Burnets (Sanguisorba spp. and cvs.), Z 3–8
13. Coneflowers (Rudbeckia spp. and cvs.), Z 3–9
14. Goldenrods (Solidago spp. and cvs.), Z 5–9
15. Mountain fleece (Persicaria amplexicaulis), Z 5–8
16. Orpines (Sedum telephium and cvs.), Z 4–9
17. Purple coneflowers (Echinacea purpurea and cvs.), Z 3–9
18. Sneezeweed (Helenium autumnale), Z 4–8
19. Yellow wax-bells (Kirengeshoma palmata), Z 5–8
Plants with a distinct winter shape
20. Eulalia grasses (Miscanthus sinensis cvs.), Z 4–9*
21. Feather grasses (Stipa spp. and cvs.), Z 7–10
22. Feather reed grasses (Calamagrostis X acutiflora and cvs.), Z 5–9
23. Fountain grasses (Pennisetum alopecuroides and cvs.), Z 6–9
24. Prairie dropseeds (Sporobolus heterolepsis), Z 3–9*
25. Purple moor grasses (Molinia caerulea and cvs.), Z 5–9*
26. Switch grasses (Panicum virgatum and cvs.), Z 5–9*
27. Tufted hair grasses (Deschampsia cespitosa and cvs.), Z 5–9*
*Denotes a grass that turns a distinctive color in autumn or early winter.