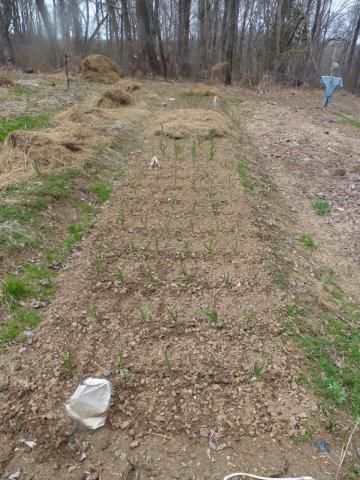 Finally the warmer spring weather has arrived and we all want to be outdoors. As a gardener, though I delight in everything bursting forth, I want to feel the soil and sow seeds. However, once I go outside I am distracted by all there is to do–here are a few chores, which need taking care of…
It is hard to make myself stay indoors at the computer to write blogs and meet deadlines in this lovely weather. The outdoors is calling–and with it–so many things to do. Fall-planted garlic needs weeding and mulching. While plants are popping up through the leaves, some are still buried beneath. To rake or not to rake? Uncovering the plants gives them sunshine and photosynthesis, while leaving a layer of leaves will feed the soil as they eventually break down. I tidy up by raking some leaves–not leaving the bare earth–and leaving a thin layer of leaves.
We live by the woods and every year the patch of sky over the garden gets smaller. Last year, the garden was in the shade half of the day, so we decided to fell a few trees. It is a hard call to chop down a living tree–I am thankful for these stalwart plants which provide for us in so many ways–I try to practice take a tree–plant a tree. The hard work of cutting, hauling and stacking wood now, will yield firewood for later in the winter. Sunlight and a new perspective are good things.
Since artemisia is herb of the year for 2014, I have been collecting plants and cuttings. They needed attention right away, so I had to find pots, a flat, promix and potting soil. My trashcan which I keep soil in was not put away properly in the fall and the lid was off, so the can was full of leaves and water. One thing leads to another… so I scrubbed out the can, which meant I had to hook up the hose (which was drained for the winter) and washed the pots. Then I had to get out the washtub to mix the soil in to fill the pots. The artemisias are snug in their new pots now. Here is a link to a past article on how to make root cuttings, it is easy and rewarding. /item/13470/how-to-make-root-cuttings
I've started transplanting the pansies which were still in their market packs. Some will go in containers and other into garden beds. They are cool weather plants, so put them in part shade, which will help them last longer when the weather gets hot.
Meanwhile, I've been cutting back stems of lemon balm, agastache, pycnanthemum, etc. and trimming other perennials like lavender, thyme, sage and rosemary, which suffered some winter kill. These are chores which I don't mind doing this time of year–the sun is warming me as I work, I am inhaling fresh air, I am surrounded by birdsong and chattering squirrels–I can see my progress as I go and I am dirty at the end of the day which makes me a happy girl. Okay, this blog is done and now I am free to go outside! Get out there and enjoy the start of the garden season.