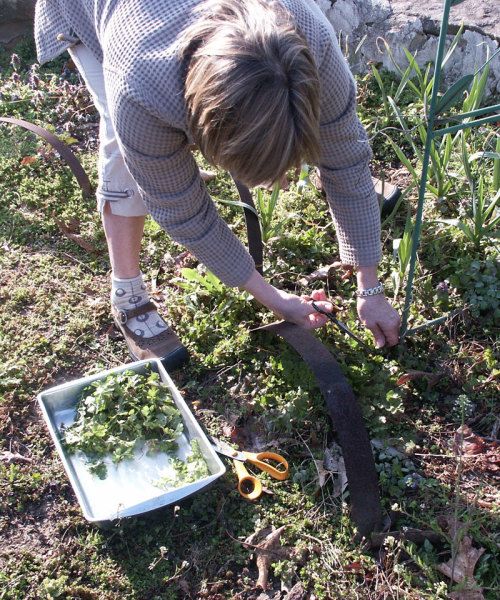 Spring is in the air! It is time to start foraging for new plant growth and harbingers of spring in our gardens—celebrating green.
When spring rolls around, so does the busy gardening season. This time of year is also a busy time for conferences, lectures and symposiums with gardening themes. I've been on the road for the past few weeks; leaving home back in Maryland with snow on the ground. I traveled to the Michigan Herb Associates' annual conference where we had two days of herbal programs—and 50 degree weather—unseasonable since I have experienced blizzards there during previous years. I stayed until Saturday for the Horticultural Conference at Michigan State University, where I gave a keynote with Tina Marie Wilcox on Kitchen Garden Renaissance. We had a great time; the Michigan herbies, Master Gardeners and folks at the university there are an enthusiastic bunch and they practice sustainability, hoop house gardening, recycling and environmental awareness.
We had a problem getting out of Lansing due to huge winds, so we drove to Grand Rapids to get a flight out to Chicago and onto Little Rock. From there we drove north to the Ozark Folk Center in Mountain View, Arkansas, where they are holding their annual, week-long Ozark Folk School. I am teaching The Art of Flavor Using Herbs; and using fresh herbs from the gardens there. It is spring here—the daffodils and forsythia are in bloom—and the maples and red buds are budded. The weather is sunny and gorgeous with temperatures in the 60s. We go out into the garden everyday and gather herbs to use in all kinds of recipes and preparations.
Included are two recipes we prepared that are seasonally delicious. Next week, we have a two-day Medicinal Herb Seminar with a nature hike the first day and programs on cooking with wild edibles and making fresh herbal distillates. www.ozarkfolkcenter.com I'll check in with you then! Meanwhile, get outside and see what is coming up in your garden or yard.
Four early spring arrivals…

Chickweed.
Chives.
Garlic.
Sorrel.