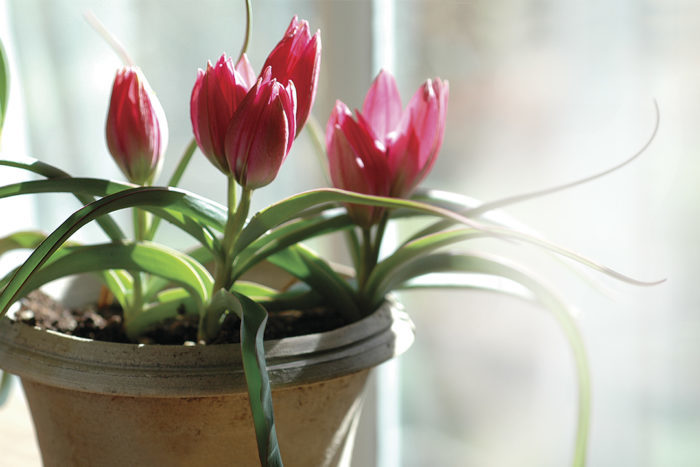 Winter is wonderful—it just doesn't need to linger so long. During the depths of the season, I find myself thirsting for something to lift my spirits in a green sort of way. Actually, a little dose of color wouldn't be bad, either. That's where forcing spring bulbs comes in. You've probably seen the phenomenon in the supermarket: During February or March—somewhere between the vegetables and the houseplants—you can usually find a few pots of token pearly white tulips and a 'Tête-à-Tête' daffodil or two. But that's just the tip of the iceberg. Many spring bulbs are more thrilling than those old standbys in the florist aisle.
To force spring bulbs, all you need is a little planning and a cool place to store them. You wouldn't want to open my refrigerator in January because there's scant space for anything but a few edible essentials; bulbs take up the lion's share of the space from Thanksgiving to February. But a refrigerator isn't the only option. You can chill bulbs in a barely heated garage, a barn, a cool basement, or an enclosed porch.
I've been forcing bulbs for years. Every season is different, and every year, I try a few newbies. Usually, they work. But regardless of the outcome, I never regret devoting the time and space to the project. Forcing bulbs adds drama to a home; you can customize the presentation; and you can't beat the fulfillment factor. Here are some of my favorites.
Some tulips bestow early spring fever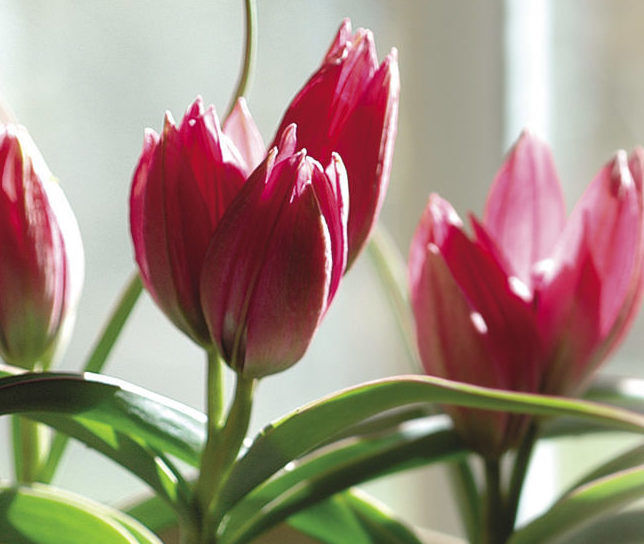 Name:

Tulipa spp. and cvs.
Not all tulips are created equal when it comes to life in the forcing lane. Species tulips (such as Tulipa 'Little Beauty', pictured) and early tulips work best as forced flowers. My favorite species tulips are 'Lady Jane' (T. clusiana 'Lady Jane'), linifolias (T. linifolia cvs.), and 'Lilac Wonder' (T. saxatilis 'Lilac Wonder'). Don't expect massive lollipop blooms from species tulips—they are charmingly downsize. While most hybrid tulips require 15 to 18 weeks of chilling, species tulips sprout after a brief month.
Zones: 3 to 8
Size: 4 to 12 inches tall
Chill time: 4 to 18 weeks
Reticulata irises come and go but are worth the show
Name:
Iris reticulata
cvs. and some
Iris
cvs.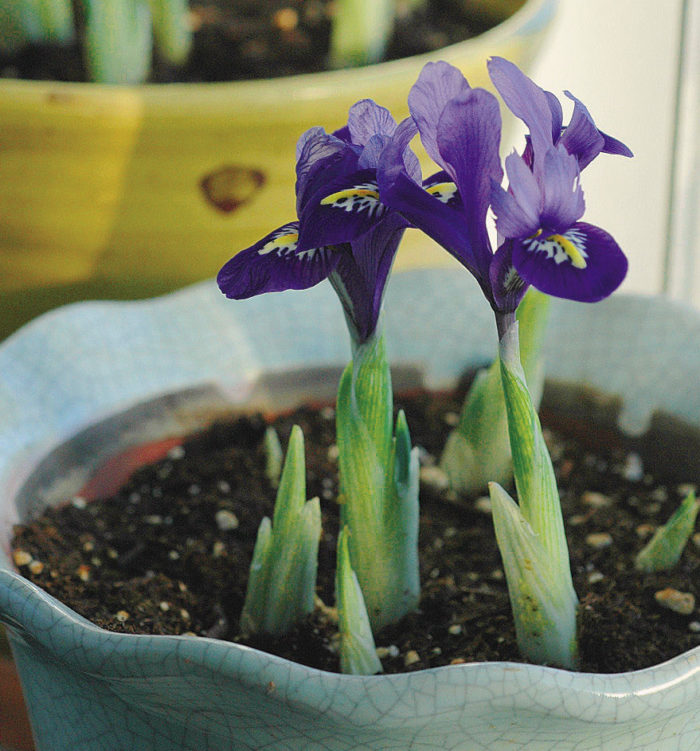 For years, irises eluded me. I yearned to force reticulata irises but just couldn't make it happen. I finally stumbled into a sequence that works. Chill the unplanted bulbs until late December or early January before planting them. When they show signs of growth, pot them up. Within a few weeks, they'll be up and forming flowers. Reticulata irises differ from their relatives, bearded irises and Siberian irises (Iris spp. and cvs., Zones 3–9). Reticulata irises are modest little nuggets capped with scaled-down versions of the blossoms we are used to seeing. I like 'Harmony' (pictured) because it is readily available and has a brighter color than most varieties, but other cultivars—such as the aquamarine knockout 'Katharine Hodgkin'—will also do the trick. Aphids seem to feel particularly at home on irises, so avoid infestation by planting your flowers outdoors after they've finished flowering. If the ground is still frozen, it will be curtains for these irises, but the sacrifice beats battling bugs in your home.
Zones: 5 to 8
Size: 3 to 4 inches tall
Chill time: 4 to 8 weeks
Da
f
fodils are the easiest to force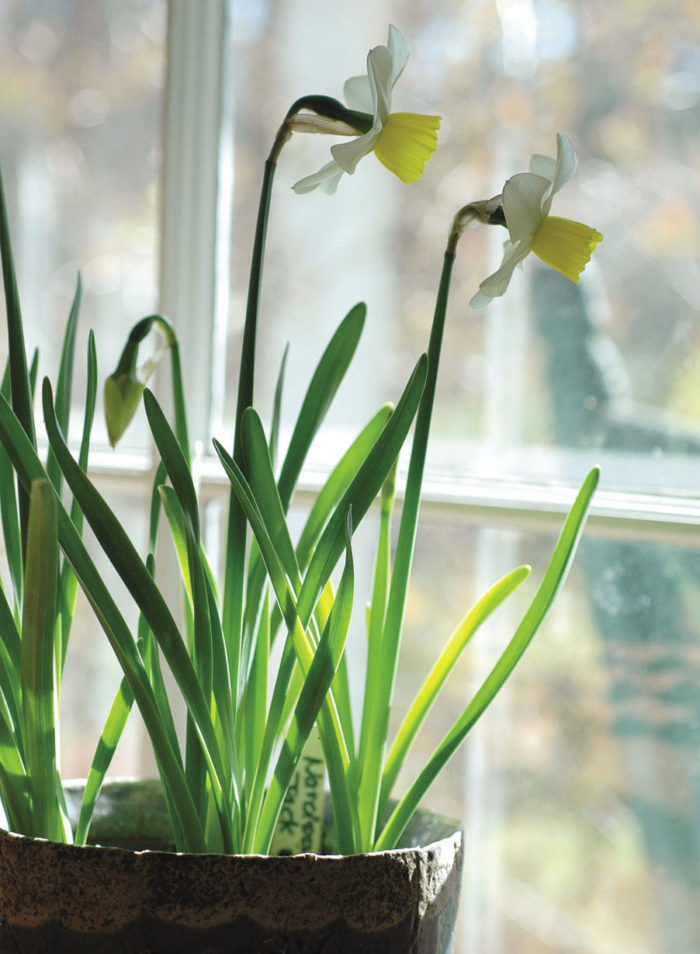 Name:

Narcissus spp. and cvs.
If you're new to forcing bulbs, start by experimenting with daffodils. I warm to the cyclamineus types because they are dwarf, early, and absolutely adorable; the popular daffodils 'Tête-à-Tête' and 'Jack Snipe' (pictured) belong to this group. Most remain less than a foot high, which means they won't flop (a vice common to taller daffodils). I'm also particularly fond of 'Ice Wings' (triandrus type) and 'Falconet' and 'Minnow' (tazetta type). As with all forced bulbs, jam daffodil bulbs in the container cheek by jowl for the best show; this gives a dense display of many blossoms huddled together, reminiscent of your garden's splendor. Daffodils sprout from larger bulbs, so give them a deep container. I often use a window box for a kick line of blossoms. Naysayers claim that forced daffodils won't survive if you plant them outdoors, but I say "hogwash"; mine make the shift just fine and even perform well the following year.
Zones: 3 to 9
Size: 6 to 12 inches tall
Chill time: 8 to 12 weeks
Turkestan onions prolong the forced-fun season
Name:
Allium karataviense
and cvs
.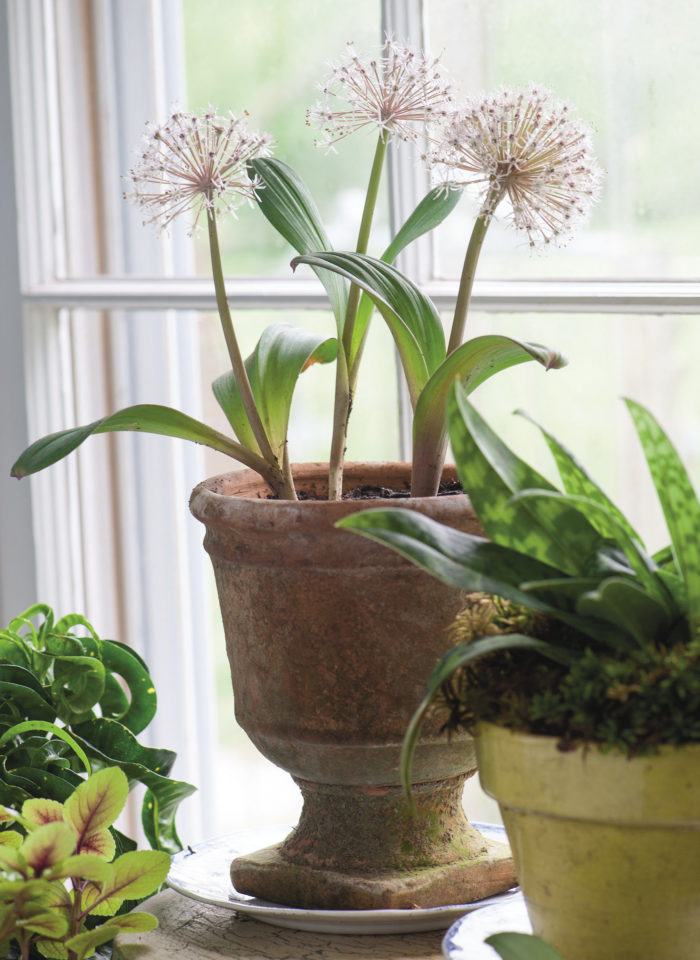 Although most ornamental alliums are too tall for window­sill gardening, Turkestan onions are the exception. They not only are stout enough to qualify as houseplants but also extend the forced-bulb season into early spring. Turkestan onions finish up the bulb extravaganza with wonderful blue-green leaves that stand just above the soil and softball-size umbels of lavender (or white, if you go with 'Ivory Queen'), which linger for weeks. In addition to planting them in pots, I often line up the bulbs in window boxes to enliven the inside of the sill. Sure, Turkestan onions could be safely moved outside by the time they peak in late March or April, but that wouldn't be as much fun as having them indoors, making a big statement, would it?
Zones: 5 to 9
Size: 4 to 10 inches tall
Chill time: 3 to 4 months
Checkered lilies are a conversation piece in a pot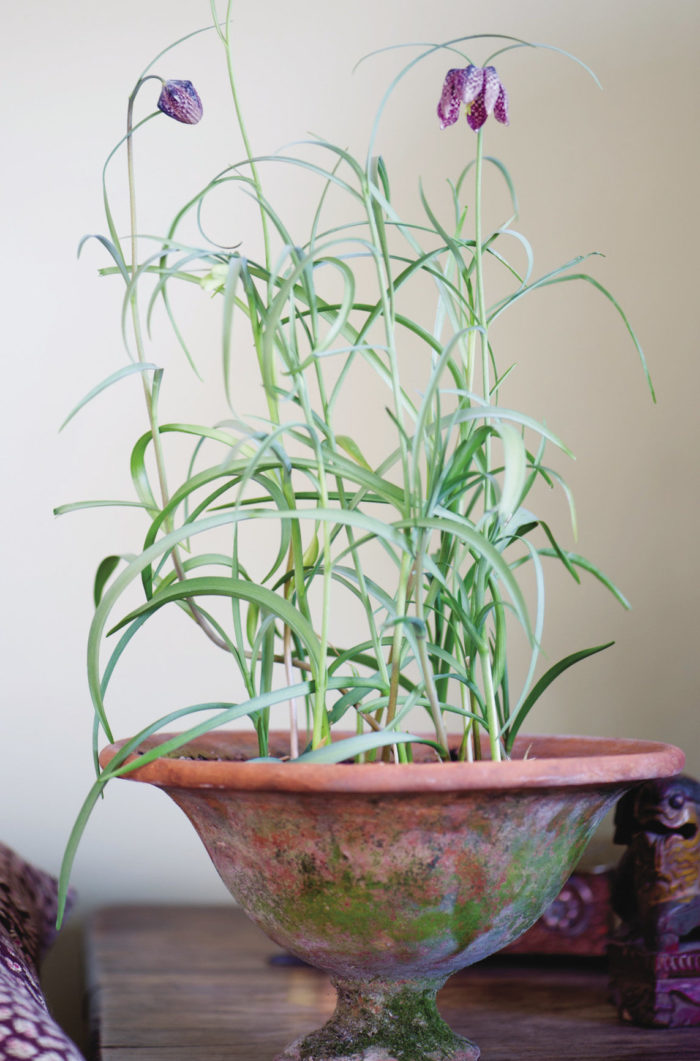 Name:
Fritillaria meleagris
and cvs.
Although you can force crown imperial fritillaries (Fritillaria imperialis and cvs., Zones 5–9), would you really want to live indoors with such a skunk-smelling plant? On a lark, I planted checkered lilies in containers, and they were a major hit. Their foliage forms wonderful little bluish gray squiggles that shoot out from a central stem; their gaping, burgundy-and-tan-checkered flowers linger for a while; and they keep their skunk scent to themselves. Mine blossomed for several weeks and forgave my occasional lapses in watering.
Zones: 4 to 9
Size: Up to 1 foot tall
Chill time: 12 to 15 weeks
Snow crocuses are a clear harbinger of spring
Name:

Crocus tommasinianus cvs.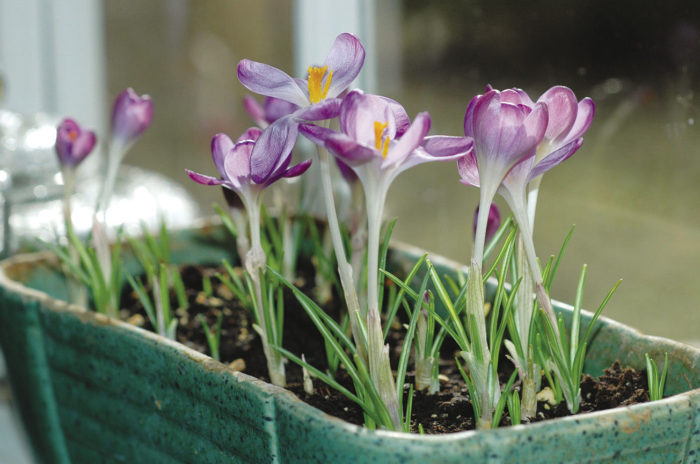 Snow crocuses, the precocious and indomitable plants that get up and out in the garden while most other bulbs are still slumbering, do the same indoors. If you wait until the 13th hour (and the clearance sales) to order them by mail, your crocuses might even arrive from the merchant's cooler with their growth already showing. That's what happened to me when I received and planted my snow crocuses moments before last Christmas; I skipped the refrigerator sequence entirely and had them in full blossom by February 1. If you wedge the bulbs into a single shallow container and water lightly, they will blossom gradually over the long haul. The popular Dutch crocuses (Crocus vernus cvs., Zones 3–8) aren't as reliable a forcer as snow crocuses.
Zones: 3 to 8
Size: 3 to 4 inches tall
Chill time: 6 to 8 weeks
Grape hyacinths are instant winners indoors
Name:

Muscari spp. and cvs.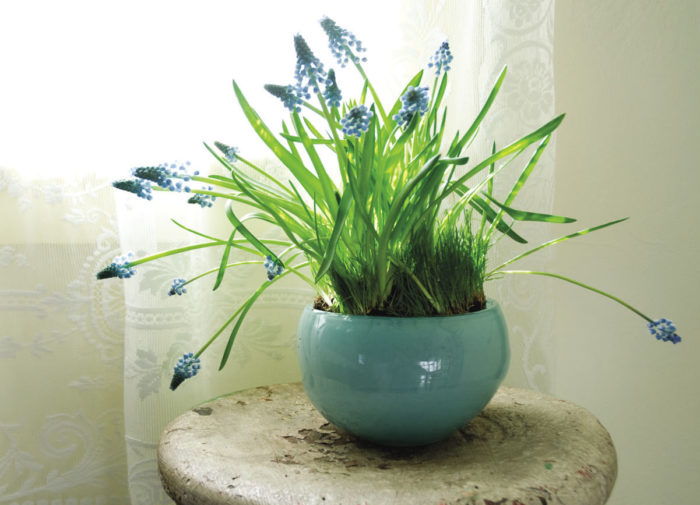 Nothing says spring like grape hyacinths. Because the plants come and go in a flash and are readily available, I usually purchase mine at the super­market. If you opt to force yours, don't be fooled by the fact that they produce foliage in the refrigerator when first planted. Unlike other bulbs, this foliage isn't an indicator of imminent flower spikes. Your grape hyacinths will still need a 10- to 12-week stint in the refrigerator or other cool place to develop buds. When they begin to blossom, keep them as cool as possible to prolong the blue sensation.
Zones: 2 to 9
Size: Up to 8 inches tall
Chill time: 10 to 12 weeks
---
Step-by-Step Forcing
For do-it-yourselfers who want the satisfaction of forcing bulbs, here's how to make it happen: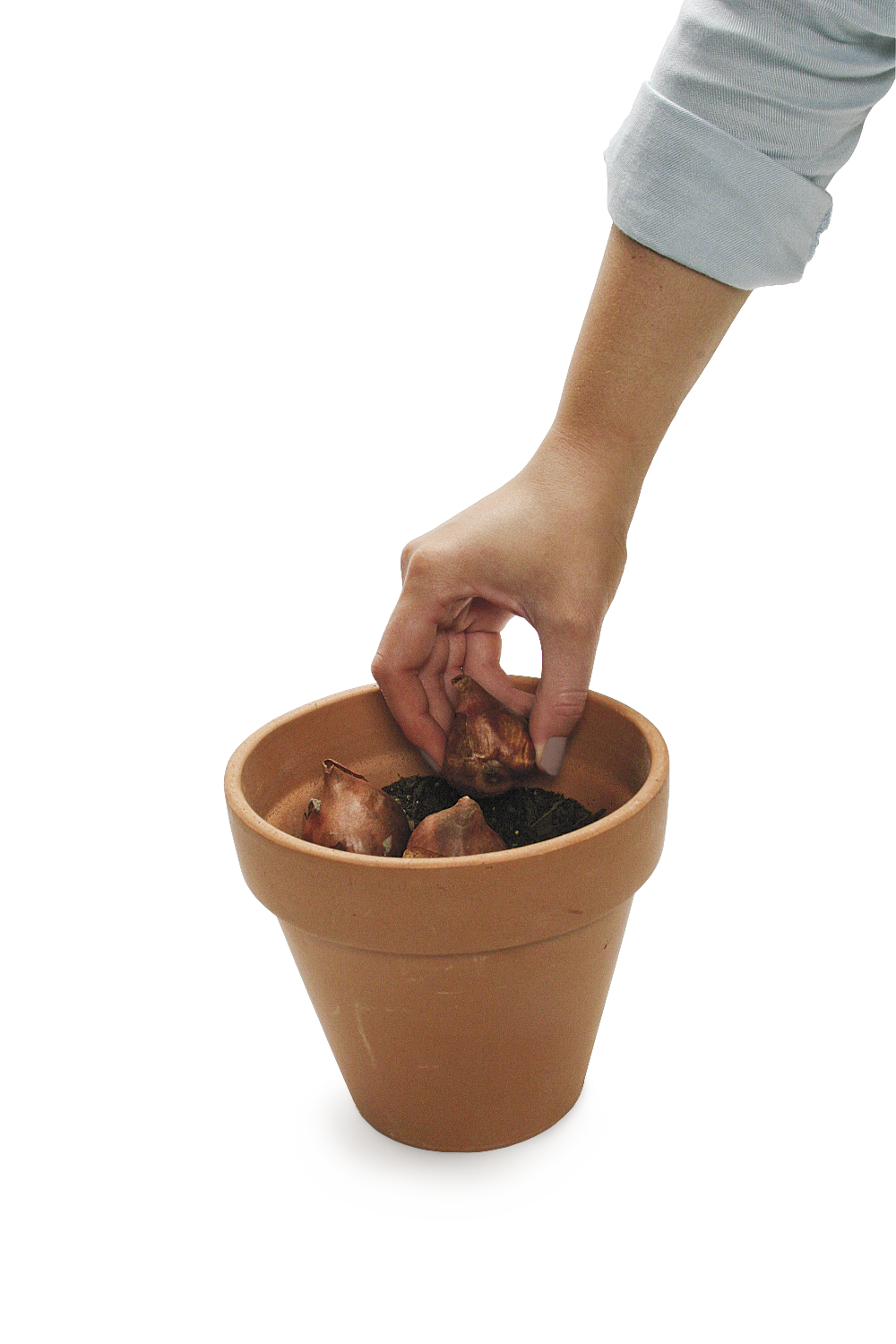 1. Order the bulbs from a mail-order source for the best selection and to ensure that they've been stored at the proper temperature.
2. Store the bulbs in the refrigerator until planting time.
3. Plant the bulbs in a container as soon as possible after Thanksgiving (except for crocuses and reticulata irises, which are best planted at the end of December). Use any container that will fit easily into the refrigerator. A shallow container works best for most bulbs—except large daffodils, which require more depth.
4. Bury the bulbs just below the soil surface with the tip facing up. Nestling the bulbs close together will knock your socks off at blooming time. Cover with soil.
5. Store the container in the refrigerator or any place where the temperature remains 40°F to 48°F for the chilling period.
6. Wait. Bring the container out of storage when growth begins to pop up an inch or so above the soil. Water the container lightly if the soil dries out. During thaws, air the container periodically outdoors to prevent mold.
7. Put the container in a window when growth emerges. It will do best in a cool, partially sunny, east- or west-facing window. A southern exposure is too warm and will curtail blooming, while a northern exposure does not provide sufficient light.
8. Enjoy the rewards. Forced bulbs often last longer than their outdoor counterparts.
9. Place the container outside after blooming because, inside, the plants will attract aphids. Planting is an option if the ground isn't frozen, but expose the plants to cold weather gradually; mine continue to live long and productive lives outdoors. The following autumn, I start fresh with new bulbs.
---
Tovah Martin is author of The Unexpected Houseplant. She gardens fanatically indoors and outdoors in northwestern Connecticut.
Photos: Tovah Martin; Brittany Leandra; Kindra Clineff
Sources