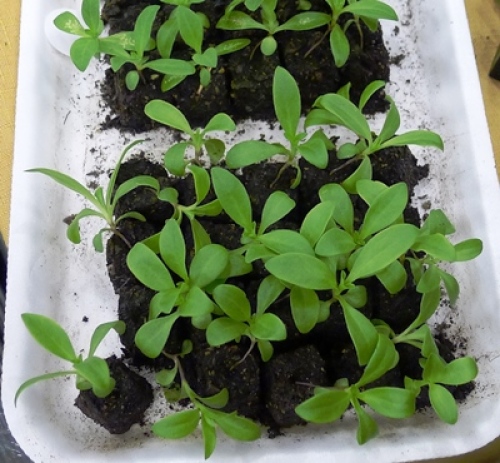 The seed-starting method that uses small blocks of soil for planting may be just what you need for seed-sprouting success this season. Soil blocking is for you if you…
haven't had good results with seed starting in the past,
don't have much space for starting seeds, or
don't like to mess with containers of soil and trays with holes.
Starting seeds in small blocks of soil is another way to approach your vegetable seed-starting efforts this spring. To get started you'll need a blocker, some thoroughly moistened blocking mix, a tray without any holes, seeds, a heating mat and a grow light.
The soil blocker is a small piece of equipment that makes the soil blocks that can be ¾ inch or larger. Place the blocker in a tray of well-moistened potting soil and press down to fill each chamber with soil and release to make the blocks. Each block holds one seed.
One of the keys to using a soil blocker is having a soil mixture that holds together. Soil blocking mixes are available to buy or you can make your own with recipes without perlite or vermiculite, but include peat moss or coco fiber, sifted compost, and some nutrients.
Another key to using soil blocks for starting seeds is that timing is everything. If you start too soon, plants will get leggy before planting. It pays to be patient and wait until 3-4 weeks before planting. Gardeners who swear by the soil blocking method say waiting is difficult, but ultimately better for the plants, especially favorites like tomatoes and peppers.
After the soil blocks are planted and placed on a tray, the tray goes on a seedling heating mat. After seeds sprout, move the tray to the grow lights for fast growing. It's important to keep the soil blocks moist by watering daily.
When plants are 3-4 inches tall, move the trays outdoors to a protected location to harden off for a week or so. Then plant in the garden or containers when they're ready.
If you'd like to give soil blocks a try for your seed-starting efforts this season, you can find materials online through The Gardeners Workshop, Grow Organic, Johnny's Seeds or other garden suppliers.