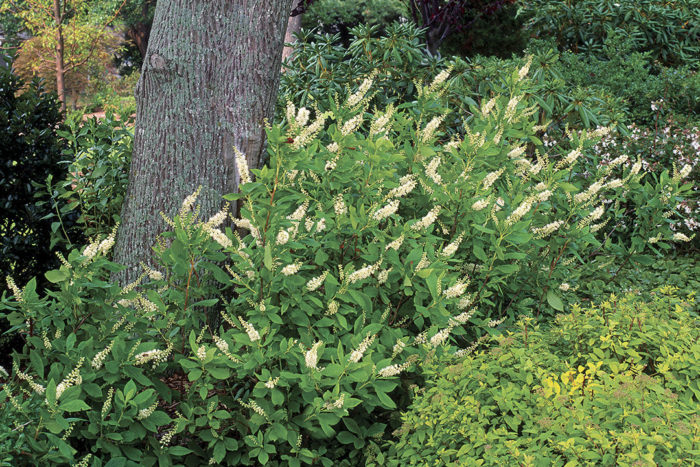 In bygone eras, the mature size of large plants was irrelevant because properties were big and gardeners were plentiful and inexpensive to hire. When I moved into my house, built in 1924, all the shrubs had been pruned into balls and boxes. I attempted to let them grow out into their natural shapes, but I found that they were, unfortunately, too large for their site. After finding myself spending way too much time trying to keep these shrubs trimmed to a proportionate size, I finally gave up and replaced them with shrubs whose mature size fit the scale of the property.
Today, many gardeners face the same plight: limited space and oversize plants. I'm always frustrated when I think of the perfect plant in terms of texture, bloom time, and color but then have to reject it because, when mature, it will be too large for the space. Yes, you can always prune a large plant down to size, but most of us have limited time in addition to limited space and require low-maintenance landscapes. The other problem with pruning is that many plants, shrubs in particular, look as though they've been taken to a bad barber—unless the "barber" is very artistic. The intro­duction of smaller alternatives to many of these perfect-but-too-large plants has, fortunately, solved a number of landscape conundrums. "Small but mighty" is the new motto. If you have limited time for pruning or limited space for big plants, try one of these plants on for size.
Fragrance in any exposure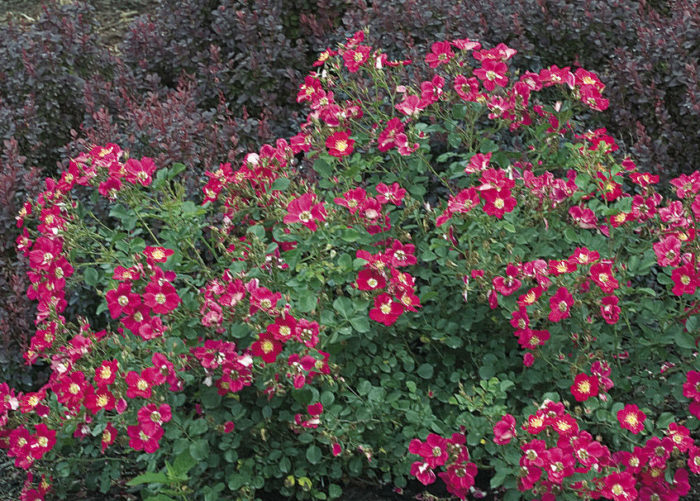 Name: 'Hummingbird' summersweet (Clethra alnifolia 'Hummingbird')
USDA Hardiness Zones: 3 to 9
Conditions: Full sun to partial shade; average to moist soil
Summersweet is aptly named, being a large shrub with fragrant, fluffy bottlebrush-type flowers, which display their charms during July and August, attracting butter­flies and bees. Its large size dictates that it be used, typically, as a background plant.
The cultivar 'Hummingbird', however, is more versatile. Though smaller, this mounding cultivar maintains summersweet's ability to produce good bloom in shady or sunny locations, a unique trait among summer-flowering shrubs. Once the summer blooms fade, its fall leaves turn a pleasing yellow.
For unique texture and color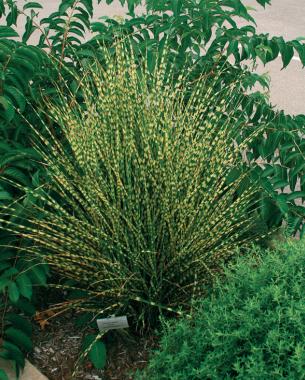 Name: 'Gold Bar' dwarf variegated miscanthus (Miscanthus sinensis 'Gold Bar')
Zones: 5 to 9
Conditions: Full sun to partial shade; average to moist, well-drained soil; drought tolerant once established
The classic: 4 to 12 feet tall and 3 to 6 feet wide
The alternative: 3 to 4 feet tall and 2 to 3 feet wide
Ornamental grasses lend a special texture to the landscape. Miscanthus is a particularly graceful grass, which is spectacular when it blooms in late summer and early fall and also when it sways in winter winds. It can, however, get quite tall; fortunately, many dwarf cultivars are now available.
One of the best is the yellow-and-green-variegated 'Gold Bar'. Similar to zebra grass (M. sinensis 'Zebrinus'), 'Gold Bar' is a showstopper, with its dense and dramatic horizontal gold-colored striping. It is exceptionally upright and compact in habit. At the end of October, burgundy inflorescences appear just above the blades. Its late bloom means that it will not have time to seed, a problem with some of the cultivars that bloom early. It is slow to mature, but in a small garden, that is not a bad thing.
Healthy blooms in shades of pink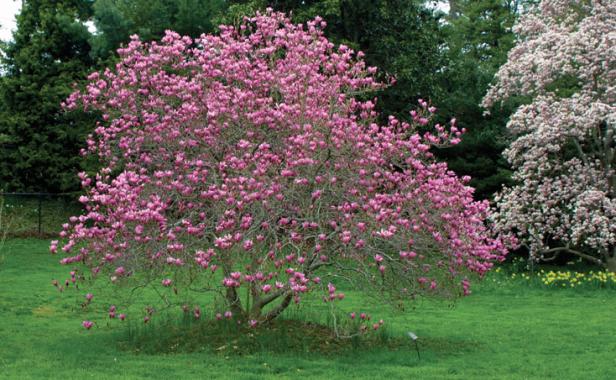 'Ann' magnolia
Photo/Illustration: Jennifer Benner
Name: Little Girl series magnolia (Magnolia Little Girl series cvs.)
Zones: 5 to 9
Conditions: Full sun to partial shade; moist, well-drained soil
The classic: Up to 25 feet tall and wide
The alternative: 8 to 15 feet tall and 6 to 15 feet wide
I inherited two saucer magnolias (M. × soulangeana) with my home; both are huge and at least 80 years old. I love watching the furry gray buds form in late fall and winter and then the emergence of the cup-shaped pink and white blossoms the following year. I have to engage a tree service, however, to prune the trees back every few years.
Those with small spaces might want to avail themselves of one of the Little Girl series of magnolias, most of which top out at 10 feet (although experience tells me that they can grow to 15 feet under optimal conditions). There are eight cultivars in the Little Girl series, varying in color from reddish purple to pink; the two most common in production are 'Ann' (pictured) and 'Betty'. The Little Girl series magnolias bloom approximately two weeks later than many other magnolias, decreasing the possibility of spring frost damage, which turns the blossoms to mush.
Fall blooms made for the shade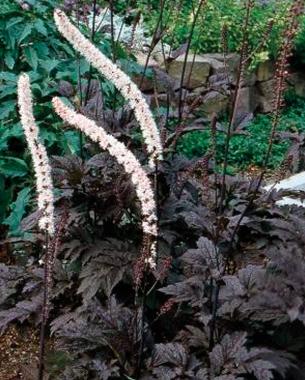 Name: 'James Compton' bugbane (Actaea simplex 'James Compton')
Zones: 4 to 8
Conditions: Partial to full shade; rich,
moist soil
The classic: 3 to 6 feet tall and 1 to 3 feet wide
The alternative: 2 to 3 feet tall and 1 to 2 feet wide
Bugbane is a bold and architectural shade perennial with large divided foliage and long, narrow spires, which thrust themselves up to the sky. It consumes large patches in the garden with its tall stature.
For small spaces, the cultivar 'James Compton' is a great option. The bronzy foliage serves as a springboard for its dark, wiry branched stems and a plethora of pinkish white flowers that open from purple buds. Not blooming until late September or early October, 'James Compton' will spice up the fall shade garden.
Make the most of your space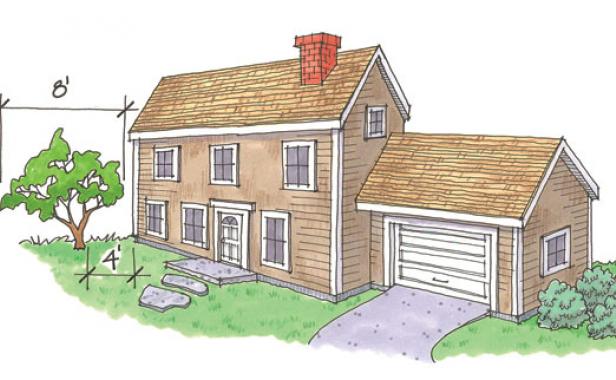 Plant selection is only half the battle. The following tips can help you site  plants correctly and achieve big looks even with small cultivars.
Research the plant's mature size
This will help you decide between the original plant and the small cultivar. Follow the general rule of planting no closer to your home than half of the diameter of the estimated mature plant size.
Mass small cultivars to create impact
Plant small cultivars in a triangular pattern. Or use three plants of the same cultivar planted in an asymmetrical pattern so that its repetition moves the eye from one area to another. Some plants, like Lavender Twist™ eastern redbud, are so unique looking, however, that one is usually enough.
Dense foliage and tons of color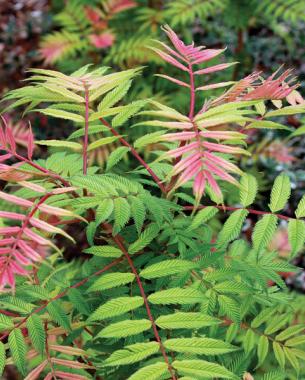 Name: 'Sem' false spirea (Sorbaria sorbifolia 'Sem')
Zones: 2 to 8
Conditions: Full sun to partial shade; average to moist, well-drained soil
The classic: 5 to 10 feet tall and wide
The alternative: 3 to 4 feet tall and wide
False spirea is incredibly hardy; has fernlike foliage; and, in midsummer, bears huge plumes of white flowers. Growing to 10 feet tall, however, it is difficult to place in most residential landscapes. 'Sem' is a dwarf form that is better behaved. Denser than the species, 'Sem' has pinkish red foliage, which unfurls in spring on deep pink stems, the color gradually changing to harmonious shades of soft lime and chartreuse accented with tints of bronze-red. In midsummer, the leaves turn completely green, then, in autumn, 'Sem' turns from yellow to orange to red.
Spring interest with a twist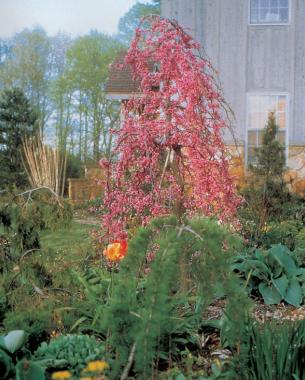 Name: Lavender Twist™ eastern redbud (Cercis canadensis 'Covey')
Zones: 5 to 9
Conditions: Full sun to partial shade; moist, well-drained soil
The classic: 20 to 30 feet tall and 25 to 35 feet wide
The alternative: 5 to 10 feet tall and 6 to 8 feet wide
Eastern redbud, an understory tree frequently found on the edge of woodlands, elicits "oohs" and "aahs" when its magenta buds emerge in early spring. After it blooms, its heart-shaped leaves appear, relatively small at first but enlarging considerably within the following month. It's a true beauty—if you have space to accommodate its nearly 30-foot-tall frame.
Lavender Twist™ is a small weeping cultivar, noted for its absence of an upright leader and for its dense umbrella-shaped crown with contorted stems and pendulous branches. Its gray bark and unique shape are two of its best features, particularly noticeable during the winter when it is leafless. Its height is manageable, varying from 5 to 10 feet, depending on whether it has been staked and trained.
A scent like no other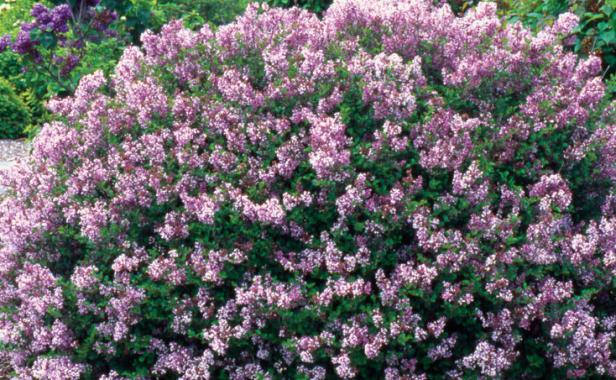 Meyer lilac
Photo/Illustration: Bill Johnson
Name: Meyer lilac (Syringa meyeri)
Zones: 4 to 7
Conditions: Full sun to partial shade; average to moist, well-drained soil
The classic: 8 to 15 feet tall and 6 to 12 feet wide
The alternative: 4 to 6 feet tall and 6 to 8 feet wide
Who doesn't love the fragrance of lilac (S. vulgaris cvs.)? Most classic lilacs, unfortunately, grow quite tall and leggy without annual pruning; fortu­nately, Meyer lilac will stay much smaller.
Although the catalogs promise growth of 4 to 6 feet, I can testify that Meyer lilac will try to stretch a bit more. Some judicious pruning every two or three years, just after bloom, will keep it to a desired size. This pale purple dwarf lilac is a fragrant, profuse bloomer during the middle of May (in Cleveland). Its dark green leaves are small, and I have never seen powdery mildew on them; in fall, they turn a vibrant burgundy red.