1. 'Pink Wonder' Hidden Cone Ginger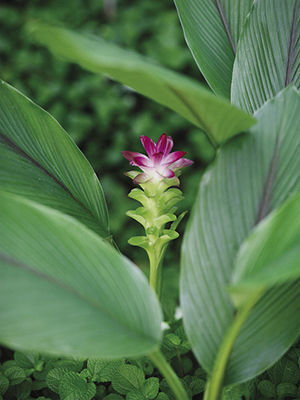 Name:

Curcuma
'Pink Wonder'
USDA hardiness zones: 7b to 10
Size: 7 feet tall and 2 feet wide
Conditions: Partial to light shade; well-drained soil, especially in winter
'Pink Wonder' is the favorite hidden cone ginger at our nursery and one of the most winter-hardy selections in our trials. The tardily emerging leaves finally show themselves in mid-June, as the stalks zoom to 7 feet tall with tropical-looking foliage resembling a giant fancy cast-iron plant (Aspidistra elatior cvs., Zones 7–11)—green with a central burgundy stripe. The flowers emerge like pinecones on separate 1-foot-tall stems alongside the foliage in late summer. The flowers are white at the base and bright pink on top—quite the showpiece in the garden as well as easy to grow. We like to plant hidden cone gingers alongside spring bulbs for a continuous sequence of interest in the same spot. Protection from too much winter moisture is the key to success.
2. 'Sunny Side Up' Pokeweed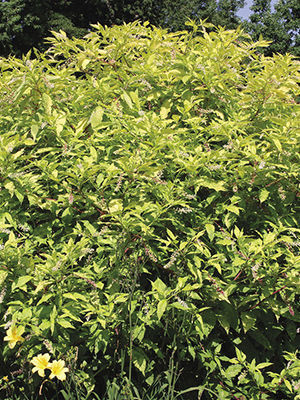 Name:

Phytolacca americana
'Sunny Side Up'
Zones: 5 to 9
Size: 7 feet tall and 6 feet wide
Conditions: Full sun to partial shade; average garden soil
'Sunny Side Up' is a Robert Hughes–developed seed strain of our native pokeweed, a plant cursed by American farmers yet prized by European garden designers. 'Sunny Side Up' forms a tall fountain of thick but hollow stalks adorned with tobacco-size, bright golden leaves, which are at their brightest in full sun. Starting in late June, the stunning beaconlike clumps are topped with terminally produced, pendant sprays of tiny white flowers followed by dark purple berries—a stunning color combination. If you don't want lots of offspring, remove the berries before they drop.
3. Farges' Cobra Lily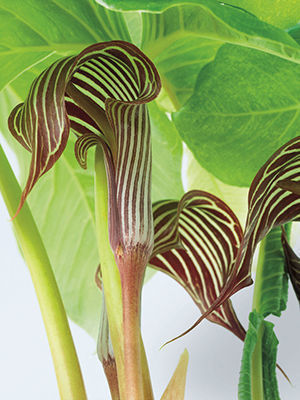 Name:

Arisaema fargesii
Zones: 5 to 8
Size: 18 inches tall and wide
Conditions: Partial to light shade; rich, organic, well-drained soil
This Chinese cobra lily, discovered by French plant explorer Père Farges in the early 1900s, has turned out to be one of the easiest to grow and most spectacular Arisaema species in our collection. In late spring, the giant, trifoliate, glossy green leaves emerge from the nicely offsetting tubers. The flower stalks, each topped with a large wine red pitcher with dramatic white striping, develop alongside the leaves. The tip of the pitcher ends in a narrow, congested, alien-like red thread. The spadix, resembling a tiny red lizard peeking out of the pitcher, appears inside the inflorescence. Unlike our native cobra lilies, Farges' cobra lily does not like consistently moist soils.
4. Mexican Winged Crown Beard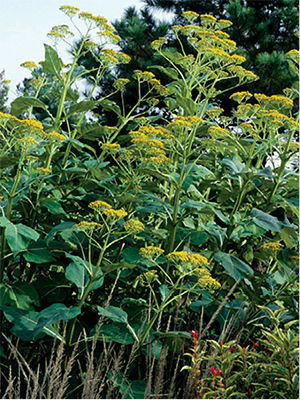 Name:

Verbesina olsenii
zones: 7b to 9b
size: 10 feet tall and 8 feet wide
conditions: Full sun; average garden soil
Do you want something bold and brazen in your garden? Try Mexican winged crown beard. This steroidal version of our small-statured U.S. native was originally collected by our friends at Yucca Do Nursery on an expedition to northern Mexico. Each 10-foot-tall giant is composed of thick, heavily winged green stems that are clothed with 15-inch-long, mittenlike leaves—reason enough to grow this gem. Unless you've had an early frost, these massive clumps are topped in late October with 1-foot-wide clusters of small, bright yellow daisies that smell like Tootsie Rolls. Consistent soil moisture keeps low leaves from departing early.
Tony Avent is the owner of Plant Delights Nursery in Raleigh, North Carolina.
Photos: #1, Joshua McCullough; #2 and #4, courtesy of Plant Delights Nursery, Inc.; #3, Visions/gapphotos.com