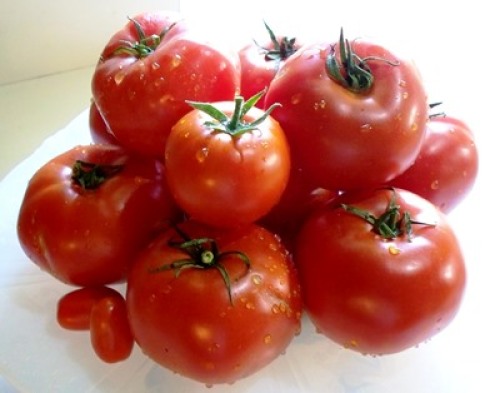 When the weather threatens to dip below freezing, it's time to clear out the vegetable garden. Most seasons that means I have an abundance of tomatoes, peppers, summer squash, and eggplants that I need to preserve.
I've found my fridge's freezer offers a time-saving solution to other preserving methods, such as canning. The freezer allows for small-batch freezing; it's easy to do, and many fruits and vegetables can be preserved with just a little preparation.
Besides reducing food waste, freezing maintains the color, flavor, and texture of garden-grown produce. Freezing also retains important nutrients.
However, freezing doesn't sterilize foods, like canning does. Keep food safety at top of mind, and freeze only the freshest produce using approved best practices. The National Center for Home Food Preservation is an excellent resource.
Here are some creative options for freezing tomatoes, peppers, summer squash, and eggplant.
Tomatoes
Tomatoes need to be prepared before freezing. For fresh tomatoes, wash, peel, and place whole tomatoes in bags or containers. Another option is to cook tomatoes into sauce, roast them, or bake them into a savory tomato-cheese quick bread for freezing. For green tomatoes, saute, stew, roast, bake, or shred them before freezing.
Peppers
For fresh, whole peppers (like jalapenos), put them in a freezer bag. When ready to use, remove the number of peppers you want, wash, thaw slightly, and chop to use. For fresh sweet peppers, wash, stem, remove seeds, slice, and quick steam one to two minutes before freezing. An alternative is to roast peppers on a grill or under the oven broiler until the skin blisters; cool and remove seeds and stems before placing in freezer bags or containers. CAUTION—wear gloves and protective eyewear when working with hot peppers.
Summer Squash
Fresh squash freezing options include slicing and placing on a cookie sheet, freezing, and using frozen slices in soups, frittatas, etc. Preserve squash by baking into quick breads and cakes; stuff squash, clean, stuff, bake, freeze.
Eggplant
Bake eggplant into a cake, or make batches of ratatouille and freeze for quick meals on busy weeknights.