When Jennifer Beam, Visitor Services & Programs Director at Bok Tower Gardens in central Florida, asked me what month I wanted to fly out for a couple of presentations, I said, "Whenever the mosquitos are small enough you can't ride on them and I won't need a 55-gallon drum of talcum powder."
So on March 7, just before the stroke of midnight, I boarded a red-eye flight from L.A. to Orlando, with a plane change in Cleveland. Bad move. Arriving at sun-up fresh as a month-old washrag, I made the one-hour drive to Lake Wales, motoring through a less-than-lush landscape I hadn't expected.
I was excited to be on my way to the highest elevation in Florida…300 FEET ABOVE SEA LEVEL! (I figured I set up a base camp at 150, acclimate for a few days, then face the final assault.) I'd be doing two events in one day: a walk-and-talk design workshop using the beautiful Fredrick Law Olmstead Jr.-designed gardens as a living classroom, followed by an evening Crimes Against Horticulture lecture.
Alas, I was so busy figuring out where to lead my tour, I neglected to snap a single photograph. So, although I'd like to share the fabulously diverse, mystical qualities of this world-class garden and historic landmark with you, I can only offer this Bok Tower Gardens link and implore you to bypass the plastic allure of Disney World, Universal Orlando or Legoland, and instead, set your GPS for Bok next time you're in that part of the world.
The next morning, I was returning to the airport and found myself with a few hours to kill, so I headed for the highly rated Orlando Museum of Art. As luck would have it, I got lost and found myself looking at a series of banners hanging from the streetlamps, announcing the Harry P. Leu Gardens. GARDENS!
A couple of minutes later, I was parking my rental car, dashing through the visitor's center (after paying a modest admission fee), and wandering in the captivating embrace of this unexpected, 50-acre botanical oasis. Although there were a number of plants I'm familiar with from my near-frostless Santa Barbara home-base, I was also aware that what grows in zone 9B gives the words "sub-tropical paradise" new meaning. Here's what I saw.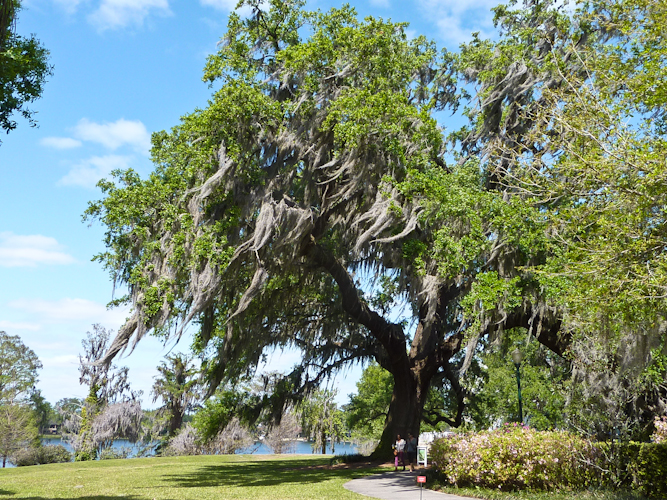 Right out of Gone With the Wind's deep south ambience, this toweringly graceful Southern live oak (Quercus virginiana) came alive as gentle breezes off Lake Rowena set clusters of Spanish moss dancing.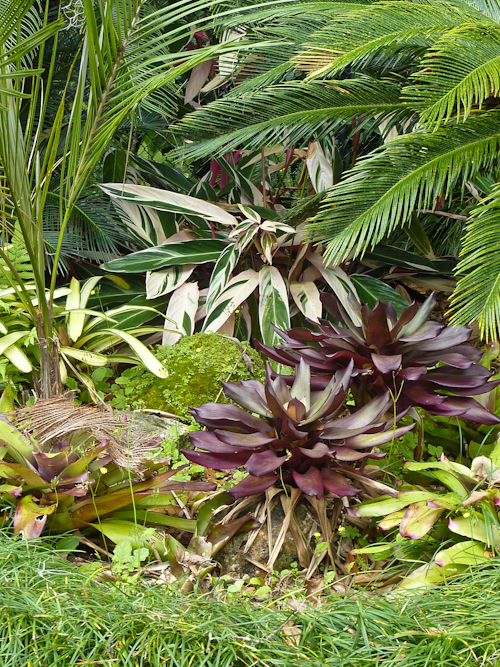 Protected from the hot sun by the dappled light of Indian laurels and oaks, a diverse population of ferns, palms and plants I only see in people's greenhouse windows thrive and create a tapestry of hot colors and cool textures.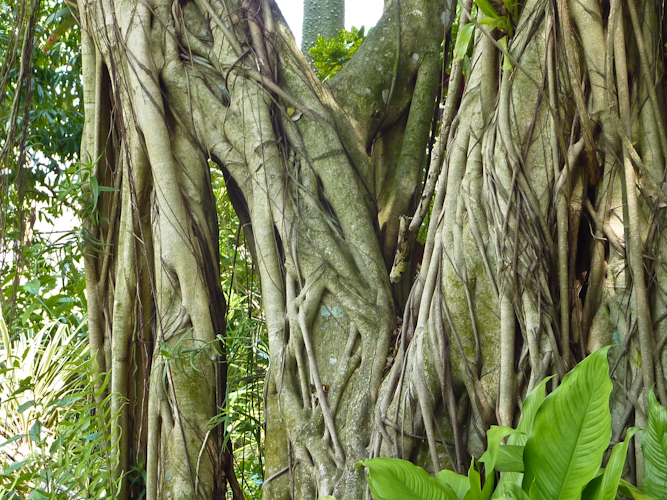 As I came around the bend of one of the many paths that snake through Leu Gardens, all that was missing was an ancient stone temple from the jungles of Thailand or Central America. This close-up of one of the garden's many Ficus microcarpa shows how adventitious roots thrive in humid climates, coating the main trunks with hundreds of moisture-seeking appendages.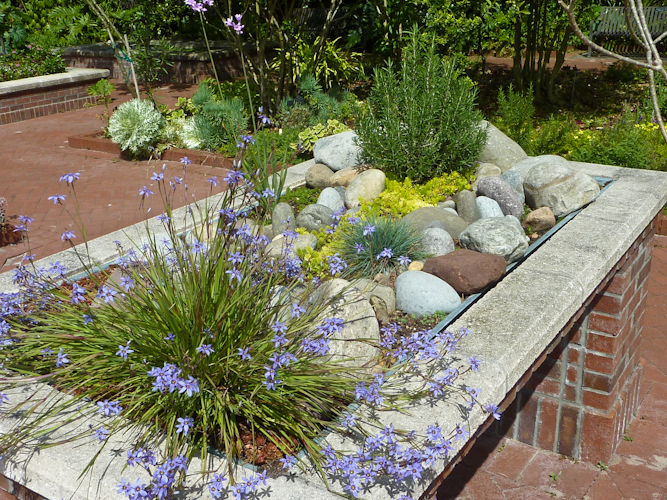 Not far from the entrance is an area aptly named the Idea Garden, filled with residentially-scaled mini-landscapes and projects, including a few raised table-like gardens like the one pictured above. This 3-acre area showcases different plant groups that include the themed gardens: Bird, Bog, Enabling, Evening, Fragrance, Ornamental Grass, Shade, Subtropical Fruit, Urban Patio and Wildflower, as well as construction ideas.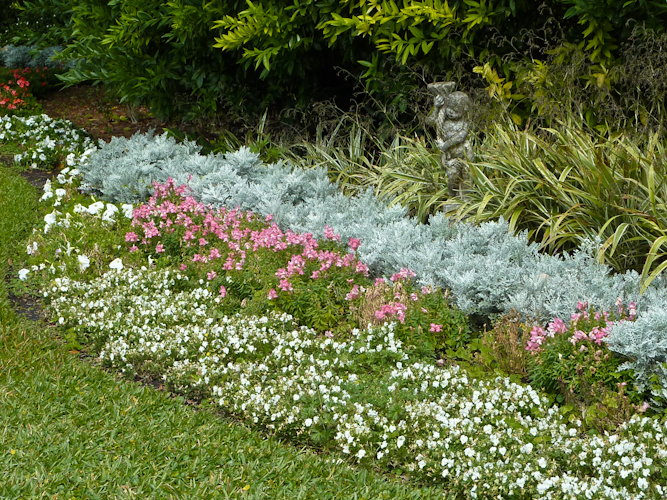 Lest you think that everything at the Leu Gardens looks like a scene from a Tarzan movie, there are traditionally landscaped spaces that include an extensive rose garden and this delicately hued, unfussy combination drawn in bold strokes.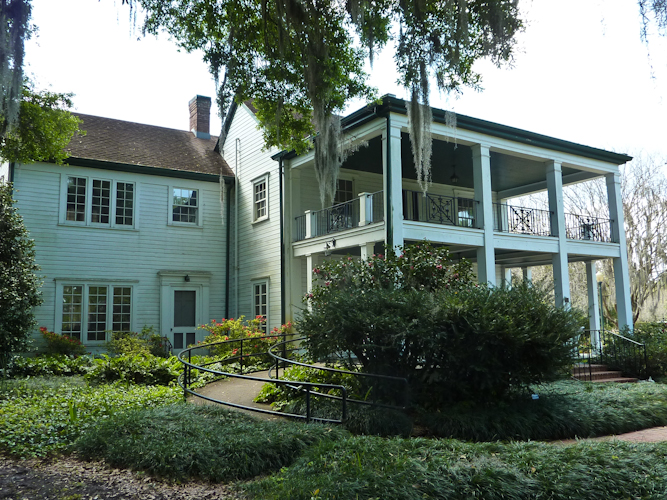 Mr. and Mrs. Harry P. Leu purchased the property in 1936 and set to creating a garden that expressed their love of plants. They traveled all over the world and brought back many exotic specimens and over 240 varieties of camellias. The house and gardens were deeded to the city of Orlando in 1961.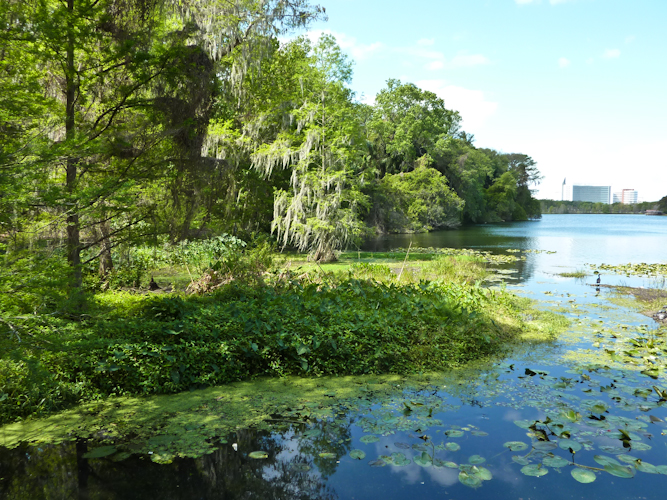 Bordered by Lake Rowena, the garden turns from wild, as well as tended areas, to nearly primeval. Shallow, muddy shorelines are punctuated with bald cypress trees (Taxodium mucrinatum), covered with water lilies and teem with turtles, aquatic birds and the occasional 'gator.