Part 1 of this post described ways to bring some of your soon-to-be-sold garden with you, along with open house tips to get your potential buyer to pull over, park and come inside the house for a look. Now let's look at ways to get put them in a buying mood.
Twinkle, Twinkle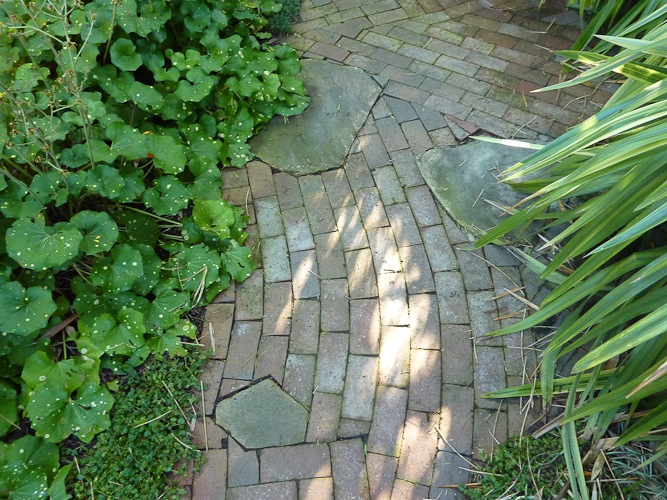 Unless you're hoping to sell to the Munster family, clear out the cobwebs and clean the moss-covered paths. Power-wash walkways and walls. Unless you'll be completely repainting the house, at least put a fresh coat of paint on arbors, gates and fences to make them sparkle. (And while you're at it, fix that leaky hose bib.)
Prime the Buyers' Imagination
If you're selling, your real estate agent has likely brought up the topic of staging the interior of your house. Staging is the act of preparing a home for sale so it will appeal to the greatest number of buyers: removing clutter, rearranging (or temporarily renting) furnishings to make it look appealing to the widest cross-section of taste, substituting generic art for family portraits, even having bread baking in the oven for a homey first impression. (More about staging at Wikipedia)
| | |
| --- | --- |
| | |
The same principle applies to your outdoor spaces. Set the patio table with placemats, attractive plates and flatware, a pitcher of lemonade, glasses and a colorful centerpiece to help buyers imagine a relaxing evening with friends. Dust off your croquet wickets and set them up on the lawn to suggest an afternoon of family fun. Add flair with a simple potted arrangement on a side table. Portable fire pits are inexpensive and allow shoppers to imagine a relaxing evening toasting S'mores and watching the night sky.
See Your Garden from the Inside Out
The first design job I worked after landscape architecture school was for an office specializing in model homes. Budgets were tight, so we learned to make the most of our landscape dollars by strategically placing focal points where they'd be seen from inside.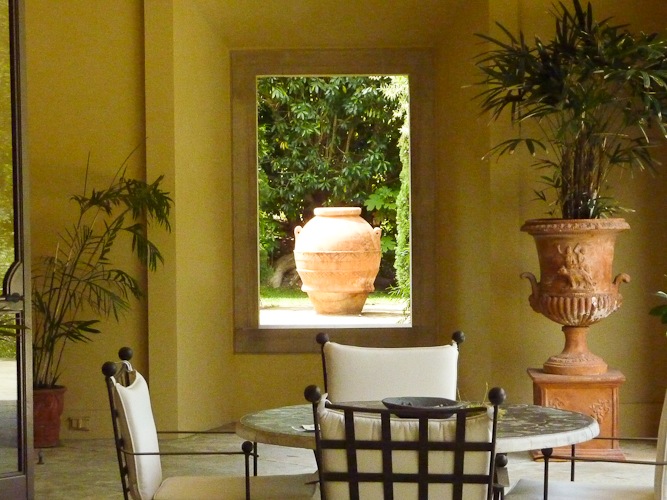 Walk through your house and take note of the primary views of the garden from the interior. Does the line of sight from the front door lead through the living room and out to the garden? That's the spot to put your best foot forward; not in an obscure corner that won't appear on a buyer's radar until their second or third visit. Just as with the front of the house, clean up the visual noise, make a colorful splash (what about coordinating the floral color scheme with the interior colors?), or strategically place a tasteful bit of garden art.
Bonus Points for Sustainability
If you're willing to sink a few bucks into your garden to boost its salability, try one or more of these sustainability improvements, then tout how green your garden is in the printed material your agent passes out at the open house:
Smart Controller: If you have an older automated irrigation system, invest in a state of the art "smart" irrigation controller, the type that adjusts itself to the weather in real time. They save bucketsful of money for the potential owner and conserve a precious resource.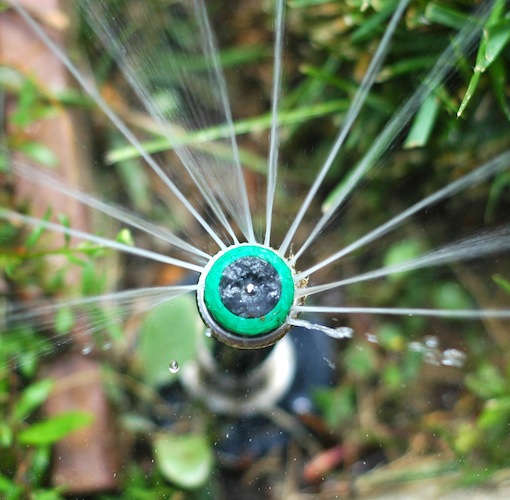 High-efficiency Nozzles: It costs next to nothing to retrofit old-school sprinklers with rotary nozzles that deliver water in efficient, slowly applied rates, allowing most gardens to cut their water use by 30%.
Icing on the Cake: Add a generous layer of fresh mulch (but please, NOT the colored wood chips that come from who-knows-what source of material), especially in beds where plants haven't filled in. Let the buyer know that mulching conserves water, reduces weeding and helps build healthy soil.
Best Management Practices: Have you been using organic methods for feeding your garden or banishing pests? Then make some noise about it! Write a list of best management practices you've employed and print it in an attractive format. It will give the next owner peace of mind, especially if they have young children and pets.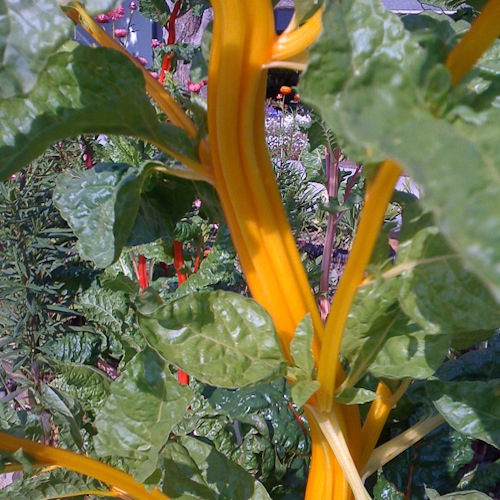 Yummies: If you've been growing edibles — as veggie plots, fruit trees, herb beds or just tucked in with your ornamentals — consider dressing up a table or countertop with a brimming bowl of your harvest. It shows that the yard they're inheriting can satisfy their taste buds as well as their eyes.
Passing Along the Knowledge: Since you'll probably be leaving behind some of your favorite plants, wouldn't you feel better by passing along a few gardening tips to make it easier on the new caretaker and assure the plants are well cared for? For novice gardeners, or those hiring help, you'll be doing them a huge favor regarding when and how to feed plants they may not be familiar with, or timely tasks like when to deadhead the dahlias. One approach is a hand-drawn map of the garden with numbers keyed to a written list of instructions. Or compose a month-by-month guide, sort of like a diary.
My hope is that you'll speed the sale of your garden (er, I mean home), get the price you're shooting for, and relieve your conscience about relinquishing the love of your life to the hands of a well-informed, caring new owner.