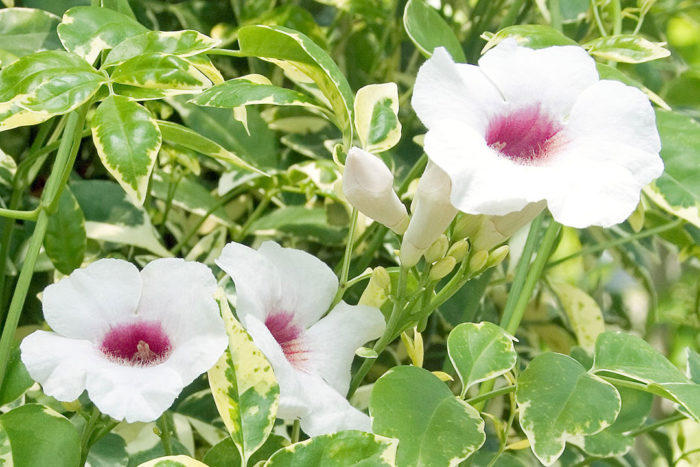 A beautiful vine adds visual vertical interest to the landscape. It can be used to dress up uninspiring fences and walls, hide unsightly views, or adorn a trellis, obelisk, or arbor. Most well-known flowering vines and climbers require at least six hours of full sun for peak performance, but there are a few climbers who prefer shelter from the afternoon sun's hottest rays. If you're seeking a vine to enhance your shaded garden, check out the following beauties!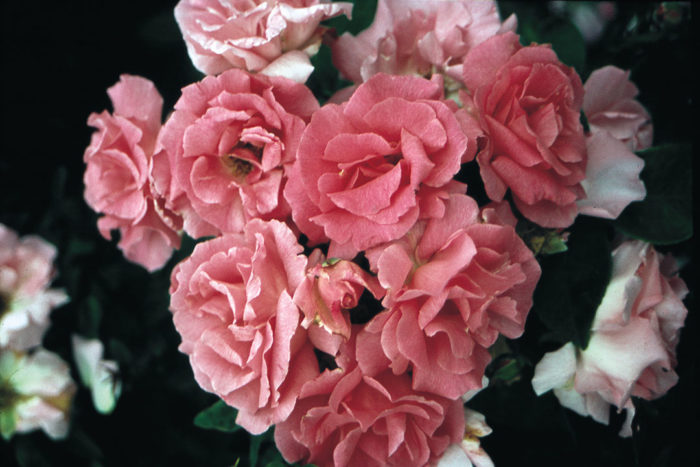 'Zepherine Drouhin' rose (Rosa 'Zepherine Drouhin', Zones 6–11)
Most roses prefer at least six hours of sunshine to perform their best, but the stunning climber 'Zepherine Drouhin' not only tolerates shade but produces bountiful, exceptionally fragrant deep pink roses while doing so! First introduced in 1868, this almost thornless Bourbon rose reaches 12 to 15 feet tall, and its long arching canes are adorned with big, bouquet-worthy blooms from spring through fall. Grow 'Zepherine Drouhin' in rich, well-amended soil, ensure good air circulation to minimize potential mildew problems, and provide regular to light irrigation for best results once established. 'Zephernine Drouhin' easily tolerates an afternoon of shade, but it is healthier and produces more blooms when receiving at least 3 to 4 hours of morning sun. Prune to train or to tidy, and make sure to remove spent flowers to encourage repeat flushes of blooms.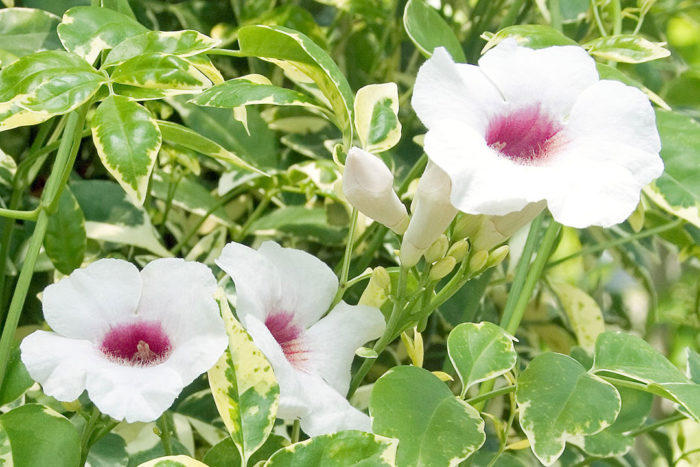 'Charisma' variegated bower vine (Pandorea jasminoides 'Charisma', Zones 9–11)
Growing 20 feet tall, this vigorous Australian evergreen is clothed top to bottom in glossy, olive-green, cream-variegated foliage. This makes the perfect backdrop for the abundant and attractive clusters of tubular blooms and adds to its year-round value in the garden. Rosy-throated, soft pink, trumpet-shaped blooms appear on the previous year's growth and adorn this elegant vine from summer until first frost. Quick to cover an arbor, fence, or trellis, 'Charisma' bower vine is clean, fuss-free, and easily maintained. It can take full sun in coastal areas. Inland, it does best with less stress in afternoon shade, and the foliage will positively glow. Plant in rich, amended soil, and irrigate regularly during the summer months. Prune right after flowering if needed.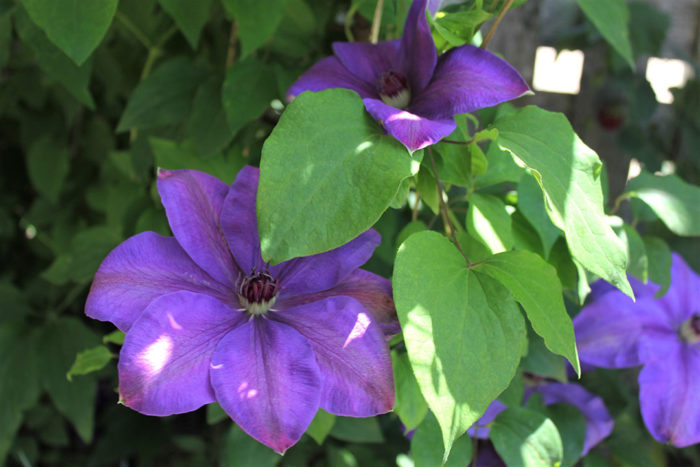 'Elsa Spath' clematis (Clematis 'Elsa Spath', Zones 4–9)
'Elsa Spath' is a particular standout among clematis, with its twice-yearly show of huge (up to 8 inches across), deep lavender-blue, five-petaled flowers. June brings the first flush of the long-lasting blooms, and by following a few simple pruning instructions outlined below, September brings on a repeat performance. Extremely free-flowering and easy to grow, 'Elsa Spath'—reaching 8 to 10 feet tall at maturity—is particularly lovely twining through a climbing rose or trained on a tall obelisk. Afternoon shade is important, as well as rich, well-drained soil. Prune hard twice a year, first in late January to a set of buds 18 inches from ground level. A second pruning should bring the vine down by half as soon as the first flush of blooms is spent. Feed immediately afterward with a well-balanced fertilizer.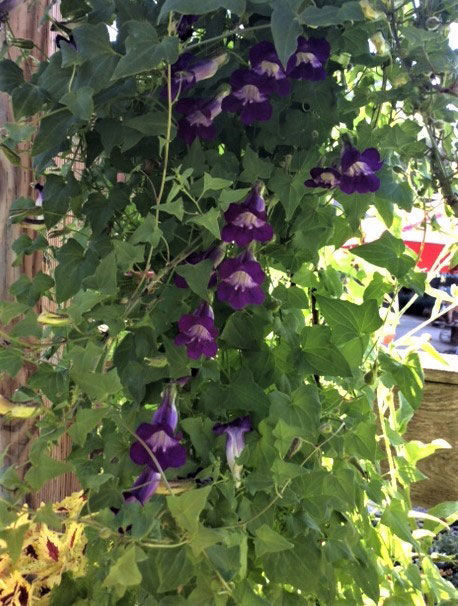 'Joan Lorraine Blue' climbing snapdragon (Asarina scandens 'Joan Lorraine', Zones 9–10)
'Joan Lorraine Blue' climbing snapdragon is a robust, twining tender perennial vine with multibranching wiry stems clothed in bright green, arrow-shaped leaves. Trumpet-shaped, deep blue blooms cover the leaves from summer through fall. Quickly reaching 4 to 6 feet tall, the lovely 'Joan Lorraine Blue' is perfect for dressing up a shaded deck or patio and is an excellent container candidate. The tubular blooms are sure to draw hummingbirds. Be sure to grow it up close where you can enjoy their presence! Give your climbing snapdragon a trellis or obelisk to climb; rich, well-drained soil; regular water; and afternoon shade. Protect in winter if nighttime temperatures threaten to dip below 28°F.
—Fionuala Campion is the owner and manager of Cottage Gardens of Petaluma in Petaluma, California.