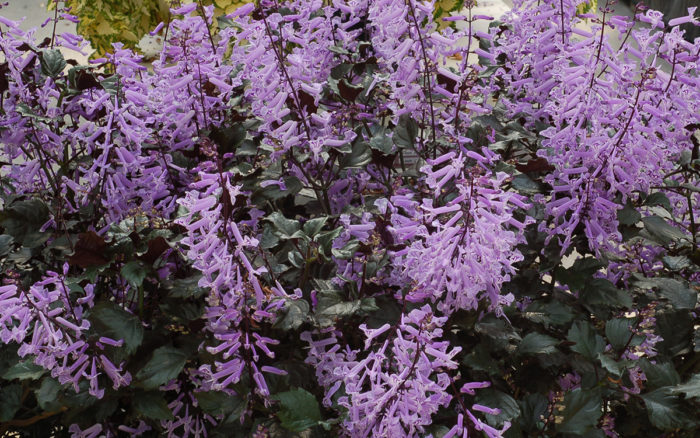 Dry-shade gardening might sound like a challenging proposition, but there's an outstanding array of choices available to water-wise gardeners looking to add perennial color and textural diversity to shadier spots of the garden. Not all shade is created equal; shade can range from deep, only-a-fern-will-survive darkness to bright, filtered, or dappled light. The five fabulous plants below all need shelter from the sun's intense afternoon rays here in Northern California but will do well with some gentle morning sun or even bright, dappled sun all day. For best results, plant these easy-care perennials in rich, well-amended, well-drained soil. These are not thirsty plants, and all can gracefully tolerate dry periods and some neglect. But once spring rains have ceased, be sure to water them at least once a week, and supplement with a little extra water during hotter spells. Additionally, it's always a good idea to use drip irrigation and to mulch all of your perennial beds, including those of your shade garden, to aid in moisture conservation.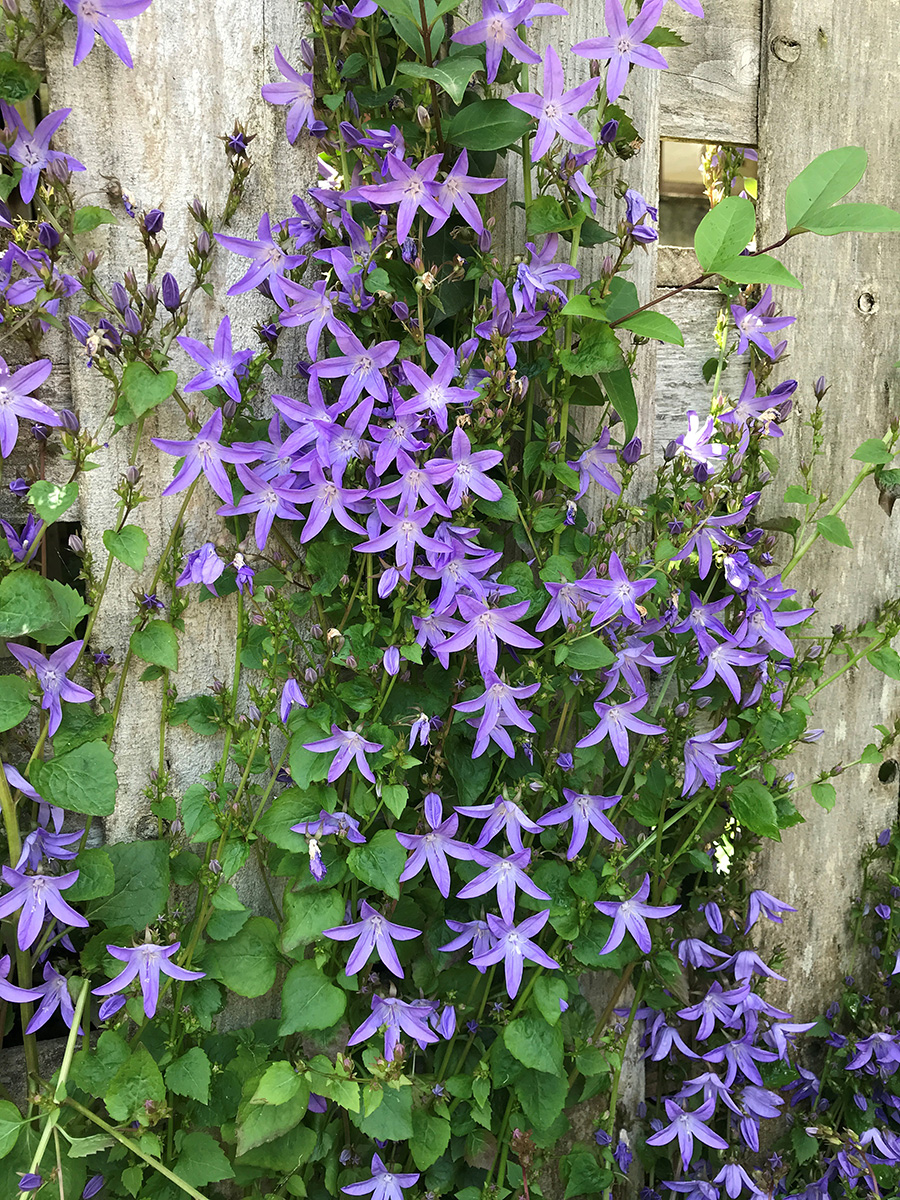 'Blue Waterfall' Serbian bellflower
Campanula poscharskyana 'Blue Waterfall', Zones 4–9
This charming, easy-care, and super-floriferous perennial has proven itself to be remarkably tolerant of Northern California's dry summers. Erupting in a long-lasting shower of sky-blue blooms in late spring, this vigorous ground-hugger looks equally delightful trailing over stone walls, creeping between stepping stones, or cascading from window boxes and hanging baskets. A profusion of dainty, bell-shaped blooms appear toward the end of each trailing stem, leaving the center of the plant lushly filled with petite, toothy, apple green leaves. Reaching 8 inches high and trailing to 2 feet wide, Serbian bellflower responds well to shearing after each bloom cycle.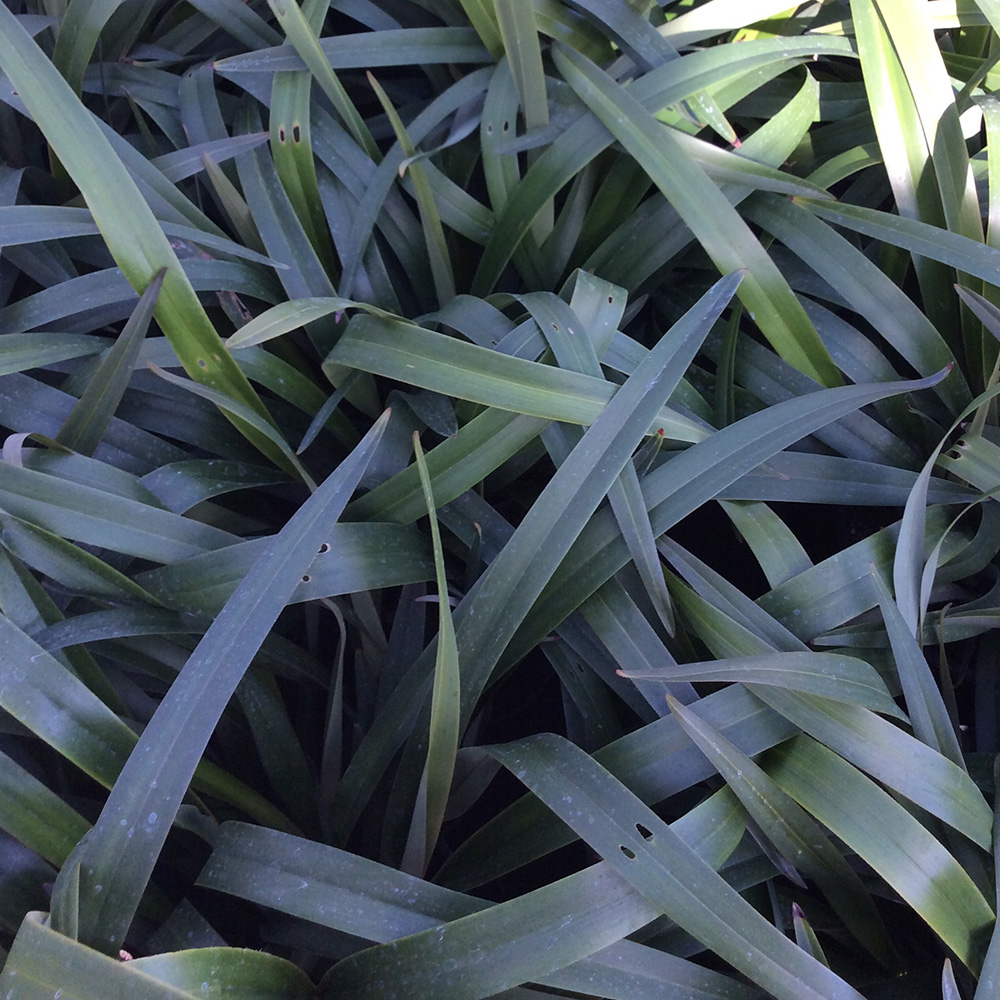 Black mondo grass
Ophiopogon planiscapus 'Nigrescens', Zones 5–10
An outstandingly easy-to-care-for plant, black mondo grass has dense clumps of purplish black, grasslike foliage. It offers great opportunities for color contrast and looks particularly appealing planted with chartreuse or silver-foliaged plants. Inconspicuous pale lavender blooms appear in summer and are followed by deep purple berries in fall. It's a fantastic choice for edging shaded walkways or patios, and it looks fabulous tucked into mixed containers. Black mondo grass grows 5 to 6 inches tall and spreads slowly via underground rhizomes.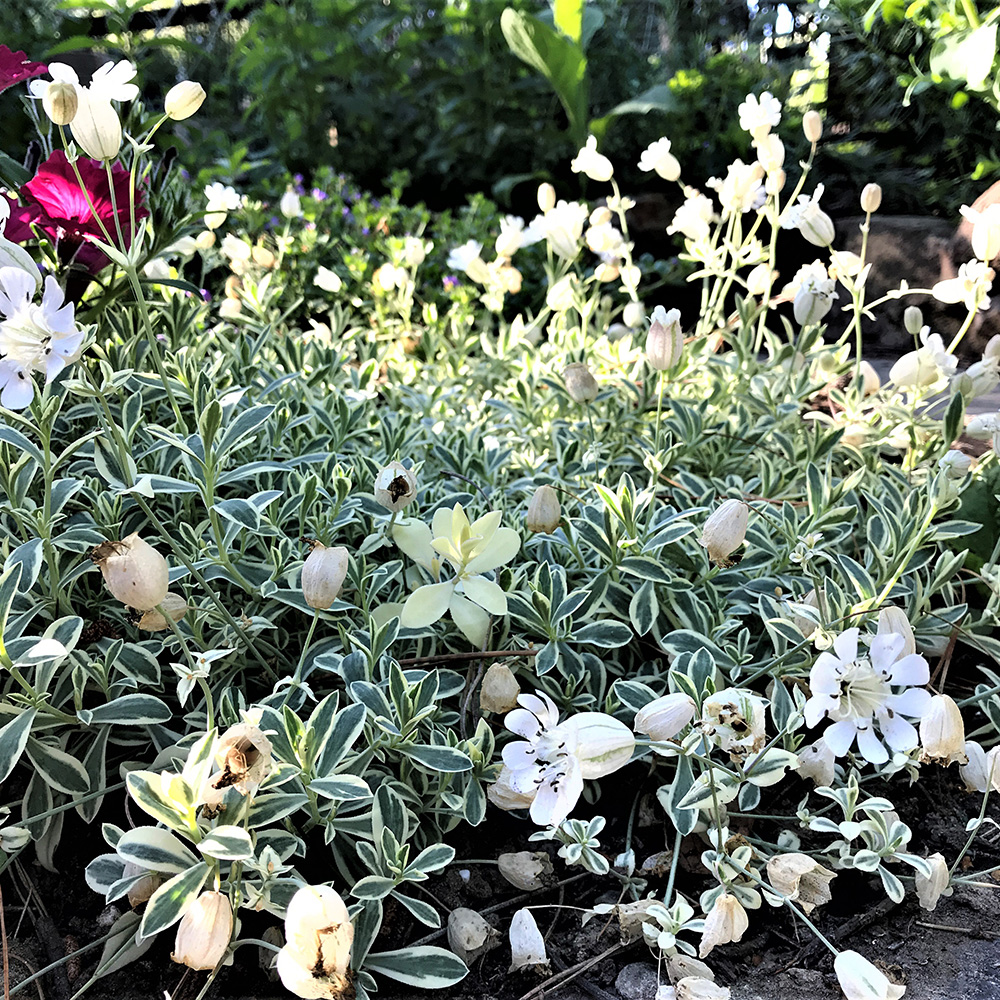 'Druett's Variegated' rock campion
Silene uniflora 'Druett's Variegated', Zones 4–9
Though this delightful catchfly can tolerate full sun, it performs better and with considerably less water when given afternoon shade. Ivory-edged, succulent, blue-green leaves form a 2-inch-high, 2-foot-wide cushiony mat that is topped in early summer with long-lasting, balloon-shaped white flowers. It's perfect for use in edging walkways, and it spills out of containers. It looks especially lovely combined with black mondo grass. Variegated rock campion is easy to care for—just trim it back if it begins to appear straggly or wanders where it's not wanted.
'Velvet Elvis' Swedish ivy
Plectranthus 'Velvet Elvis', Zones 9–11
Even out of bloom, this sturdy, black-stemmed hummingbird favorite adds beauty to shaded borders and containers with its bushy, rounded mound of succulent, purple-green foliage. In late summer through fall, masses of large, long-lasting bloom spikes bear spectacular purple flowers. These flowers rise above vibrant, velvety foliage for a long-lasting and dazzling display. 'Velvet Elvis' Swedish ivy is disease resistant, easy to grow, and extremely rewarding. It will grow 32 inches tall and just as wide. It is tender, so protect it when temperatures dip below freezing.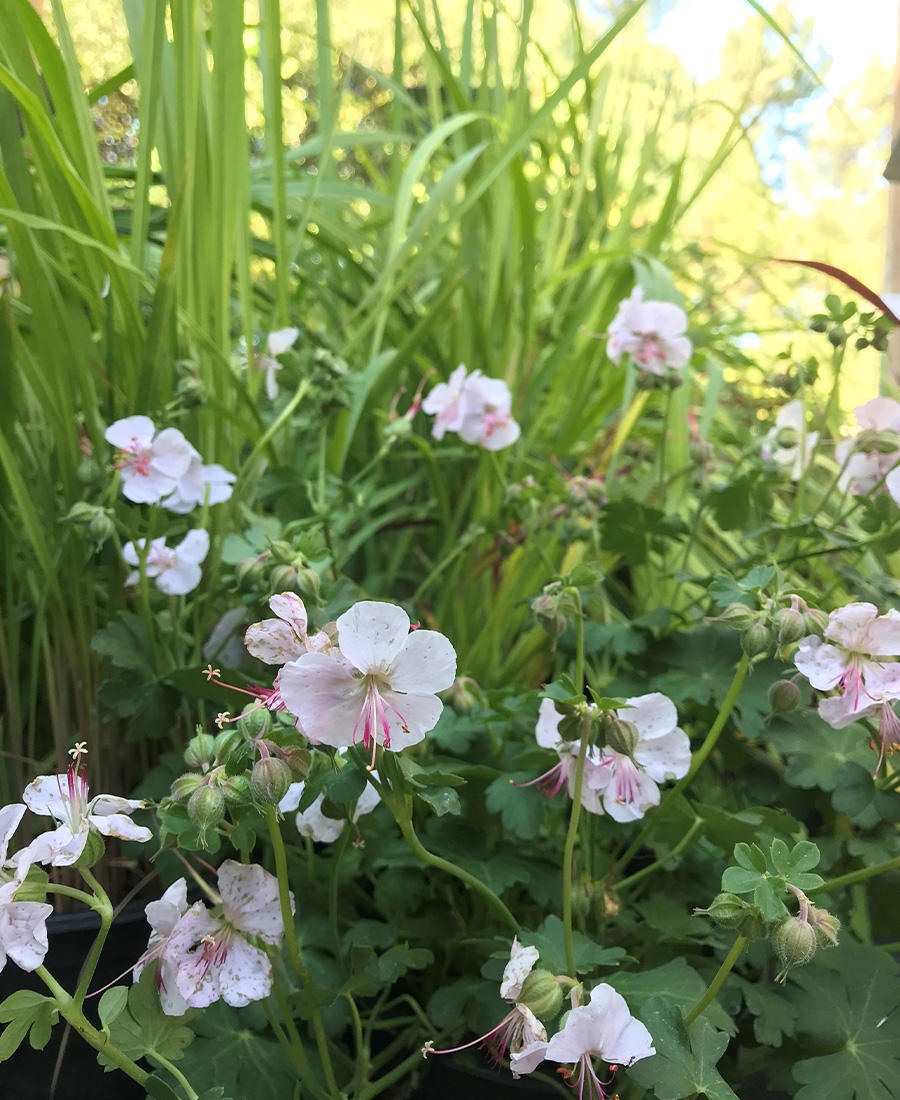 'Biokovo' geranium
Geranium × cantabrigiense 'Biokovo', Zones 5–9
'Biokovo' hardy geranium's fragrant, low-growing, evergreen mound of foliage makes the perfect backdrop for dainty pink-and-white flowers that bloom from late spring to midsummer. Fall's cooler temperatures bring a touch of orange, bronze, and red to the evergreen foliage, adding to the year-round interest of this reliable, no-fuss perennial. Drought tolerant and deer resistant (and apparently gopher resistant also), this charming hardy geranium is my go-to ground cover for "impossible" shady spots. It grows 6 to 12 inches high in bloom and spreads slowly via rhizomes.
Angel Wings® senecio (left) would look great planted with dark-foliaged plants. 'Miner's Merlot' purple wood spurge has multicolored foliage (right). Photos: Fionuala Campion
Honorable mentions
Two other plants that also perform beautifully in the shadier, dry spots in my garden are the silver-foliaged Angel Wings® senecio (Senecio candicans 'Senaw', Zones 8–11) and the recently introduced and lovely 'Miner's Merlot' purple wood spurge (Euphorbia 'Miner's Merlot', Zones 6–9). Check them out as well!
—Fionuala Campion is the owner and manager of Cottage Gardens of Petaluma in Petaluma, California.