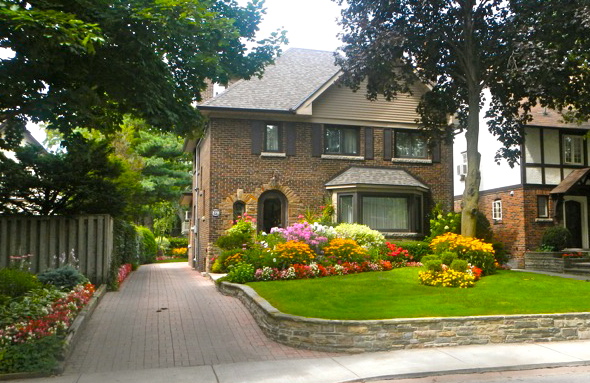 Today's photos are from Ruth and John Powell in Toronto, Ontario. They say, "Our garden is a traditional garden including trees and shrubs for year-round appeal. We use staged perennials to balance the garden from April to October and supplement with annuals to provide lots of vibrant colours. Hedges, a large rock, and beautification of pots with flowers and greenery are included for garden art. Overall, we utilize reduced pesticide use and no garden chemicals. We pull out weeds by hand in the grass. Importantly, we do all the gardening ourselves–cut the grass, trim, prune, etc., and hire NO contractors. BONUS…. our neighbours have allowed us to take over the garden beside our driveway and we designed and created the garden. Also note the annuals bordering the fence line beside the driveway to to the back yard. Hope you enjoy our garden from Canada." Wow, your garden is so lush and colorful–and so nicely done! We need LOTS more photos. I know this is just a glimpse! It's so nice to put faces to the names, too. Ruth, has anyone ever told you that you look a little like Cybill Shepherd?
Help me keep kicking out posts all winter long–send me photos of your gardens NOW! Email me at [email protected]. Thanks! –Michelle
______________________________________________
Want us to feature YOUR garden, or a garden you've recently visited, in the Garden Photo of the Day? CLICK HERE!
Want to see every post ever published? CLICK HERE!
Want to search the GPOD by STATE? CLICK HERE!
And last but not least, Check out the GPOD Pinterest page, where you can browse all the post in categories…fun! CLICK HERE!