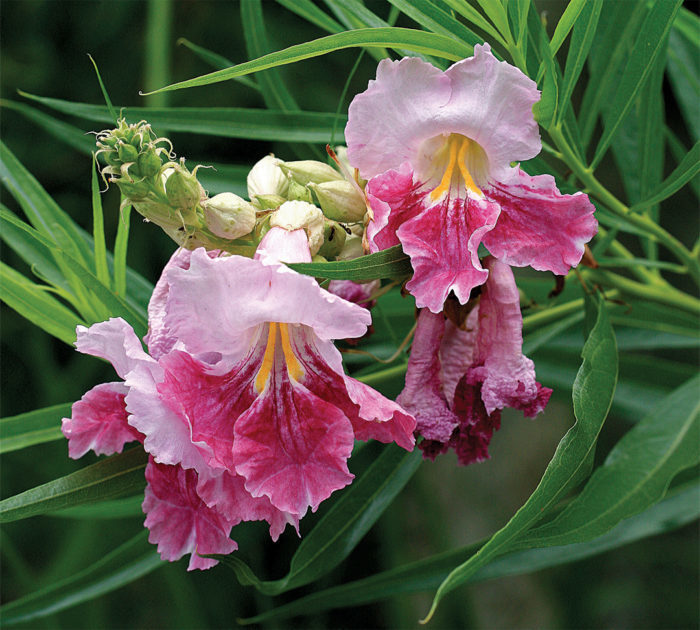 Desert Willow
Name: Chilopsis linearis and cvs.
USDA Hardiness Zones: 8 to 9
Size: 15 to 25 feet tall and wide
Conditions: Full sun; well-drained soil
You can plant this tree singly or plant several to create an unusual hedge. Desert willow has showers of white, pink, purple, or bicolored flowers from midspring into fall on a backdrop of soft willowlike leaves. When allowed to reach its mature height, the twisting trunk becomes a bonus focal point that adds drama. Heat and drought tolerant, this plant also attracts birds and butterflies.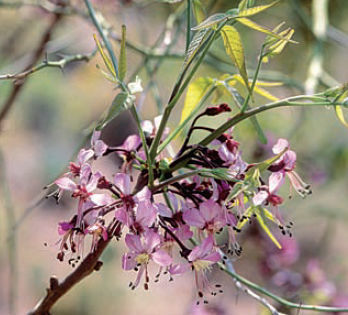 Mexican Buckeye
Name:

Ungnadia speciosa
Zones: 7 to 9
Size: 15 to 30 feet tall and 8 to 12 feet wide
Conditions: Full sun; well-drained soil
This Texas native has outstanding clusters of fragrant pink blossoms and bronze-tinged foliage in early spring. The flowers resemble those of redbud (Cercis spp. and cvs., Zones 4–10), and they attract butterflies. What follows are unusual trivalved pods with shiny, marble-size black seeds, which are poisonous. Classified as a small multi­trunk tree or large shrub, Mexican buckeye is revered for its eye-catching fine texture. Its fall and winter interest is equally stunning, with the plant sporting bright golden yellow leaves and grayish brown bark.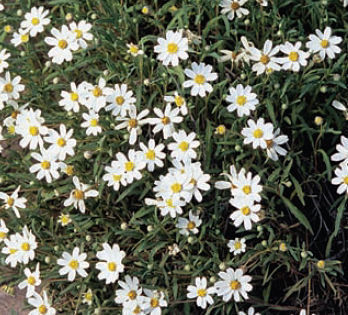 Blackfoot Daisy
Name: Melampodium leucanthum
Zones: 7 to 11
Size: 2 feet tall and wide
Conditions: Full sun to partial shade; well-drained soil
Sun loving with long-lasting, honey-scented flowers, this mounding perennial always commands attention. Blackfoot daisy, with its profusion of white flowers, creates a stunningly beautiful border from early spring until late fall. This plant grows equally well in sun or with a little bit of cover, and it is heat and drought resistant. Blackfoot daisy also happens to be native to the southwestern United States.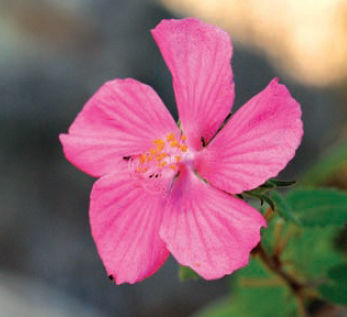 Texas Rock Rose
Name:

Pavonia lasiopetala
Zones: 7 to 9
Size: 15 inches tall and wide
Conditions: Full sun; well-drained soil
This plant is truly a standout in our university gardens. A heat- and drought-resistant woody perennial, Texas rock rose has velvety, soft green foliage, which sets off delicate yet showy pink flowers. The blooms often last from early spring into late fall. It responds well to regular pruning, maintaining a tighter shape and providing even more blossoms. Known for attracting both butterflies and hummingbirds, Texas rock rose will reseed itself in the garden without becoming a thug.
Russ Plowman is a garden designer for Green Expectations and an instructor of garden center and nursery management at Texas Tech University in Lubbock.