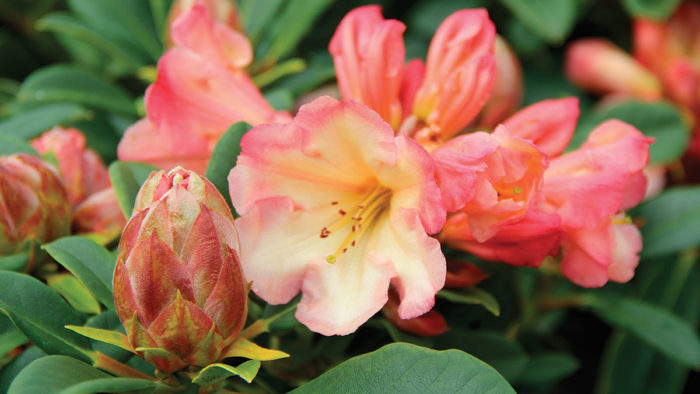 If your first few trips to the nursery can be overwhelming and chaotic, check out our plant recommendations for spring color in your region. There's no doubt that these spring flowers will cure the winter blues.
---
1. 'Pacific Frost' Corsican hellebore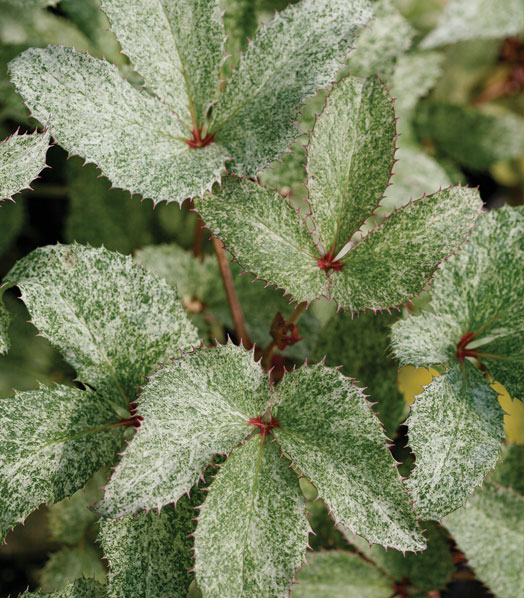 Helleborus argutifolius 'Pacific Frost'
Zones: 5–8
Size: 24 inches tall and 30 inches wide
Conditions: Partial to full shade; average, well-drained soil
Native range: Corsica and Sardinia
'Pacific Frost' is a snazzy little hellebore that blooms in winter and early spring, attracting early bees looking for food. It has wonderful variegated foliage that steals the spotlight from more mundane hellebores, with a crazy pink color that matches the pink edge of its flowers. As with other H. argutifolius cultivars, its flowers stand proud above the foliage, glowing in the soft spring sun. These blooms age out to soft apple green, lasting well into late spring. It looks best when grown in partial shade but grows well in sun to deep shade.
2. 'Honey Butter' rhododendron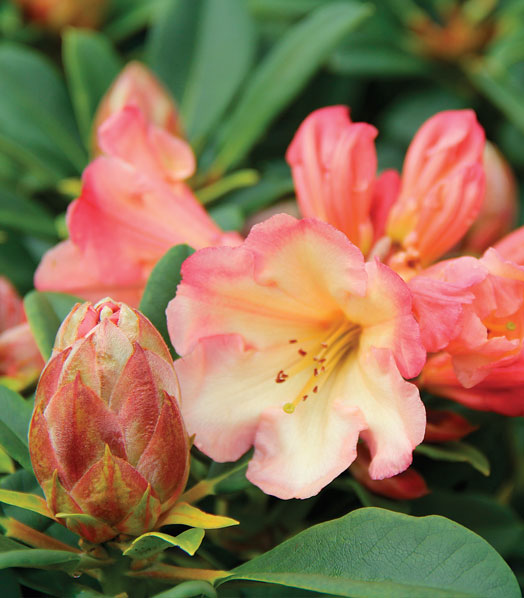 Rhododendron 'Honey Butter'
Zones: 6–9
Size: 3 to 4 feet tall and wide
Conditions: Partial shade; evenly moist, rich, well-drained, acidic soil
Native range: Hybrid
Rhododendrons are common in our region, so when this one came to me, I was expecting to be underwhelmed. Instead, I was overwhelmed. This compact plant had tight trusses right below eye level that exploded with so many colors that I found it hard to decide which part I liked best. Was it the tight bud of dark pink, the partially open bud with reddish pink on the outside and deep yellow inside, or the fully open flower with sunny warm yellow and orange? Even the glossy dark green foliage was accented by winered new growth. A recent introduction by hybridizer Jim Barlup, 'Honey Butter' deserves a place in your woodland garden.
3. Buttercup winter hazel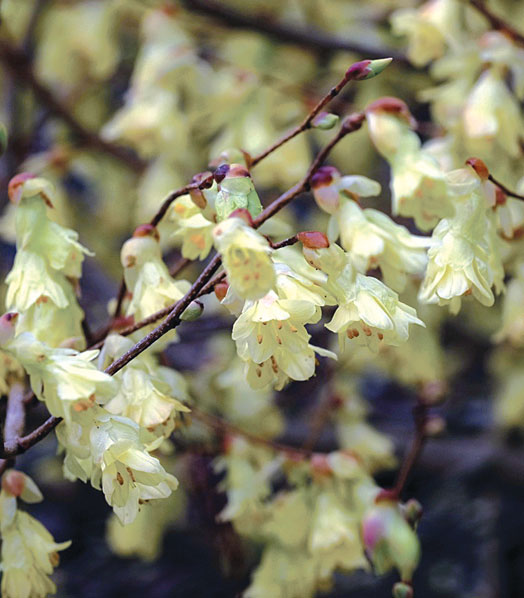 Corylopsis pauciflora
Zones: 6–9
Size: Up to 5 feet tall and 8 feet wide
Conditions: Partial shade; average to moist, well-drained soil
Native range: Japan and Taiwan
Buttercup winter hazel is a deciduous shrub with a cool horizontal branching pattern. It appreciates light or dappled shade and some supplemental water during dry periods. In early spring, before the leaves appear, soft yellow blooms completely cover the plant, providing early food for bees and hummingbirds. The dangling bell-shaped flowers hang on through the toughest April storms. The leaves emerge in colors of pink, then transition to light yellow-green and finally soft green. In fall, the foliage becomes a showy blaze of yellow and orange.
4. 'Burning Hearts' bleeding heart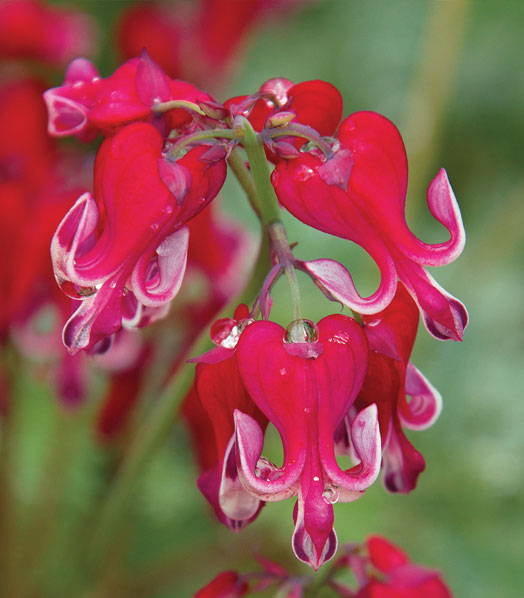 Dicentra 'Burning Hearts'
Zones: 4–9
Size: 10 inches tall and 12 inches wide
Conditions: Partial to full shade; moist, well-drained soil
Native range: Hybrid of Asian and North American species
'Burning Hearts' makes me think a little of heat and warmth, or Elvis, depending on the day. It is a compact perennial, ideally suited for the Northwest region's moist springs and woodland gardens. The deep red blooms have an exaggerated heart shape, with a deeper purple-and-white edge that really stands out. The ferny foliage is a lovely shade of blue-green. This sturdy cultivar doesn't go dormant, so its impact is extended into summer.
---
—Susan Calhoun is the owner and principal designer at Plantswoman Design on Bainbridge Island, Washington.