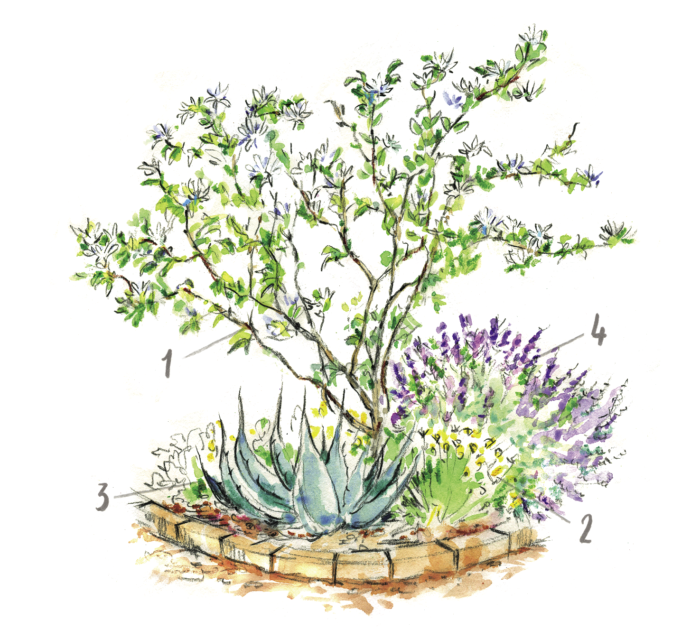 1. Anacacho orchid tree
Name: Bauhinia lunarioides
USDA Hardiness Zones: 8–11
Size: Up to 12 feet tall and 10 feet wide
Conditions: Full sun; dry, well-drained soil
A widely available but underutilized dwarf tree, Anacacho orchid tree announces spring with its delightful flowers, and it matures to a size perfect for a small space. Delicate white blooms and an open canopy provide light shade to other plants at its base. Easily pruned from a large shrub into a tree form, it can provide a living sculpture to the garden as well as intermittent flowering into the monsoon season. Sometimes brittle, Anacacho orchid tree is best grown where it's sheltered from strong winds.
2. Desert marigold
Name: Baileya multiradiata
Zones: 6–10
Size: 12 to 18 inches tall and 1 foot wide
Conditions: Full sun; well-drained soil
While yellow blooms and gray foliage are common farther West, this short-lived but heavy self-sowing perennial colonizes barren soils where winters are mild enough for the tiny, fuzzy leaf rosettes to survive. Desert marigold quickly produces blooms, which dance in the warm spring wind, and continues blooming into fall (although less prolifically), beckoning every butterfly. It's mostly used in low-desert gardens, but it can add flower power to almost any dry bed.
3. Big Bend agave
Name: Agave havardiana
Zones: 5–9
Size: 3 to 4 feet tall and wide
Conditions: Full sun to partial shade; well-drained soil
My first introduction to this large cold-hardy agave was when I saw it sending up a tall bloom stalk in late spring at a colleague's home. I soon noticed, however, that Big Bend agave was in many Albuquerque landscapes—and for good reason. It works in a repetitious mass or as a singular accent among plants, where the size of its blue-green foliage can truly be appreciated. As an added bonus, it readily provides free pups to transplant or give to friends.
4. Chaparral sage
Name: Salvia clevelandii
Zones: 8–11
Size: 3 to 5 feet tall and 5 to 6 feet wide
Conditions: Full sun; well-drained soil
If you're in the market for a fragrant shrub, this is a great option. It has cool violet blooms with fuzzy gray leaves—allowing it to soften bold desert accent plants, such as ocotillo (Fouquieria splendens, Zone 13) and agave (Agave spp. and cvs., Zones 7–11). Chaparral sage is a Southern California native and quite drought tolerant. To create an impact, mass it under small trees or against walls for an informal hedge.
---
David Cristiani is a landscape architect and the owner of Quercus, a design firm in El Paso, Texas.
Photos, except where noted: millettephotomedia.com; #2 and #4, Jerry Pavia. Illustration: Elara Tanguy.