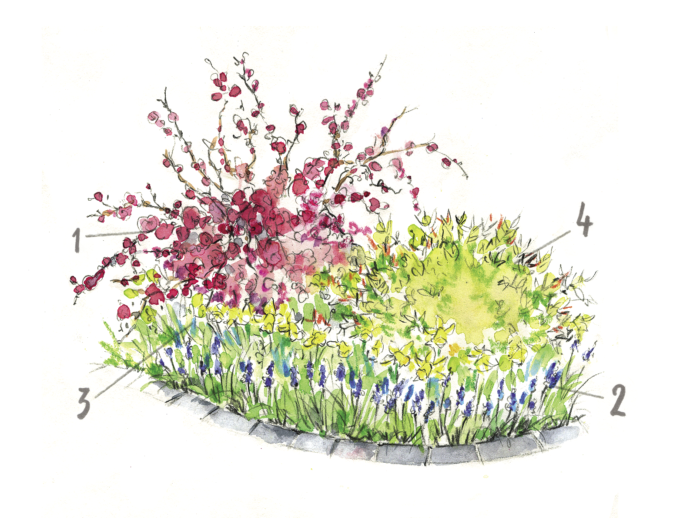 1. 'Texas Scarlet' flowering quince
Name:

Chaenomeles speciosa

'Texas Scarlet'
USDA hardiness zones: 5 to 9
Size: 4 to 5 feet tall and wide
Conditions: Full sun to partial shade; fertile, well-drained soil
One of my favorite harbingers of spring is 'Texas Scarlet' flowering quince. As the gray of winter fades, its sculptural bare branches come alive in February or March with charming clusters of red flowers. This quince offers endless opportunities for creative pruning to showcase its stark and leafless splendor. Its blooming branches make for dramatic indoor arrangements, as well.
2. Twist of Lime
™
abelia
Name:

Abelia

×

grandiflora

'Hopley's'
Zones: 6 to 10
Size: 3 to 4 feet tall and wide
Conditions: Full sun to partial shade; fertile, well-drained soil
No early-spring garden grouping would be complete without the backdrop of hardy ever­green foundation shrubs. Twist of Lime™ abelia's bright variegated leaves add contrast to the garden. And while it doesn't bloom until summer, its arching form and glossy green-and-cream leaves make it the perfect foil for early-spring bloomers, like flowering quince, daffodils, and grape hyacinths. As the flowers of companion plants begin to fade, the abelia begins its summer-long show of delicate pink blooms, while the flowering quince begins to leaf out.
3. Grape hyacinth
Name:

Muscari armeniacum
Zones: 4 to 8
Size: 4 to 8 inches tall and wide
Conditions: Full sun; well-drained soil
This little bulb packs a powerful punch of color and scent. Grape hyacinth's bunching blooms look like miniature grapes and evoke childhood memories of summer days spent sipping grape Kool-Aid. It grows happily in both full sun and light shade, but give it plenty of room as it can spread quickly to fill beds. Winter hardy, grape hyacinth should be planted in fall in an area with good drainage.
4. 'T
ê
te-
à
-T
ê
te' daffodil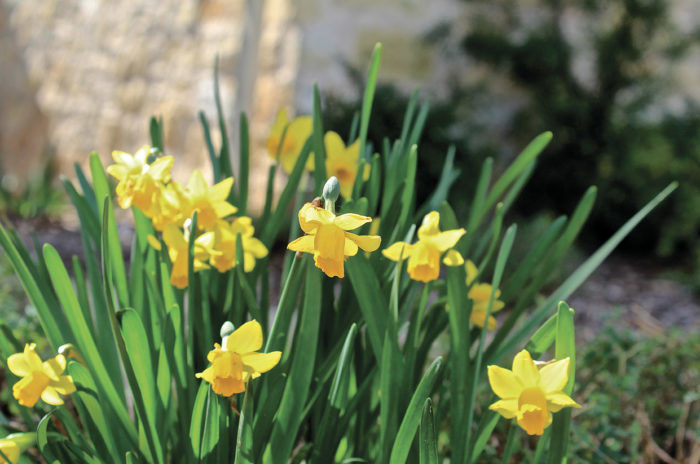 Name:

Narcissus

'T

ê

te-

à

-T

ê

te'
Zones: 3 to 9
Size: 6 to 8 inches tall and 4 inches wide
Conditions: Full sun to partial shade; well-drained soil
Unique among daffodils, the miniature 'Tête-à-Tête' stands only 6 to 8 inches tall. It grows in dense clumps with upright stems that can handle the sometimes windy early-spring weather. A perky and prolific bloomer, it often puts forth at the same time two or three lemon yellow flowers per stalk. This bulb returns happily, year after year, and requires less dividing than most other daffodils. 'Tête-à-Tête' is perfect for planting along borders or in the foreground of other spring bloomers.
---
Diana Kirby is a landscape designer in Austin, Texas.
Photos, except where noted: courtesy of Diana Kirby; #2, John Glover/gapphotos.com; #3, Michelle Gervais. Illustration: Elara Tanguy