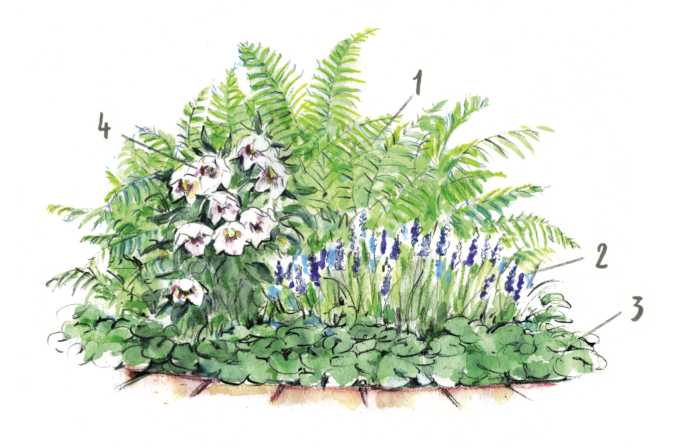 1. Japanese beech fern
Name:

Thelypteris decursive-pinnata
USDA Hardiness Zones: 4–8
Size: Up to 3 feet tall and 18 inches wide
Conditions: Partial to full shade; fertile, moist soil
A spring perennial garden in Michigan requires plants that tolerate cold winter temperatures and are good-natured about a transition from winter that can come in fits and starts. Though Japanese beech fern will look lovely all summer long and well into fall, I consider it a spring perennial. It is beautiful from the moment the fronds break the soil and begin to unfurl. The process by which the creamy green fern curls emerge and grow to full-size fronds lasts more than a month. Its lacy mature fronds are sturdy and do not fall over in strong winds or heavy rains. The plant spreads willingly in partial shade but grows more slowly in deep shade. Planted en masse, it is graceful and virtually maintenance-free.
2. Grape hyacinth
Name:

Muscari

spp. and cvs.
Zones: 2–9
Size: 8 inches tall and 4 inches wide
Conditions: Full sun to partial shade; moist, well-drained soil
Grape hyacinth is a small spring-blooming bulb, which persists without division or care for many years. Interplanted with the beech fern, it provides some welcome spring color when the fern fronds are just unfurling. I like to plant a mixture of varie­ties, like Muscari armeniacum, M. botryoides f. album, M. latifolium, and M. 'Valerie Finnis'. The range of colors—from white to pale blue to dark heliotrope blue—provides plenty of visual interest. A bud vase full of the entire range of colors is, indeed, magical.
3. European ginger
Name:

Asarum europaeum
Zones: 4–8
Size: 3 inches tall and up to 1 foot wide
Conditions: Partial to full shade; fertile, moist, well-drained soil
European ginger hugs the ground with over­lapping, glossy, nearly round leaves. The simple shape of the ginger is a striking contrast to the fronds of the beech fern. Given some protection, this Zone 5 perennial might be even hardier than the fern; it spreads more slowly, but it is well worth the wait. I find that it is tolerant of a wide range of conditions. It will thrive in quite a bit of sun, providing it gets adequate moisture.
4. 'White Spotted Lady' hellebore
Name:

Helleborus orientalis

'White Spotted Lady'
Zones: 4–9
Size: 18 inches tall and wide
Conditions: Partial shade; moist, well-drained soil
'White Spotted Lady' hellebore is a slow-growing but vigorous perennial in our region. It eventually will make large and imposing clumps. It is one of the first plants to flower in my spring garden, but given the cool spring nights, the purple-spotted white flowers last a long time. They bloom on leafless stalks that emerge in early spring. The large, leathery, glossy leaves emerge much later. They are eminently capable of holding their own against the spreading beech fern.
---
Deborah Silver is a garden designer and the owner of Detroit Garden Works, a garden shop in Sylvan Lake, Michigan.
Photos, except where noted: courtesy of Deborah Silver; #3, Michelle Gervais; #4, Julie and Vic Pigula. Illustration: Elara Tanguy.