1. Darcy's Mexican Sage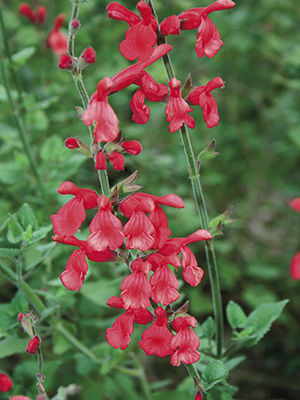 Name:

Salvia darcyi
USDA hardiness zones: 6 to 10
Size: 3 to 4 feet tall and wide
Conditions: Full sun to partial shade; well-drained soil
This herbaceous sage with bright, coral red blooms has many qualities that make it a must-have. It blooms from midspring to fall, and if you have a large area to fill, this plant can do it relatively quickly yet not aggressively. I can, in fact, pull it out by its roots with just a light pull of the stem if it gets out of bounds, and I've never known it to choke out anything near it. Darcy's Mexican sage does not need much water nor does it require perfect drainage. This allows it to be mixed with plants that vary in their moisture needs. Hummingbirds seem to be the only thing that likes this plant more than gardeners.
2. Texas Bird of Paradise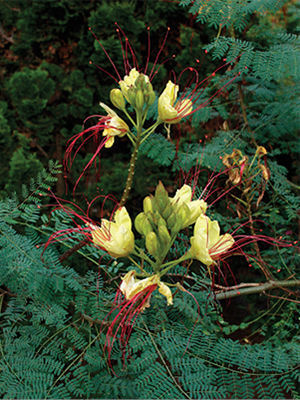 Name:

Caesalpinia gilliesii
Zones: 9 to 11
Size: 6 to 8 feet tall and wide
Conditions: Full sun; well-drained soil
This large shrub is a great specimen for an arid garden. It does not look like much when it's young but fills out nicely, eventually looking like a miniature honey mesquite tree (Prosopis glandulosa, Zones 8–11). The structure of Texas bird of paradise is loose with finely textured, twice-compounded leaves. The blooms, which you can enjoy for most of the summer, are a piece of art by themselves; they are mostly yellow with a cluster of red stamens. In warm climates, this plant is evergreen, but in my area of Dallas/Fort Worth, it is deciduous. If it suffers any damage from a cold winter, it might need to be cut back.
3. Firespike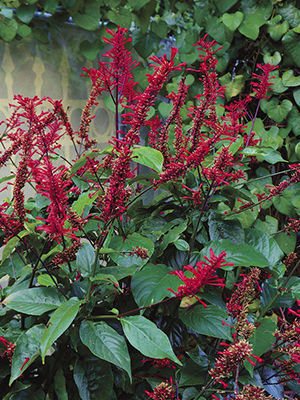 Name:

Odontonema strictum
Zones: 8 to 11
Size: 5 feet tall and 2 to 3 feet wide
Conditions: Partial to full shade; moist, well-drained soil
When I first saw this plant, I thought that it was beautiful but assumed it would never make it through most winters here in the Southern Plains; I was happily proved wrong. The beautiful bright red blooms of firespike are unique in the shade. Its large, glossy, dark green foliage is another plus, but be forewarned that it will generally die back in winter; farther south, it can be evergreen. The blooms start in late summer and last into fall. Because it's a moderate water user, firespike would probably not do well in a planting bed designed for drought-tolerant plants.
4. Flowering Senna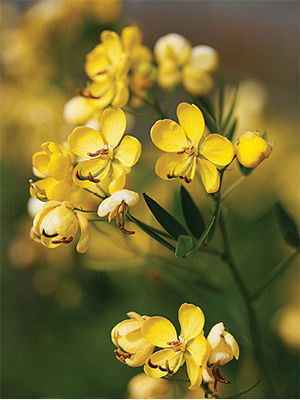 Name:
Senna corymbosa
Zones: 8 to 11
Size: 6 to 8 feet tall and wide
Conditions: Full sun to partial shade; well-drained soil
This shrub is native to Argentina and Brazil but has adapted to much of the Southern Plains. How cold our winter is determines whether this plant is evergreen or semievergreen. Its small leaves make it feel light and loose in the garden, but the blooms are the fun part: The plant is coated with small yellow flowers all summer. Flowering senna works best in an arid planting because it prefers little water, but it can handle some moisture. Its foliage is dark and glossy enough to add a tropical feel to a grouping of arid plants and to fit right in, as well, with a lush border.
Michael Kinler is a landscape designer at Redenta's Garden, a garden shop and design firm in Arlington, Texas.
Photos: #1, courtesy of Plant Delights Nursery, Inc.; #2, Danielle Sherry; #3, millettephotomedia.com; #4, Joshua McCullough