1. 'Safari Sunset' Leucadendron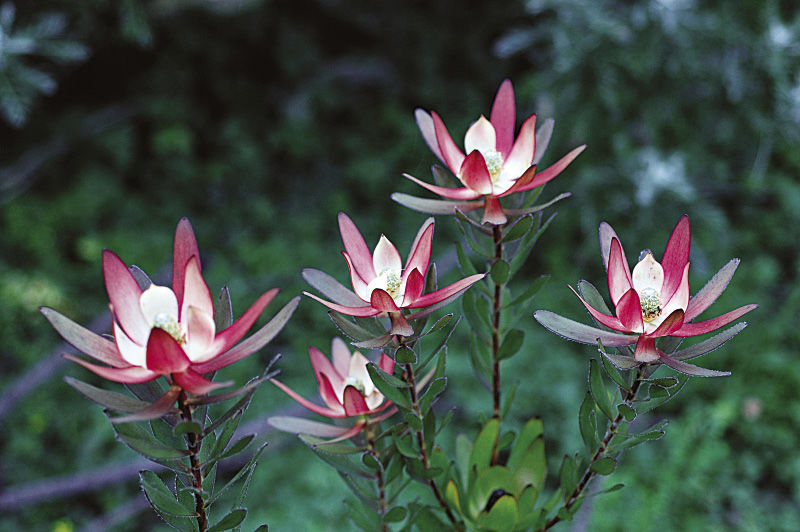 Name: Leucadendron
'Safari Sunset'
USDA Hardiness Zones: 9 to 11
Size: 8 feet tall and 6 feet wide
Conditions: Full sun; poor, well-drained soilFor a colorful addition to a sunny border, give 'Safari Sunset' leucadendron a try, for its many branches of various heights that provide dimension and a splash of yearlong color. In spring, growing tips turn fiery red as flower buds develop, with the color becoming more intense as the year progresses. The bracts that surround the flower are even more brilliant than the flower itself.
2. 'Leprechaun' Begonia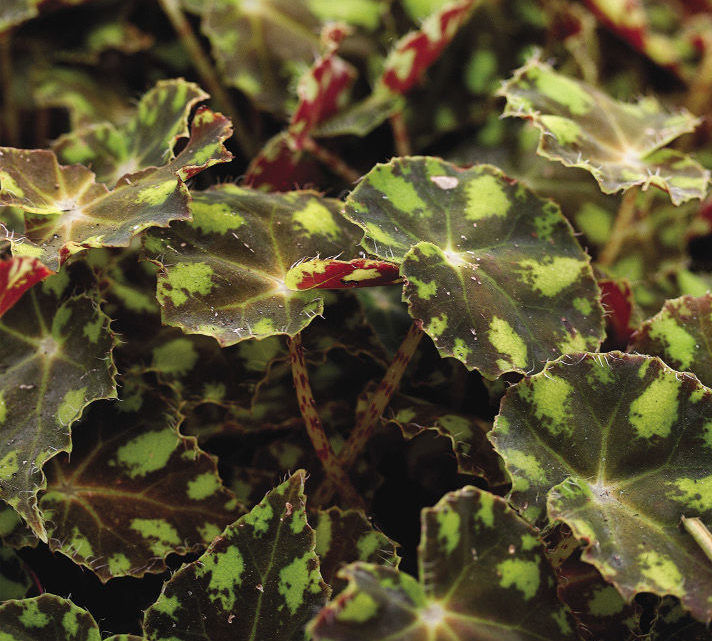 Name: Begonia
'Leprechaun'
Zones: 9 to 10
Size: 1 foot tall and wide
Conditions: Partial to full shade; moist, well-drained soil
'Leprechaun' begonia has been a success in the Getty Center garden for the past two years because of its wonderful foliage display. In spring, 'Leprechaun' blooms in a profusion of classic pink clusters, held just a few inches above the foliage. After the blooming period, the flowers drop and all eyes are on the wonderfully patterned foliage, which resembles a tortoise shell. A mass planting is the best way to appreciate this plant. 'Leprechaun', like most begonias, can be propagated from stem cuttings.
3. Wood Betony

Name: Stachys officinali
and cvs.
Zones: 5 to 8
Size: 2 feet tall and 1 foot wide
Conditions: Full sun to partial shade; well-drained soil
Wood betony was introduced to the Getty Center garden for its vibrant green foliage and what we thought would be a springtime display of purple flowers. To our pleasant surprise, those flowers lasted after their early-season debut, providing a beautiful show throughout the year. Wood betony has been a durable plant, suffering no pest or fungal issues. This plant is a clumper that fills in quickly to provide a larger and more colorful show each consecutive year.
4. Silver Carpet

Name: Dymondia margaretae
Zones: 10 to 11
Size: 1 to 2 inches tall, spreading indefinitely
Conditions: Full sun; average soil
If you're looking for a durable ground cover with nonstop good looks, silver carpet is the plant for you. Native to South Africa, silver carpet is perfectly adapted to the climate of Southern California: While it thrives in a perennial border that gets regular water, it also flourishes in a xeriscape situation alongside succulents and cacti. It has proven its worth at the edge of perennial borders and as a lawn substitute at the Getty Center. Silver carpet even puts out cheery yellow flowers in spring.
Michael DeHart is the grounds supervisor at the J. Paul Getty Center in Los Angeles, California.
Photos: (#1), www.millettephotomedia.com; (#2), Courtesy of Annie's Annuals & Perennials; (#3), Nancy J. Ondra; (#4), Jerry Pavia