1. Purple Wood Spurge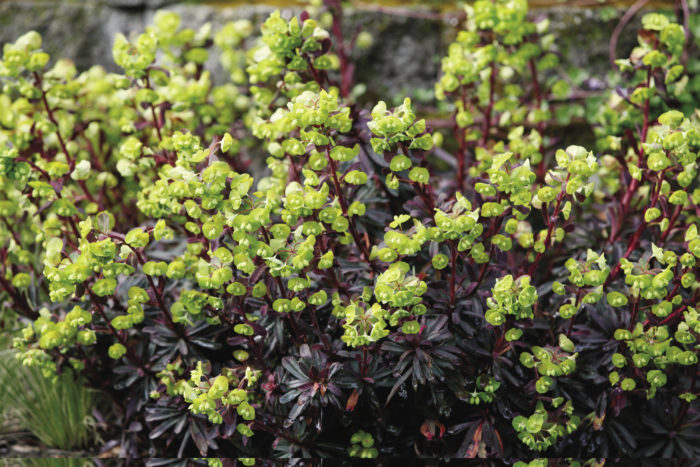 Name: Euphorbia amygdaloides
'Purpurea'
USDA Hardiness Zones: 6 to 9
Size: Up to 22 inches tall and wide
Conditions: Full sun to partial shade; fertile, sandy, well-drained soil
Whenever a plant shows up uninvited, I'm usually eager to get rid of it. Not so, however, with the purple wood spurge that settled into my garden. Its evergreen foliage is a dark plum color in winter, and in midspring, chartreuse florets emerge on last year's ruby stems, creating sensational contrast. I deadhead after the seed heads are spent, hoping a few seeds will take.
2. Chinese Dogwood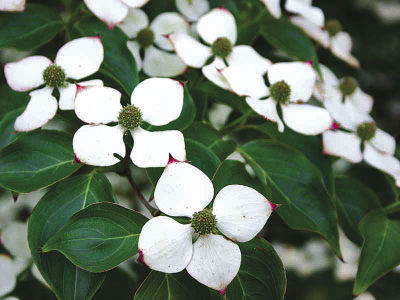 Name: Cornus kousa

var.

chinensis
Zones: 5 to 8
Size: 15 to 30 feet tall and wide
Conditions: Full sun to partial shade; fertile, well-drained soil
The mottled, peeling gray bark of Chinese dogwood makes it a star in my winter garden. In late spring, it sports delicate, pointed flower bracts in white. Showy, cherrylike red fruit follow, which persist into late summer. The fruit are edible for wildlife and people alike, with a taste reminiscent of strawberries and custard. Then comes the blazing scarlet-and-gold foliage in fall, which, at that point, is just icing on the cake.
3. 'Preziosa' Mountain Hydrangea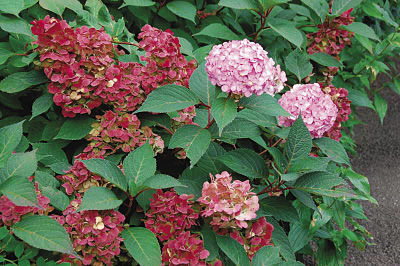 Name: Hydrangea serrata
'Preziosa'
Zones: 6 to 9
Size: Up to 5 feet tall and wide
Conditions: Full sun to partial shade; moist, fertile, well-drained soil
This reliable bloomer is one of the best-dressed deciduous shrubs in my garden. Its fist-size mophead flowers unfold in early summer as a creamy white with hints of green, and they continue to change through the seasons. As summer progresses, the colors deepen and intensify from pastel pinks to blues. By autumn, 'Preziosa' mountain hydrangea sports a burgundy robe. The leaves fall as winter approaches, but the plant's flowers endure, becoming parchmentlike as they dry. I always leave several on the shrub to sway above the nest of cinnamon-colored branches until spring.
4. Scarletta
®
Fetterbush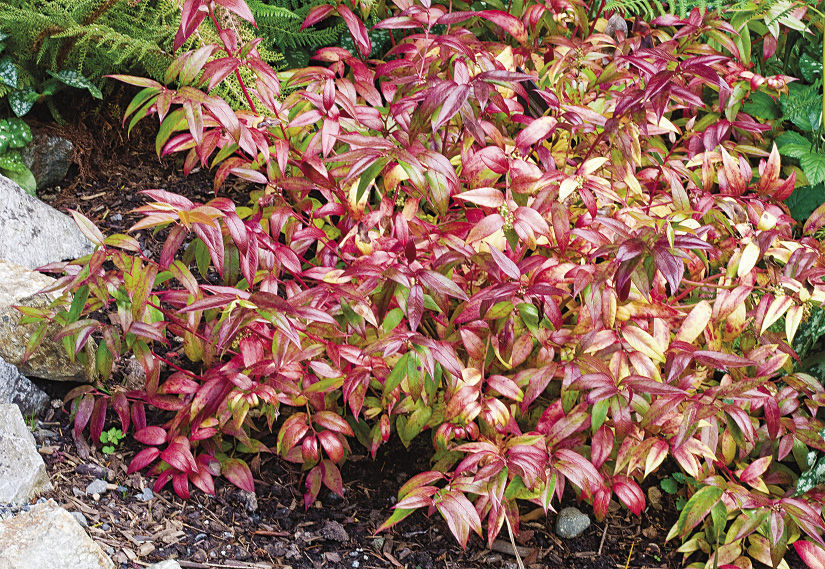 Name: Leucothoe fontanesiana
'Zeblid'
Zones: 5 to 8
Size: Up to 2 feet tall and 4 feet wide
Conditions: Partial to full shade; moist, fertile, well-drained soil
This dwarf, broad-leaved shrub is deer resistant and thrives in our acidic New England soil. In midspring, new growth emerges in a flush of pink-purple, and clusters of fragrant, bell-shaped flowers droop bashfully behind the foliage. As the season rolls on, Scarletta® fetterbush provides a stable, leathery backdrop for more ephemeral plantings. Then, in the depths of winter, it transforms into a glossy burgundy beauty, which looks stunning when dusted in snow.
Lisa Gibson McMahon is the owner of Singing Stones Nursery in Saunderstown, Rhode Island.
Photos: (#1), Joshua McCullough/www.phytophoto.com; (#2 and #3), www.millettephotomedia.com; (#4), Jerry Pavia