1. Strawberry Tree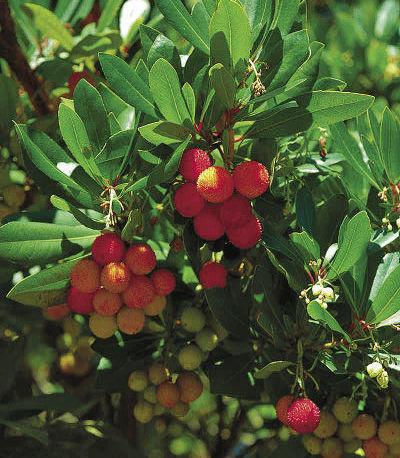 Name: Arbutus unedo
USDA Hardiness Zones: 8 to 11
Size: 15 to 20 feet tall and 10 to 15 feet wide
Conditions: Full sun to partial shade; well-drained soil
A smaller relative of our native madrone (Arbutus menziesii, Zones 7–9), the strawberry tree carries bunches of 1-inch-wide orange and red fruit in fall. Don't be misled: The "strawberries" here are an acquired taste—at best—but they are a feast for the eyes. Clusters of small urn-shaped white flowers join in the late-season show. This unique display is set against narrow evergreen leaves on gnarled branches.
2. 'Firefly' Heather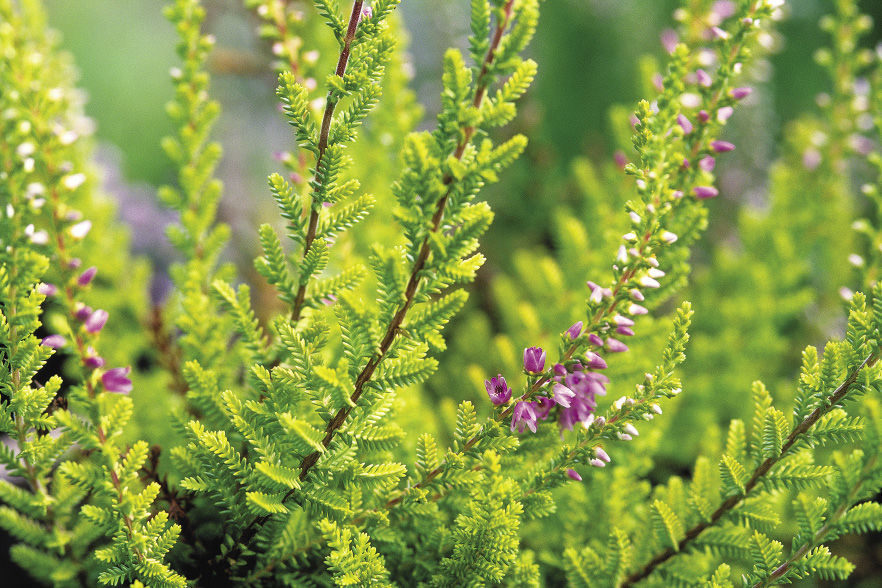 Name: Calluna vulgaris
'Firefly'
Zones: 4 to 7
Size: 15 to 20 inches tall and 2 to 3 feet wide
Conditions: Full sun; well-drained soil
Winter deals us a lot of gray in the Northwest. We, fortunately, have plants like 'Firefly' heather to dispel the gloom. Tiny scaly leaves give a soft wispiness to its upturned branches, which knit together beautifully in a mass planting. The summer foliage of this plant is a vivid lime green, accented with long sprays of tiny magenta flowers in July and August. Then the big show begins: Cool fall temperatures turn the foliage to a fiery orange-red, a heartwarming glow that lasts into spring. Heathers are naturals for sunny slopes and around rocks.
3. 'Silver Dollar' Hebe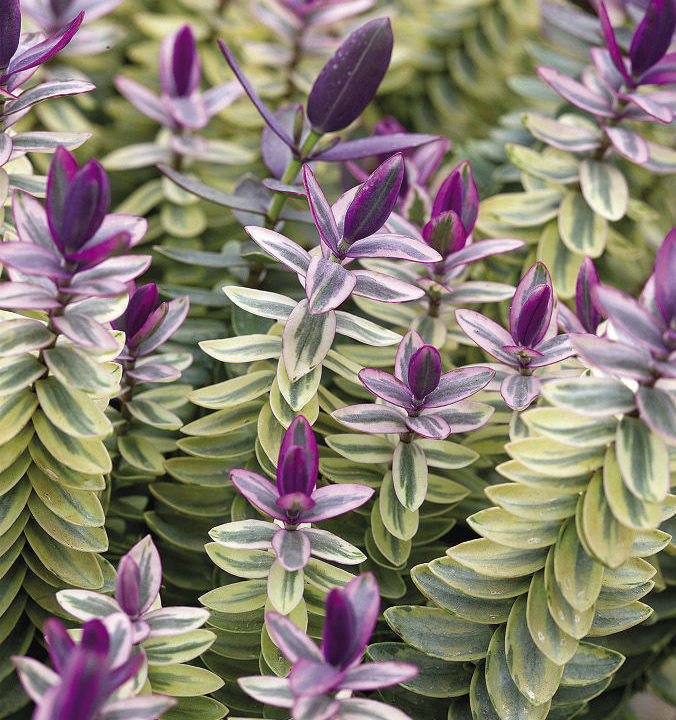 Name: Hebe
'Silver Dollar'
Zones: 8 to 11
Size: 2 feet tall and wide
Conditions: Full sun to light shade; well-drained soil
The 'Silver Dollar' hebe by my front step puts a smile on my face every time I come home, especially in winter. In that dark season, its small blue-gray leaves are blushed with bright pink along the edges. In the warmer months, the margins fade to creamy white as short clusters of lilac-purple flowers decorate the ends of the plant's neat branches. Recent bad winters have hurt some hebes, but 'Silver Dollar' has shrugged them off. Mine makes a happy scene with maroon and variegated sedges (Carex spp. and cvs., Zones 3–9) and blue irises (Iris spp. and cvs., Zones 3–9).
4. Variegated Laurustinus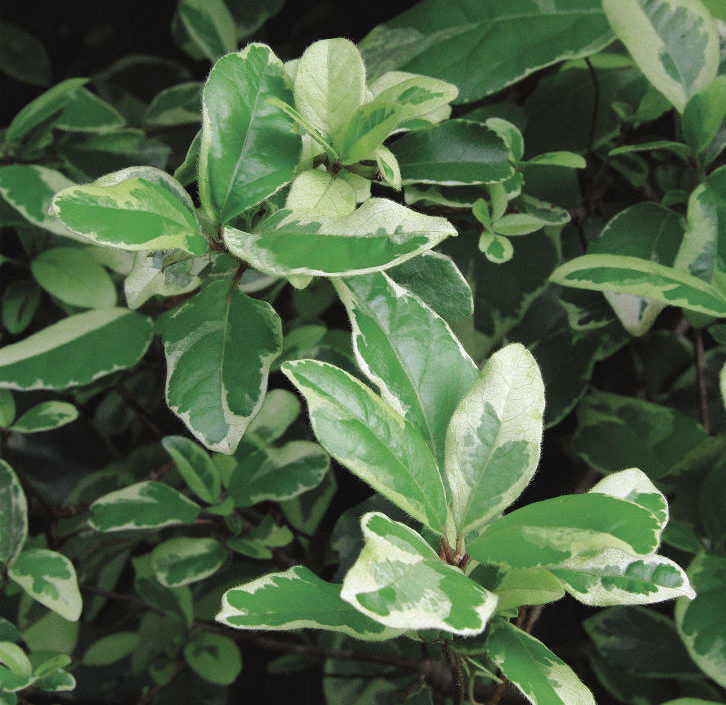 Name: Viburnum tinus
'Variegatum'
Zones: 8 to 10
Size: 6 to 8 feet tall and 5 to 8 feet wide
Conditions: Full sun to partial shade; well-drained soil
Laurustinus is an old standby in landscapes of the Northwest, but the variegated one is still all too scarce. Leathery, oval, 2- to 3-inch-long leaves give this drought-hardy evergreen a full figure. Starting in fall, clusters of pink buds open into fragrant white flowers that build through winter to a spring climax. Metallic blue berries follow, often holding on until the next flowering season. To this all-year show, the variegated laurustinus adds bold creamy leaf margins.
Michael Lee is a landscape architect and nursery owner in Seattle, Washington.
Photos: (#1), www.millettephotomedia.com; (#2), Bill Johnson; (#3), www.visionspictures.com; (#4), Courtesy of Rainy Side Gardeners